Chivas vs. New York Red Bulls 50-50 Challenge: who will win?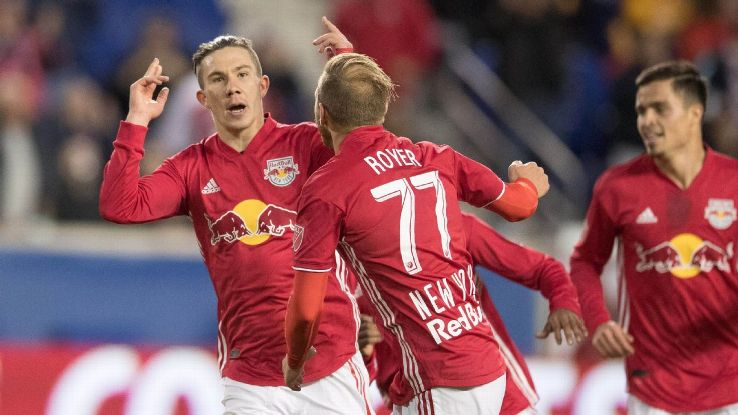 The second CONCACAF Champions League semifinal sees Chivas square off against the New York Red Bulls in another Liga MX vs. Major League Soccer matchup. Jeff Carlisle and Tom Marshall preview the tie ahead of Wednesday's first leg.
How is each team looking heading into this game?
Jeff Carlisle (@JeffreyCarlisle): Six points from four league matches doesn't exactly show that a team is in top form, but for the New York Red Bulls, it has to be put in context. Manager Jesse Marsch has been digging deep into his roster as he balances league and CCL commitments. Last weekend's 4-3 defeat to Orlando City featured just one player (Alejandro "Kaku" Romero Gamarra) who can be considered a starter, and he's still getting acclimated to the league. Everyone else got a breather, though Aaron Long, Kemar Lawrence and Bradley Wright-Phillips saw time as substitutes.
In games in which Marsch has opted to field a first-choice lineup, the Red Bulls have fared much better, including the 5-1 aggregate defeat of Club Tijuana in the CCL quarterfinals. This is a team that is confident in both its talent level and its tactical approach.
Tom Marshall (@mexicoworldcup): The victory against Seattle Sounders revitalized Chivas' season and gave the team a fresh impetus. There has been a notable uptick in performance, focus and confidence around the club since then. After a really poor start to the year and some internal problems within the squad, Chivas have gone four games without a loss and are playing well.
Coach Matias Almeyda has publicly stated that making the Liga MX playoffs is still a realistic target -- he is right -- but he showed where his priorities lie when he left Carlos Cisneros, Jair Pereira, Michael Perez, Alan Pulido and Eduardo "Chofis" Lopez (with a slight injury) out of the starting XI to face Morelia last weekend. Even so, it was regular starter Rodolfo Pizarro who came up with two big goals to secure a 2-1 away win over Morelia on Friday evening to set up Chivas nicely for Wednesday's Champions League clash.
Chivas are a different beast than the team that came into that quarterfinal against the Sounders, and with a good crowd expected, partly due to the price of tickets starting at around $5.50 USD, fans are starting to once again believe in Almeyda's team.
Liga MX vs. MLS: Is this a factor or just media hype?
Carlisle: As I mentioned Monday, no Liga MX team wants to lose to an MLS side, and MLS's long-stated goal has been to show that it is the equal of teams south of the Mexican border. But there are some extra layers to the matchup, given that the opponent in question is Chivas.
The club has noted the fact that its roster is comprised solely of Mexican players, and owner Jorge Vergara's failure in MLS with Chivas USA provides an additional source of motivation. The Red Bulls are keen to strike a blow for themselves and their leg, but Marsch -- who spent time during his MLS career with Guadalajara's now-defunct sister club, Chivas USA -- will be doubly sure that his side is focused on the task at hand.
Marshall: With Chivas, this is more real than perhaps for any other club in the competition. The fact that Chivas play with only Mexican players gives the club a nationalistic feel. It's regularly said that Chivas are like a second Mexican national team, and Mexican national teams tend to not like losing to teams from the United States at any level. The importance of not losing to an MLS side will be stressed, and owner Vergara, a harsh critic of MLS after his miserable stint in charge of Chivas USA, will be desperate for his side not to lose against Red Bulls.
For Almeyda, the issue will be less important. This is a coach who has a name and reputation in Europe (especially in Italy) and who was very keen for Chivas to play in the Copa Libertadores. Now Mexican clubs are out of the South American competition, the target is the CCL. Winning it would be another crowning achievement for a manager who already has one Liga MX title and two Copa MX trophies to show from his two-and-a-half years in charge.
Which team needs a win more?
Carlisle: The degree to which Marsch has rotated his squad shows just how seriously the Red Bulls are taking the competition. The league is doing its bit as well, allowing New York to reschedule this weekend's league match against the Houston Dynamo until later in the season. In terms of pressure, there is more on Chivas, given their aforementioned player policy and the breadth of their fan base, but for the Red Bulls, this match is as big as it gets.
Marshall: Chivas. New York Red Bulls have an MLS season still ahead of them, and it looks like a really positive long-term project in place involving bringing through younger players. This CCL run feels like the start of something.
For Chivas, the expectation and demands to lift trophies are always immense. This is a club boasting 40 million fans on both sides of the U.S./Mexico border, and with the Liga MX playoffs still not much more than an outside shot, the CCL offers Chivas a realistic chance of a trophy.
Then there is the fact Chivas haven't won CONCACAF's continental club competition since 1962. That doesn't look good for such a big club, especially when archival Club America has won it seven times since then. It will have escaped nobody's attention at Chivas that Club America is on the other side of the draw.
Which player will dominate over the two legs?
Carlisle: Wright-Phillips has been in scorching form of late, with three goals and one assist in the league. In the CCL, he has been even more on fire, simply taking Tijuana apart with two goals and three assists. His ability to set up goals has come as something of a shock: It's not that Wright-Phillips doesn't have technical ability. More that his reputation is that of a pure goal scorer. Last season, Wright-Phillips recorded just one assist in 32 league appearances. If he can be just as lethal setting up goals as he is scoring them, New York will like its chances of reaching the final.
Marshall: Pizarro needs to have a big game for Chivas. The 24-year-old brings the X-factor, poise on the ball, a goal threat and some genuine quality to a Chivas team known for its work ethic and technical ability. The fact that he is coming into the game off the back of netting twice against Morelia will have given him a boost after an international break that didn't go particularly well.
With Mexico coach Juan Carlos Osorio possibly in attendance in Estadio Chivas and likely eager to see Chivas' Mexico players up against a more physical side than they might face during Liga MX play, Pizarro would do his World Cup chances no harm at all with a good performance.
Key matchup
Carlisle: Pizarro vs. Tyler Adams. Guadalajara has struggled to score goals for much of the Torneo Clausura but has enjoyed an uptick in form lately, scoring three times in the second leg against Seattle while netting twice last weekend against Morelia. Pizarro has played a significant part in Chivas' success often taking up central positions, even when ostensibly being lined up on the left. He figures to run up against Adams, who has emerged as a player on the rise for both club and country. Adams will need to be careful, as he'll be suspended for the second leg if he picks up a caution, but he'll also need to do his utmost to limit Pizarro's influence.
Marshall: Bradley Wright-Philips vs. Pereira. There is no hidden surprise when it comes to BWP. Club Tijuana will have been very aware of his qualities, but it wasn't enough to stop the Red Bulls' striker netting twice in the first leg of the quarterfinal, a game the Mexican team dominated despite the 2-0 scoreline.
Like Xolos, Chivas are likely to have the ball for extended periods on Wednesday, with Red Bulls set to soak up the pressure. But the MLS side will get opportunities to counter and will be dangerous from set pieces against a substantially smaller side.
Pereira will have to be fully concentrated in order to deal with the threat of Wright-Phillips, who doesn't need a huge window of opportunity to hurt teams. The battle promises to be a physical and enthralling duel and one which could go a long way to deciding which team goes through.
Prediction
Carlisle: Much depends on the first leg. If the Red Bulls can escape Guadalajara's mile-high altitude with at worst a one-goal defeat, then it will be well poised to get the result it needs in the second leg. Otherwise, it will be left with too big a mountain to climb.
New York has defended well in the competition even if it has been stretched to the breaking point at times, so look for it to get the result it needs on the road -- I'll call it 1-1 -- and then take care of business at home, 3-2 on aggregate.
Marshall: Chivas to win 2-0 in the first leg and to tie 1-1 in the United States next week. This Chivas team under Almeyda is highly emotional and all about moments. Right now the club is full of confidence, has a focus and no lack of quality.