Colorado Rapids' Nana Boateng out 8-10 weeks with broken back
Colorado Rapids midfielder Nana Boateng will miss an extended amount of time after suffering a lower back injury in Saturday's 2-1 loss to Real Salt Lake.
The team announced on Wednesday the former Manchester City man will miss 8-10 weeks with three fractured lumbar vertebrae. No surgery will be required.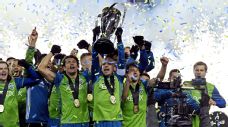 Subscribe to MLS LIVE today!
- MLS LIVE is back with an all-new platform for 2017
- Get the most matches ever, LIVE and ON DEMAND
- Packages start at only $14.99 a month
- Watch MLS on your phone, computer or TV
- Subscribe today at live.mlssoccer.com
Boateng landed hard on his back after challenging for a header with Real Salt Lake's RSL midfielder Luke Mulholland.
"This is unfortunate timing for Nana," Rapids sporting director Padraig Smith said. "He has acclimated quickly to the team and the altitude, and was beginning to show the talent and forward drive we identified when bringing him to the club."
Boateng has played in three matches thus far for Colorado. He has not scored a goal.
Follow @ESPNFC on Twitter to keep up with the latest football updates.