Pochettino's attitude to cup competitions won't stop Tottenham being seen as serial failures
Which will be more exasperating for Mauricio Pochettino: a limp exit from the FA Cup or the comments, the insinuations of serial failure, that come with it?
Four days ago, such questions seemed far off. Tottenham were a goal up at the halfway stage of their Carabao Cup semi-final with Chelsea and, in the form of Crystal Palace, awaited beatable opponents in the FA Cup. Yet they fell short both times, edged out on penalties at Stamford Bridge and deservedly beaten 2-0 by a sharper Crystal Palace here, and we find ourselves in familiar territory again. It would, quite simply, be a huge shock now if Spurs broke their silverware duck under Pochettino this season and, make no mistake, such a flat display at Selhurst Park felt like a big chance missed.
Throughout this fourth-round tie, won in the first half by a close-range Connor Wickham goal and an Andros Townsend penalty, Pochettino's pre-match assessment that only a Champions League or Premier League win would take Spurs to the next level rang in the ears. He has never made any secret of the FA Cup's place in his pecking order and it partly explained a much-changed team selection, with seven switches made from the Chelsea game and Christian Eriksen rested altogether. With Harry Kane, Dele Alli and Son Heung-min already missing, it meant they were without their entire first-choice attack; it showed, with their domination of the ball rarely translating into a genuine impression that they would work their way back into the game.
With Spurs unable to make a comeback, Pochettino expanded on his aforementioned argument. "We are going to create a debate that to win a trophy is going to help the club," he said in his post-match news conference. "I don't agree with that. That only builds your ego. In reality, the most important thing is being consistently in the top four and playing Champions League. That is going to help the club make the next step."
These are murky waters to get into: Traditionally, the idea that a trophy, and a famous one at that, represents a mere vanity addition would be met with derision. Pochettino's focus has always been on Tottenham's long-term progress and the idea that, until they have earned a permanent seat at the top table, there will be no jumping to the head of it.
It is an attitude well-fitted to the parameters that govern modern-day football: The huge financial rewards of regular Champions League football and that elevated status are worth more than one win in a domestic cup. But it does not take into account the need most football supporters feel for a crescendo, the feeling of an end point thrillingly reached, the sense of -- regardless the competition -- sitting atop everyone else.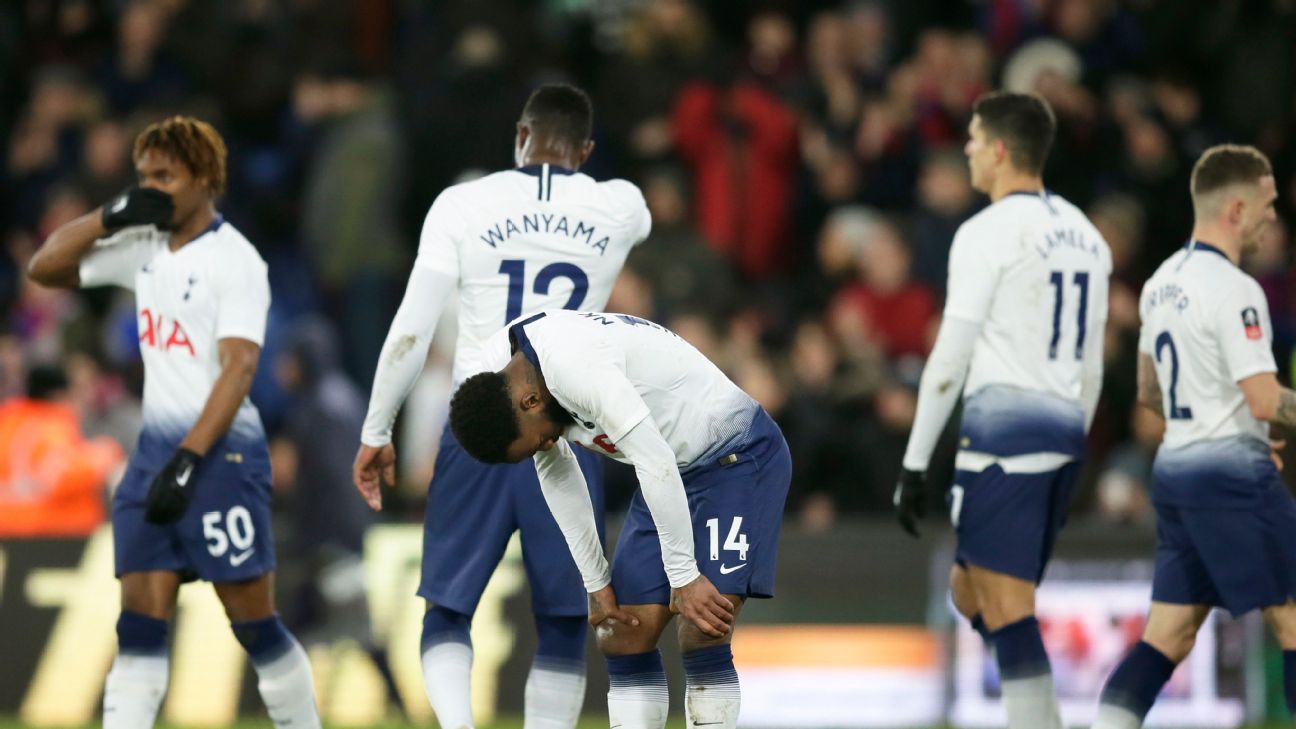 Both points of view are understandable. Neither is wrong: Football has, as Roy Hodgson said when defending Pochettino's record before this tie, simply changed. But Pochettino's attitude now puts extra strain on targets that, for Tottenham, may not yet be attainable. They are nine points behind leaders Liverpool in the Premier League, with Manchester City sandwiched in between and in Europe they will face Borussia Dortmund, imperious this season in the Bundesliga. Although the matchup with Dortmund is a winnable tie, the margins are so slim that few would bet on Spurs coming through a further three rounds of similar or greater difficulty.
That is particularly the case when you consider just how stretched Tottenham are. Here, without their sharpest creative brains, ideas took that split-second longer to formulate, the execution of their passes and movement constantly a crucial shade short of the precision that usually tears opponents apart. Where once Eriksen might have pulled the strings, this time there was George-Kevin Nkoudou, who forced a first-half double save out of Julian Speroni but otherwise looked entirely insubstantial.
Where Alli or Son might have made a dangerous burst into the box there was Lucas Moura, who ran into countless dead ends here. Where Kane might have converted the penalty to give them hope at 2-0 down there was Kieran Trippier, perhaps put off slightly by a delay in taking the kick, blasting haplessly wide.
All of this justifies Pochettino's stance in one way. Wednesday's league game against Watford will be their 17th in two months; in some countries, that is virtually half a season. Their squad is threadbare: It is easy to forget that Mousa Dembele's departure has further weakened their hand and that the likes of Eric Dier, Jan Vertonghen and Trippier -- all of whom started here -- barely had a summer break. Something has to give.
But would lifting that trophy hex really do so much harm? "To win a title here in England like the FA Cup or Carabao Cup is about being lucky, not only about quality in your squad," Pochettino said. Perhaps Tottenham's luck would have been in this time; there will be only seven Premier League teams in the hat when the draw for the last 16 is made, after all. Sympathy with Pochettino needs to be balanced against the fact that, sometimes, you have to create the best possible conditions for things to fall your way.
"Regrets? No, no," Pochettino said firmly. It is his determination to follow his path and cut through the external noise that has, to a large extent, created the modern Tottenham. But, fairly or not, afternoons like this do little to stop the noise from getting louder.