Tottenham's success stems from mentality change under Pochettino
"Always at the end of a game we play some music," Mauricio Pochettino said after Tottenham's 1-1 draw with Everton on Sunday. "But not today because the players are very disappointed and feel we have dropped two points."
Pochettino and the Spurs players certainly had a point. The Spurs were so dominant in the first half at Goodison Park that it was pretty surprising they weren't several goals up, never mind only level thanks to an injury-time strike from Dele Alli. The visitors were still the better side, busy and threatening, and didn't come away with the three points because they couldn't take all of their chances.
In short, it was a game that displayed the reasons why Tottenham could win the title this season, and the reasons why they might not.
The ways in which Pochettino has molded this Spurs side into one to call his own have been clear for some time now: The high-pressing, high-energy game has overwhelmed a number of opponents this term; Pochettino's ruthlessness with his squad, shipping out players he didn't think could be part of his style; the young and vibrant players who have been willing to adopt his ideas.
But what has perhaps been less talked about is a change in mentality, a hardening of will that might not have been present at White Hart Lane before. Talk to their fans, and before long, the word "Spursy" will come up, meaning how Tottenham has messed things up in the most flamboyant way possible; in the most simple terms, a pervading psychological fragility.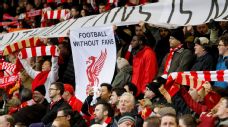 In recent times, though, that seems to have dissipated somewhat, with a new toughness introduced in a number of different respects: The way they bounced back from defeat to Newcastle by dissecting Southampton a few weeks ago, for example; or the win over Watford last week, when they didn't play especially well but came back from a goal down to secure a late victory.
Only Arsenal have gained more points from teams in the top half of the table, and their only two defeats of the campaign have come via an own goal against Manchester United on the first day of the season and that aberration against Newcastle in December.
While Pochettino hasn't publicly and directly acknowledged that his team are candidates for the top prize this season, reading between the lines of his statements, it's possible to see that's exactly what they're aiming for. He talks of ambition, and of being disappointed to only draw at Everton, a place where big teams have often fallen, even if they have flattered to deceive this season.
"Maybe tomorrow we can analyse the game and feel proud, and be happy for the point," Pochettino said. "But now our feeling is disappointment that we have dropped two points. We are the youngest squad in the Premier League but we show our winning mentality."
This is all hugely encouraging and shows that at the very least there is something to build on for the future. But there are still problems in the Tottenham squad that could be addressed in the transfer window. The most obvious is up front, where there is no real cover for Kane if Pochettino requires options from the bench.
Against Everton, they didn't take many of the chances they created, and toward the end, there were points when they seemed to run out of ideas, an issue that will be helped with the recruitment of a striker. The players they already have still need to be more ruthless, but a new goal scorer must be a priority.
They've also been lucky with the central defensive pairing of Toby Aldeweireld and Jan Verthonghen -- they've been ever-present. While Eric Dier has been an unexpected success in midfield, they can occasionally look lightweight in the centre, particularly if Tom Carroll plays there.
They are extremely well-placed, though, particularly as a number of teams around them still have problems. Despite their win over Swansea, Manchester United remain unstable; Liverpool have levels of inconsistency that seem to be driving manager Jurgen Klopp to distraction; Manchester City appear to wake up only halfway through games; Chelsea are too far back while Leicester, the runaway train of the Premier League, have shown signs of regression to the mean in recent weeks.
"The next nine, 10 games will maybe make the mark on how we finish in the table," Pochettino said last week. As with many things, he was absolutely right. With a sequence of entirely winnable games coming before their visit to City in mid-February, the next few weeks will define Tottenham's season.
As long as they keep succeeding, with a few tweaks and additions, this could be a memorable season for Pochettino's men.
Nick Miller is a writer for ESPN FC, covering Premier League and European football. Follow him on Twitter @NickMiller79.