Sam Allardyce needs points at Sunderland and not an FA Cup run
Sunderland return to Arsenal on Saturday for a second visit in just over a month, unsure whether progress in the FA Cup would benefit or damage their Premier League survival prospects.
The visitors lost 3-1 in the league on Dec. 5 but Arsenal goalkeeper Petr Cech was arguably the man of the match as Sunderland rued their luck.
Most observers, with few exceptions among Sunderland fans, would expect logic to prevail once more. Whatever indulgences Arsene Wenger allows himself on team selection, with his thoughts on the opposite end of the league from where Sam Allardyce's side find themselves, even a weakened squad should be too strong for Sunderland.
And Allardyce would be forgiven for feeling an honourable exit, the margin of defeat as narrow as possible after a decent display, would be the best outcome as he tries to plan an escape route from the bottom three.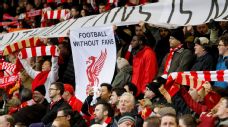 Does it have to be that way? Recent experience suggests not. In 2014, Sunderland were stuck in the relegation zone when, a week after an embarrassing 4-1 defeat at the Emirates, they dominated Manchester City for half of the League Cup final before succumbing to three superb second half strikes that resulted in an utterly unfair 3-1 scoreline. Chelsea and Manchester United had been overcome on the road to Wembley.
The league form at first became even worse with five defeats and a draw in the next six games until Gus Poyet somehow led his team on an exhilarating dash to safety including wins at Stamford Bridge and Old Trafford. So much for cup runs tiring teams out; Sunderland also reached the FA Cup quarterfinals.
All the same, survival has to be this season's priority. Allardyce, the players and the fans know that and with one eye on next season's new television rights deal, so does owner Ellis Short. Ground has been lost to other strugglers and must be regained.
Yet the FA Cup retains some of its old glory. Arsenal supporters have grown to like it because, while they would prefer to win the league again, it has proved a trophy well within their reach. Last season's 4-0 destruction of Aston Villa was the 12th FA Cup final victory in the club's history, an English record.
This season, however, Arsenal are the only side that truly look capable of standing between Manchester City and the title. Perhaps Wenger's preoccupations offer hope to those Sunderland supporters who will travel to the Emirates clinging to the romance of a competition their players have not won for 42 years.
Arsenal were the semifinal opponents in that 1973 cup run under Bob Stokoe, leading to a sensational 1-0 triumph over then-mighty Leeds United in the final. In other cup upsets, Sunderland beat Arsenal in the FA Cup at the Stadium of Light under Martin O'Neill three years ago while in the League Cup, Howard Wilkinson -- though remembered as the worst of many Sunderland managers in recent history -- took a relegation-bound side to Highbury and won 3-2 after being 2-0 down.
For Sunderland to emulate that performance on Saturday, a fighting display will be required from a team likely to be much changed from the one that beat Aston Villa 3-1 last weekend. Allardyce will undoubtedly rest players he feels must be available to him for next week's two league games.
If the signing of Jan Kirchhoff from Bayern Munich is completed, providing much-needed strengthening in central defence, it would be useful to see how he fits in for at least part of the game. Despite Vito Mannone steadily improving since returning to first-team action, supporters would love to see Jordan Pickford in goal after his recall from a successful loan spell at Preston North End.
Realistically, Allardyce's essential is to leave the Emirates without injuries or further suspensions and without having to face a replay.
A cup run might be fun but seven points from challenging trips to Swansea City and Tottenham next Wednesday and Saturday, followed by Bournemouth at home, would feel a lot more valuable.
Colin is ESPN FC's Sunderland blogger. Follow him on Twitter at @salutsunderland