Man United could take a gamble on Sporting striker Islam Slimani
It is easy to understand why Manchester United are reportedly interested in signing Islam Slimani.
The Red Devils are clearly lacking a target man in their squad, as neither Wayne Rooney nor Anthony Martial are a typical "No. 9." Sporting Lisbon's ace most definitely is.
The 27-year-old Algerian is the purest penalty-area predator you can find nowadays. His technical skills aren't as good as most, but few stars are more dangerous with their heading abilities, and his sheer physical presence is certain to keep the opponents' central defenders very busy.
Slimani is an imposing figure, and his recent form has been nothing short of sensational. Nobody in Europe has scored more in 2016; his six goals in four games in January were crucial to Sporting's title challenge. The most important contribution was the brace that brought a 2-0 win over Porto -- the rivals' first league defeat of the season which eventually resulted in Julen Lopetegui's dismissal as coach.
The Algerian scored twice more in the 6-0 triumph at Setubal, netted the last-minute winner against Braga, and was on target again on Friday as Sporting came back to draw 2-2 with Tondela, despite playing with 10 men.
Slimani has now scored 14 Primera Liga goals this term, already bettering his total from the whole of last season. His overall total stands at 18, and it included the marvellous extra-time winner in the derby against Benfica in the Portuguese Cup.
Sporting coach Jorge Jesus, who sensationally and controversially crossed the road from the Eagles to the Lions in the summer, is delighted with his protege. "Slimani has progressed enormously. He is an effective striker, who participates well in the team play," he said in September. Now, however, he sets a higher target for the Algerian. "Islam is going to be even better in the second round, because we believe that there is a room for improvement," he said.
Working hard and improving his skills is what Slimani has been doing all his life. A late bloomer who wasn't given a slightest chance by onlookers in his early days, he proved himself against all odds. The Algerian used to play for Ain Benian, a tiny neighbourhood club in Algiers, and had to wait till the age of 21 before getting regular place at small third division team Cheraga.
"Lower division clubs in Algeria don't have money and pay little attention to young talents. Thus anonymous players are rarely noticed. In addition, Algerian coaches always prefer technically gifted players who can dribble. Slimani is the complete opposite, and he wasn't considered a promising prospect", Walid Zekaoui of DZFoot.com told ESPN FC.
Eventually, after Slimani averaged a goal per game at Cheraga, CR Belouizdad signed him for just €3,000 in 2009, but the striker had to wait three more years before making his debut for Algeria at the age of 24. He emphatically announced himself on the big stage, scoring four goals in his first three official games.
The reaction was quite ecstatic. Djamel Menad, one of the most famous strikers in Algeria's history and who represented the country at the 1986 World Cup and coached Slimani at Belouizdad, remarked: "Islam has accomplished more in one month than others have done in many years. This is the turning point of his career. He reminds me of [AC MIlan and Italy legend] Filippo Inzaghi, because he gets the ball in unexpected positions."
Such success prompted interest from Europe and Nantes were keen on signing Slimani in the summer of 2013. However, he still had a year left on his contract and Belouizdad refused to sell. In order to get free, the striker sued his club, and the Algerian FA forced his contract to be terminated because Belouizdad had failed to provide his family with an apartment as promised.
Nantes even agreed to pay Belouizdad €150,000 in order to avoid further legal complications in court, but just when the news conference was supposed to take place in France, it was revealed that Slimani had flown out to Lisbon, instead. The Canaries' president Waldemar Kita was outraged, blaming the Algerian for "scandalous attitude."
The decision to choose Sporting made sense from Slimani's point of view, because he was highly recommended to the club by Portuguese coach Mariano Barreto, who has good links all over Africa.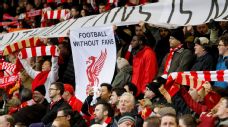 "Slimani reminds me of Mario Jardel," Barreto said, comparing the new star to one of the greatest strikers ever to grace the Portuguese league. That is much more logical than finding parallels with Inzaghi, because Slimani does indeed have a lot in common with the Brazilian: Both are burly no-nonsense scorers who are only interested in putting the ball into the net.
For Sporting fans, mentioning Jardel is magical because the Brazilian scored an incredible total of 42 goals for the Lions in the 2001-02 season when they won their last league title to date. However, the fans were rather skeptical about the inexperienced Algerian, who spent his first months in Lisbon on the bench watching Fredy Montero playing as a lone striker. The Colombian failed to convince, though, and Slimani was handed a chance to play just ahead of the 2014 World Cup in Brazil.
And fans around the world certainly took notice of his talent. Slimani was the star of the show when Algeria won 4-2 against South Korea, netting the opener himself and assisting Abdelmoumene Djabou. He then proceeded to score one of the most important goals in the country's history, when heading home the equaliser against Russia which ensured their first-ever qualification for the last 16. As if that wasn't enough, Slimani was highly impressive in the knockout round defeat against Germany as well, scoring a goal that was ruled out for offside and constantly terrorising the defensive line of the future world champions before they eventually won 2-1 in extra-time.
Naturally, Slimani's services were in high demand in the summer of 2014, with West Ham and Leicester mentioned as possible destinations. But Sporting simply refused to sell. That resulted in an open conflict between the club and the player, and the striker was even suspended from all activities for a few weeks alongside Marcos Rojo. While the Argentine defender was sold to Manchester United, Slimani apologised and came back.
The truce worked out well for all involved. Slimani became an important figure for coach Marco Silva last season, scoring 15 goals in all competitions. And yet, he has made additional progress this season under Jesus, which means that his €30 million buyout clause is no longer unrealistic.
Sporting lead the table, hoping to win the title for the first time in 14 years, and are definitely unwilling to part with their most potent attacking weapon. Their fans adore Slimani and want him to stay as long as possible. However, the club will be powerless if the big offer comes, and the striker has proved throughout his career that he knows no sentiments towards his employers when the right opportunity arrives.
Having sued Belouizdad, backtracked on his word to Nantes, and tried to force his way out of Sporting 18 months ago, he is unlikely to miss a chance to star in the Premier League. The 27-year-old knows only too well that this is the best time to move on.
"Islam took his game to a new level, and most Algerian fans are now convinced that he is one of the best strikers we have ever had. His technical ability has always been questioned, and his game is rather one dimensional, but he always makes the utmost effort. You can see him running and pressuring defenders in the last minute, when everyone else is just walking around," Zekaoui told ESPN FC.
With 20 goals in 41 games for Algeria, Slimani is already fifth in the all-time scoring charts, while his goal ratio is the best ever.
If Manchester United, Crystal Palace or another club in need of a pure No. 9 purchase Slimani, they will get a dedicated goal machine who is imperious in the air and possesses a fierce shot. Of course, the Algerian is not the most glamorous option, and he might be considered a bit old fashioned, resembling the typical English strikers of days gone by.
One may remember that Jardel, his legendary predecessor at Sporting, failed miserably at Bolton Wanderers after arriving from Lisbon in 2003. And yet, it might be a gamble worth taking. It is difficult to find a lethal target man these days and Slimani could be the best option available to Louis van Gaal.
Michael Yokhin is ESPN FC's European football writer. Follow him on Twitter: @Yokhin