David Moyes discusses life in Spain and the lessons he has learned
SAN SEBASTIAN, Spain -- As he sits down for an exclusive interview with ESPN FC, Real Sociedad manager David Moyes wears the smile of a contented man. It's two days after his side opened the Spanish league season with a 0-0 draw at Deportivo and, having driven the 400 miles back from A Coruna along Spain's northern Atlantic Coast, Moyes has just signed midfielder Asier Illarramendi, who left La Real in 2013, back from Real Madrid.
"He can help everybody in the team, solve problems from central midfield," says Moyes of his new player, signed for a club record €16 million. "He'll also give me alternatives to play two or three in central midfield. It's a big fee and shows my forward thinking president."
The insight is a brief but telling indication of how Moyes thinks about the game constantly and is an extension of the dominant subject matter on the aforementioned car journey, which Moyes took with his assistant, Billy McKinlay. They drove back so they could watch La Real's next opponents, Sporting Gijon, take on Real Madrid.
"We hired a car and set off after the match," explains the Glaswegian, 52. "Billy was driving, but as anyone who has got in a car with Billy knows, I also needed to have my eyes on the road."
The pair talked football non-stop on their journey.
"Football, all the way," says Moyes. "Billy has a great knowledge. Billy talked about past Old Firm games or matches between Dundee and Dundee United. They used to train side-by-side. Dundee claimed that Dundee United were stealing their footballs and Billy was sent to ask for their balls back -- they told him where to go.
"We don't really talk about much else," says Moyes, laughing. "Maybe a bit about food and diet because we don't want to put on too much weight, but overall it's football. Spanish football, where we're trying to enhance our knowledge all the time, Premier League and Championship football in England. The Championship is so strong, with big clubs, stadiums and huge crowds, that I think England could have two Premier Leagues now."
Moyes looks well, better than in his final months at Manchester United, a subject which isn't easily broached. He's been offered money "several times" to tell his United story; he's turned down countless requests to do television. Whatever he says about United, his words will be twisted and he risks being made to look bitter about the job which ended 10 months into a six-year contract.
He wants to concentrate on being a football coach and despite misgivings, still values his time at United.
"The chance to see the technical level and mentality of players who'd been with winning teams was great," he says. "It was too short, I've said many times that I would have done things differently had I known I'd only have 10 months because United are one of the few clubs in football who could have given a manager more time, like Bill Kenwright did with me at Everton. It took a good year and then a bad year until we got stability (at Everton) but if clubs change their managers after one bad year then it's going to be difficult for any manager. At United, it would have taken time, but I'd still like to manage in England again or even in Germany in the future - but I'm happy here, expanding my knowledge, learning a new language and working at a great club."
Moyes took over at La Real in November 2014, seven months after leaving United, and appointed McKinlay having initially wanted to bring Phil Neville to Spain. Neville, who is now assistant manager at Valencia, was Moyes' captain at Everton and worked as a coach for him at Manchester United.
"Nev's full of enthusiasm but he wanted some time out," says Moyes. "He's got a great attitude to work, to being around players. He's made a good move to go to Valencia, a big club with big ambitions. It's good for family reasons and it will give him a change from back home. The only difficulty he may find is working with a Portuguese manager (Nuno Espirito Santo) and a Spanish backroom staff, but that could also help him speak the language quicker."
Moyes and McKinlay's road trip came about because they prefer to watch players and teams in person.
"You have to get out and about watching opponents," says Moyes. "I've done that since my early years. Maybe it's old-fashioned, but I've always preferred to see players with my own eyes than on a video or going on somebody else's recommendation. If that means getting up early and taking a flight then so be it. Our success at Everton came from having a great recruitment team who I made sure were out watching the players."
That approach paid dividends with the likes of Seamus Coleman, signed from Sligo Rovers in Ireland for £60,000 in 2009.
"I had a really good scout, Mick Docherty, who said he'd seen this young boy," says Moyes. "Coleman had been on trial at Celtic, Burnley and Birmingham. He had something, he was a tough boy. He was raw but quick and energetic. He was a right-back who wasn't ready to play as a right-back, to defend at the top level. We put him on loan to Blackpool and I'd go and watch him all the time. He did great there on the wing. We turned him into a right-back when we got him back at Everton."
The conversation returns to Spanish football and to Sporting's ground El Molinon, from where Moyes and McKinlay left having been impressed both by the energy of their next opponents and the occasion.
"The atmosphere was incredible. It'll be worth five or six points to them this season. It reminded me of Goodison. They were intimidating to a good referee, they were intense. The stadium plays a massive part, our running track at La Real hurts the atmosphere and there's less contact."
Though he doesn't mind the travel, Moyes admits his desire to see games in person is frequently constrained by geography.
"Spain's far bigger than Britain and the travel can be tough," he says. "There's a small airport in San Sebastian, but it's so small that we can't use it at night. Almost every away game is a three-day trek and Las Palmas is a three-hour flight away, but we'll drive to games within three hours of here to watch players. We're still building up our knowledge of Spanish players, building contacts too, but I'm really enjoying the process of learning all the time. There are myths about Spanish football. Tiki-Taka only applies to one or two teams. Barcelona are incredible, but they don't talk about Tiki-Taka in Eibar, when the small stadium gives you the impression that you're in for a hard-fought lower league game."
Back in San Sebastian, Moyes doesn't hide away in the luxurious belle epoque hotel he calls home.
"Billy and I go for a walk most evenings," he says. "We'll walk for 90 minutes around the city, and we've seen it all from the beaches to the site of the old Atotxa stadium.
People continually stop the pair.
"Everybody comes to talk," says Moyes. "I feel that the city is really behind us. They have big expectations, they want a team that can play in Europe but we've got a bit to do to get to that level and very strong competition. I have to work within the club's philosophy which is most players must come through the academy. In England, fewer and fewer players are coming through to play first team football because the result is more important and coaches are losing their jobs too quickly. They're reluctant to take the risk.
"Here they want their young players in the team," adds Moyes. "I have to balance that with a winning team and not every young player will be ready, but young players need a chance. Doesn't everyone in life deserve a chance to show what they can do?"
La Real's system produced the returning Illaramendi, Antoine Griezmann and 15 of their current squad. Moyes is a regular at B team games in Spain's regional 80-team third division.
"The standard is similar to reserve team football in England, but the difference is that they play every week," he says. "They also play in a stadium in front of fans. There's relegation and promotion. The newspapers write about them. And that prepares them to be professional footballers better than the British system.
"I recently travelled to Real Irun near the French border to watch Real Madrid's B team coached by Zinedine Zidane," continues Moyes. "Madrid lost in front of 3,000. It was a tough game for both sides, with a noisy crowd. The players were 21 or 22 and that's normal in Spain. In England you can be considered too old because we tend to judge a player at 18. Now I have two lads here who are 18 and they're very good. And that's considered strange, but we've seen something and my president Jokin [Aperribay], who I speak to every day, is so keen on promoting young players. These two lads, who I don't want to pressure by naming, have been at school, they've not even played for the B team, but now they're training with the first team."
Moyes' highlight in his 10 months so far in Spain was beating Barcelona, though he admits circumstances helped, such as Lionel Messi starting on the bench.
"All the coaches are trying to work out how to beat Barcelona and still are," says Moyes. "We did, but only by defending for our lives and getting a goal when the opportunity came. When I put my side out against Barcelona, I had to put them behind the ball. It wasn't the style I wanted to play, but I had to make them compact and hard to score against. It would have been naïve if I'd put a player one-v-one against Messi, [Luis] Suarez or Neymar. Messi could eliminate two or three players, never mind one."
But his side still beat them.
"When you're a team who wins like they do, now and again you're going to lose," says Moyes. "Xavi came up to me after the game in San Sebastian and shook my hand. They lose well. Luis Enrique got a lot of criticism after that defeat from people who know nothing about top-level management. Luis' team had to be ready to win things and they were, they won the treble. They came good at exactly the right time, but they're not going to win every game and we were fortunate that one of their defeats was against us."
Moyes continued to watch Barca and his side next played them in May 2015, three days after they'd beaten Bayern Munich 3-0.
"I really admired Pep Guardiola in the way he tried to take them on in Camp Nou with Bayern Munich. He had a team which contained several World Cup winners and went toe-to-toe in the semifinal of the Champions League. He sent his side out man-to-man and pressed incredibly high to try and stop Barcelona dictating the game. That's the difficulty coaches have against Barcelona, but they find that they can't compete with the composure of [Andres] Iniesta, their quick play or their speed of thought through Messi, Neymar or Suarez. Guardiola got a lot of criticism for that, but I actually admired him for taking them on and I loved to see two teams going at each other."
As Moyes builds a new team at La Real, he hopes to instill character in his squad that can augment what he and his coaches do.
"Coaches are important, but the senior players at a club are crucial," says Moyes. "Sometimes the players have to make decisions at the real big clubs, where the players have a lot of control. I think back to the great Liverpool teams of Graeme Souness, Alan Hansen and Mark Lawrenson. They had great managers, but a lot of their success came from the core of the players. They could massively help the coach; they could be the heart of the club and get the club going in the right direction. Those players, those leaders, put the club and the team in front of themselves.
"My period at Manchester United was too short but I could see great leaders and great players there with a fantastic attitude. At Everton, I saw players like Phil Jagielka and Leighton Baines develop into leaders. Jagielka followed Phil Neville. He'd come in with the right attitude. He was a leader, a captain. I told Jagielka to watch Phil Neville and emulate him. I hope that John Stones is watching Phil Jagielka."
Moyes bought Stones, recently subject to a £40 million bid from Chelsea at the end of the transfer window, from Barnsley in January 2013.
"We got him for a million and a quarter," said Moyes. "We had a really good recruitment team at Everton. John Stones was a young, thin boy from Barnsley. He had great ability and natural calmness and poise on the ball. He's a little bit like Rio (Ferdinand). I went to see him and he played in midfield, but he could also play centre half. We actually needed a striker but we didn't have the money. The scouts pushed me on Stones and they were right, he's doing big thing things at the moment. He just needs time to develop and deal with different types of centre forwards, from the big [Christian] Benteke's to the quick [Sergio] Aguero's."
Moyes stays abreast of events back home and was at Wembley last summer to see Preston's League One playoff win. He was also delighted when another former club, Cambridge United, drew Manchester United in the FA Cup.
"I don't miss that much from home, though I lived within an hour of perhaps 25 professional football teams. But I do miss those midweek nights looking for players and watching opponents all around the North West. I'd see my dad who'd watch games around Preston. Over here, I'll drive 2-3 hours in Spain and we've also been to Bordeaux, a lovely drive, to watch Ligue 1 several times."
Moyes' family are frequent visitors to the Basque Country. He's happy with the balance.
"The working hours are better," he says. "I'd work from morning until night at Everton. Here, everything shuts down for two hours in the afternoon, then opens up again after four."
It's a time to enjoy the food. "The eating habits are better," he says. "There's not as much sugar in the food. I have seen only one fast food outlet in San Sebastian, a city of 200,000. The street food here is pinxtos, fresh fish on bread for one euro each. It's superb."
Moyes has pushed for improvements, for new plunge baths at the Zubieta training ground, new offices and a new pitch. He thinks we're living in a golden age.
"We're very fortunate to see close ups, slow mo and replays of players like Messi and Ronaldo," he says, "though I don't like the lip reading of players on the pitch. What is said between players should be private and players now cover their mouths. Managers do too and I do it, though the thought of a Spanish lip-reader trying to work out what me or Billy are saying on a bench amuses us. I can't understand Billy when he's stood in front of me, so imagine trying to work him out through a TV camera a hundred metres away."
Moyes moves with the times, but he's also a traditionalist.
"The dressing room should be sacred too," says Moyes. "From cameras, from reporters. Maybe it will change and football keeps changing, but I wouldn't like cameras in my dressing room. In Spain, one of the things I disagree with is that we have to do a media interview within 12 minutes of the final whistle. The managers' association of Spain should change this. You need time with the players, to de-brief. You might want to have a shower too, to change from a suit to a tracksuit. You need a period of reflection to get your thoughts together."
He's adjusted to life outside the Premier League, but it's Moyes' relationship with players that gives him most satisfaction.
"They're a wonderful group of lads," he says. "Professional, get on with their work. Good types. They wouldn't jeopardise putting their body out of condition. I've had no problems, though not enough of them can tie a tie properly. I need Spanish lessons; they need lessons to tie a tie. I've told them that I could do a tie aged 6. Billy has been teaching them."
Moyes is learning Spanish and received lessons from a tutor who happens to be a Manchester United fan.
"I can understand quite a bit of it now," says Moyes. "Billy and I could even understand the signs on the drive back. He's making better progress than me, but he also has more time to learn. I've also learned some basics in Basque, which is important."
There's talent in his squad aside from the many Basque players.
"We have two Mexicans, Carlos Vela and a new signing, Diego Reyes. Reyes is a very nice footballer on loan from Porto for the season, he needs to fill out and he'll get better with games. Vela is one of the most talented players in Spain. He's a lot quicker than he gets credit for, sharp with great close control. He's important here and has the ability to play in several roles.
Securing the signing of the excellent Argentine goalkeeper Geronimo Rulli should also help, while Moyes has also been impressed by Sergio Canales and hopes the new Brazilian centre-forward Jonathas, who scored 14 La Liga goals for Elche last term, will be equally productive.
"I hope he combines well with Imanol Agirretxe because we didn't score enough goals last season."
What do his players think of him?
"They'll see someone who is intense, who will try and squeeze everything I can from them to achieve a level of success. They'll see someone getting more comfortable every day. Sometimes I look around and think, 'This is a really beautiful place.'"
Real Sociedad were in the Champions League two seasons ago -- they played Moyes' Manchester United -- but were fighting relegation when Moyes took charge. He was charged with keeping them up and they rose to 12th in 2014-15. As for the current campaign, Moyes says that gradual but steady progress is key.
"I don't want expectations to be too high," he says. "There's a transition here and the squads don't change that much in Spain. We've got to establish ourselves in the top half of the league and move in the right direction. We have to do it year on year, layer on layer, like we did with Everton. The difference here is that the philosophy demands that there cannot not be wholesale changes, but it has similarities with Everton -- a good academy, good foundations, a solid support, a proud tradition."
In the time between leaving United and taking the Real Sociedad job, Moyes traveled to Germany several times and admits he is a fan of the sport's culture there.
"I like the football there for many reasons," says Moyes. "The full stadiums, the cheap ticket prices, the training grounds next to the stadiums where the fans can watch. And the atmosphere in the stadiums is incredible. I see the fans standing and find myself being in favour of safe standing. Ticketing is better, barriers are better. There's not the swaying masses like on the terraces I grew up on in Glasgow.
"The atmosphere in the Premier League is different," continues Moyes. "You have the big, big rivalries. I had nights at Goodison where I thought 'this is unbelievable,' it was so loud. Like when Duncan Ferguson scored to beat United 1-0 and get us into the Champions League (in 2005)."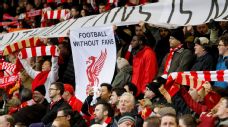 Glory nights are among Moyes' best memories of his time at Old Trafford and are what he hopes to bring one day to Anoeta.
"I felt it at Old Trafford when we beat Olympiakos to reach the Champions League quarterfinals. No English teams reached that stage last season. We lost to Bayern Munich, one of the top four teams in the world. We gave Bayern a good run for their money. We even went ahead in Munich and when Pat (Patrice Evra) put us ahead and I looked up at the traveling fans going crazy high up on the top tier, I thought 'Come on!' Then I quickly thought 'End now.' But we lost our concentration straight away and conceded. You have to win enough games in management to stay in your job and my United team didn't. I accept that, but going out to Bayern Munich wasn't the worse."
And nor is his current life, coaching one of Spain's proudest clubs in the country's most beautiful cities.
Andy Mitten is a freelance writer and the founder and editor of United We Stand. Follow him on Twitter: @AndyMitten.