Zinedine Zidane is back at Real Madrid after 284 days away. Can they make magic together again?
"Good afternoon, coach..."
"Hello... oh, hello. You have less hair..."
Friday afternoon at Valdebebas and Zinedine Zidane looked across at another familiar face, the same routine, smiled that smile and then carried on where he had left off, sitting there in his ZZ top like he'd never been away. A hair more, a hair less, and not as good at Spanish as he was. "Sorry," he said, "it's been a while since I spoke it." But otherwise the same: the same place, the same press officer sitting next to him, the same journalists sitting in front of him.
The same players down in the dressing room, too. Well, almost the same. There was one particular very noticeable absence, of course. But the rest of it? On the day that Zidane took up his seat in the press conference room, ready for the visit of Celta, the rest of it remained the same, right down to the smile that softens everyone up, excusing the fact that he hasn't actually said much.
"I'm sorry, I'm going to repeat myself a lot: you'll hear the same things," he said. Not just that day, but all those other days too, going back to January 2016. Before he left.
The vibe was interesting; it was almost as if the last time he sat there -- on May 31 last year -- he hadn't announced his departure, as if it had never happened, which everyone wished it hadn't -- except him. It felt like he'd never been away. If they remembered it at all -- "forget the past," Zidane told the players -- it was to be written off as a bad dream, Bobby Ewing's shower scene.
The morning after Tuesday's training session, Zidane's first since returning, the front of one paper showed him standing there, a circle of players listening in. The headline read: "Now, as we were saying yesterday..." For many, that was exactly how it felt. For others, it was exactly how they wanted it to feel even if deep down, they know this time is different.
And at Zidane's first pre-match news conference since returning, it was like everyone slipped into an old jumper; cosy, comfortable, warm. Everything back to the way it was. Only it couldn't be, not exactly. Nor should it be. And Zidane knows that better than anyone.
Zidane hadn't been away for long -- he walked back in at Real Madrid 284 days after he had walked out on them -- but he had been away, and that basic fact is probably the biggest change of all. It is what gives him the best chance of succeeding, too. Better to have gone away and come back than never to have gone away at all. Absence makes the heart grow fonder and the manager grow stronger.
"I don't like losing," Zidane said when he left. "If I feel like I am not going to win, I have to make a change."
If he's back, it is partly because he thinks he can win again. Not in these next 11 games -- Madrid's season is practically over, at least according to Dani Carvajal -- but this year's defeats will not be his and next season will be different. Different from this season and different from how Zidane always imagined it would be, even if he never imagined it unfolding this badly.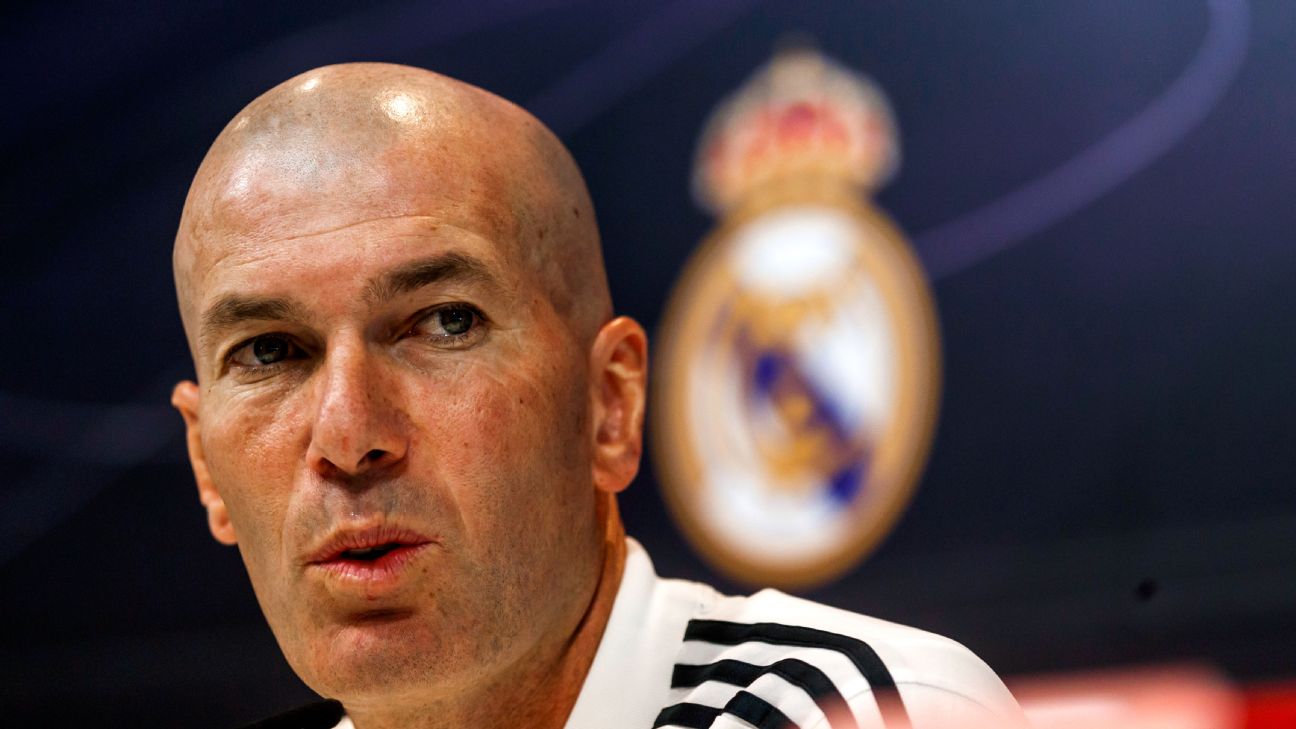 The 2018-19 Real Madrid season could be told by numbers, defined by days: the five days that passed between winning the European Cup and Zidane leaving; the two days there were before the World Cup started when Julen Lopetegui was signed; the 138 days he lasted; the 119 Solari lasted; the seven days in which they lost all three titles, an entire season slipping through their fingers at the Bernabeu, games in which most fans made silently for the exit, resigned to it all. And then the 284 days it took Zidane to walk back in again, back to the way they were.
On the surface, at least. Beneath, this is not the same. Asked what his first thought was when the team's president, Florentino Perez, first called him and asked him to return, Zidane said "to go back ... and here I am." But that call had come five days earlier; in that moment, Zidane didn't immediately say yes. There was some convincing to be done.
There were explicit reasons why Zidane left. What's changed? Why come back? Because things had changed. Zidane is more of a strategist and politician than he looks. He's also a competitor. He should now be in a better condition to compete than if he had stayed.
Zidane knew that some board members had not spoken fondly of him; it would not have escaped him that they did so openly on the morning of the final in Kiev, in front of "voices" that would become their own if necessary. He knew himself that it hadn't always been perfect, that the culture hadn't always been conducive to success. While some managers talk about what they won, when Zidane left and again when he returned, he talked about what he had not won.
"Yeah, we won the Champions League, sure, OK, but..." was an extraordinary thing to say, but it was also true and a necessary message. Without him, they didn't even win that and losing to Ajax was a lesson for them all, as useful as it was painful. Emulating three successive European Cups is likely to be impossible, but in theory the conditions are in place for things to be better, not worse, in Zidane's second spell.
Writing in El Pais, Santi Segurola put it succinctly: "Zidane returns with great popular prestige and unlimited power. And that suggests three essential pillars: total control, abundant money and signings a la carte."
"There will be changes," Zidane admitted. Departures and arrivals. Gareth Bale knows that this is the worst possible outcome for him, a nightmare. So does Dani Ceballos, the player who, soon after Zidane left, admitted that he would have left himself if the Frenchman hadn't walked away. Others who think that they are Zidane's protegees may yet find themselves surprised. Zidane comes with a clean slate, he says, but they know that he will be drawing up lists with every day.
"But," he said, "I'm not thinking about that now."
Right now, he says he is only thinking about the last 11 games of a season gone wrong, in which in all probability there is nothing to play for. The reality is still grim, but it doesn't feel like that now; his return changed that. There is hope now; a short-term variety, perhaps, but it is there. So, too, are the conditions for it to be more lasting. This is only the beginning, but they're back to the way they were before it all went wrong. As if nothing happened and nothing has changed, when it has. A lot. And that's the point.
"We're thinking about playing football, nothing else," said Zidane on Friday.
On Saturday afternoon against Celta de Vigo, the Bernabeu is expected to be full for the return of Zinedine Zidane nine months later. And that's a change, for a start.