Luka Modric is Real Madrid's most important player in midfield
The situation felt eerily familiar. Just like other significant matches in the previous calendar year, the usually unstoppable scoring machine that are Real Madrid were struggling to find the opposition's box, let alone generate a clear chance to take the lead. After 84 minutes, they were being held 1-1 in Granada, and most of their supporters could see their already slim La Liga title hopes vanishing into thin air.
From the start of 2015 and under three different coaches -- this includes, a bit unfairly, one single match under Zinedine Zidane at Real Betis -- the Madridistas had failed to score the deciding goal in most key matches. Except for two brutal 4-0 capitulations against Barcelona at the Santiago Bernabeu and against Atletico Madrid at the Vicente Calderon, Real Madrid were not losing titles because of poor defending. In fact, the issue was a surprising lack of finishing power when the going got tough.
Shockingly, a hand picked collection of offensive talent including the likes of Gareth Bale, Karim Benzema, Cristiano Ronaldo, James Rodriguez et al. could not find the net when it mattered. Even worse, they could not create decent chances to score and saw, for instance, Juventus leave the Bernabeu with a deserved Champions League semifinal spot in May last year, after a final 30 minutes during which their legendary goalkeeper Gianluigi Buffon was hardly threatened.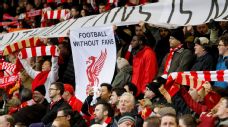 In the last 18 months, the Madridistas had not scored a single meaningful goal -- meaning one that gave them a draw or a win -- in the last 10 minutes of a La Liga match. For a team with a history filled with comeback victories, that was a bizarre drought.
And then Luka Modric got his chance.
The Croatian is not a prolific scorer by any stretch of imagination. Despite having showed a thundering shot from distance on several occasions during his career, nine goals in 156 matches for Real Madrid tells the story of a defensive midfielder in a team loaded with offensive talent.
Before the match in Granada, the diminutive midfielder had taken 25 shots in 21 matches, only seven of them on target, and was scoreless in La Liga this season. Modric just does not have too many chances to flash his shooting skills.
But the chance appeared in Granada. In the 54th minute, right after the hosts' keeper Andres Fernandez had miraculously saved Benzema's chance to double the lead, the locals tied the match through substitute Youssef El-Arabi. The clock was ticking and Real Madrid had been unable to put pressure on the locals. The game neared its final whistle, but the forwards were not showing up.
Six minutes from time, Modric received the ball from his fellow countryman Mateo Kovacic just outside the Granada box. One central defender took a couple of steps back, concerned with Cristiano Ronaldo's movement towards goal. That left Modric the space he needed. With one touch he prepared the ball and then struck a fantastic shot that found the angle of Fernandez's goal.
"Luka should shoot more," said a relieved Zidane in the post-match news conference. Although that sounds hard to happen with so many goal-hungry forwards in the team, in some instances, their movement should be enough to distract defences and open space for Modric, just like it happened in Granada.
Back in 2012, Modric's signing wasn't necessarily well received in Spain. Some pundits who were not impressed by his pedigree -- Dinamo Zagreb and Tottenham Hotspur -- focused on his problematic past with injuries and labelled his £30 million price tag excessive. On top of that, the Croatian had to hear comments about his lack of size for a midfielder.
But that pundit noise wasn't nearly as troublesome as the fact that he had to compete with Xabi Alonso, Sami Khedira and Mesut Ozil for a place in Jose Mourinho's starting XI, or that he joined the team without proper preseason training after his struggle with Tottenham's chairman Daniel Levy.
In December 2012, Marca readers chose him as the worst signing of the season in a poll, over Barcelona's Alex Song, among others. People probably expected a new Johan Cruyff, and they did not see that when the Croatian ran around the pitch.
However, after a few months of struggle, he earned the manager's trust.
That would eventually become Mourinho's last season with Real Madrid, surrounded by a charged atmosphere, as his relationship with the players deteriorated with each passing day.
Always maintaining a low-profile, Modric kept his focus and ended up playing 53 matches for the club. In May, the Portuguese would use the dubious award Modric had been granted just five months earlier to congratulate the Croatian: "You're not bad for the worst signing of the season."
After Mourinho left the bench, new coach Carlo Ancelotti immediately saw that Modric would be instrumental to give balance to his Real Madrid side. The Croatian's ability to tackle in defence, secure the ball and then feed the forwards was rare in the team. His remarkable calm when carrying the ball converted what for other midfielders would be uncomfortable situations into attacking scenarios.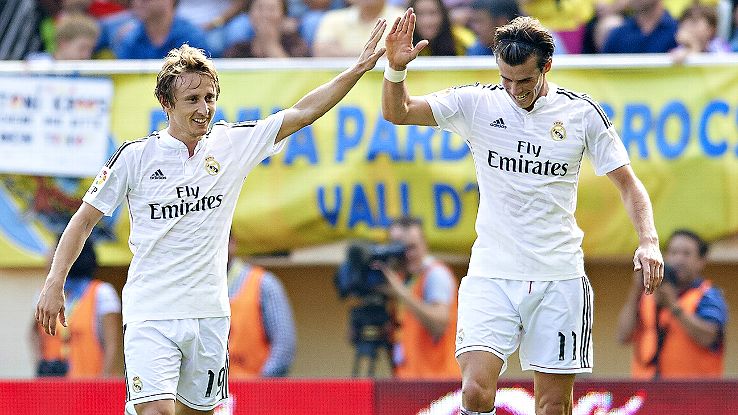 Used to a succession of defensive midfielders who never risked the ball and always chose the safe pass backwards, Modric brought a breath of fresh air to the Bernabeu. In his first season with Ancelotti, the Croatian definitely won over the supporters and became a fundamental factor in the team who won the Copa del Rey and the Champions League titles. He took the corner kick that saw Sergio Ramos tie the latter tournament's final against Atletico in 2014.
One could argue that Real Madrid lost the Liga title that same season in two key matches against Valencia at home (a 2-2 draw) and at Celta (a 2-0 defeat) in which Modric did not play due to an injury.
Injuries marred his second season under Ancelotti, and probably the team's performance as well. The Croatian only played in 25 matches, and the squad felt his absence, especially after the impressive two final months of 2014, in which Modric, Toni Kroos and Rodriguez had built an intimidating midfield who got the most out of the three forwards.
After his injuries, most supporters at the Bernabeu started to believe that the Croatian was the most important player in the team, and that he should be rested as often as required to keep him in shape for the whole season.
But that is now history. Back in shape, working with a coach who believes in his ability as much as any other he's ever played under and adored by the Bernabeu faithful, Modric now enjoys the perfect situation to shine and perhaps score a few more deciding goals.
Eduardo Alvarez covers Real Madrid and the Spanish national team for ESPN FC. Twitter: @alvarez.