Zidane infusing Real Madrid with competitive streak of his playing days
Zinedine Zidane the player is remembered for his sublime ball control, ferocious shot and his balance, the ability to drop a shoulder and lose three defenders. But what is often overlooked is the France legend's competitive streak. Fans of Serie A in the 1990s may remember more than a YouTube reel can display. Zidane was as happy to get stuck in as the next man -- and at Juventus the next man was often Alessio Tacchinardi or Edgar Davids, no shrinking violets -- at every club he represented.
Rarely did a player pass Zidane unattended and no ball went uncontested when he was within reach of it. The now infamous flooring of Marco Materazzi may well have cost France the 2006 World Cup but the Italian knew exactly what he was doing.
Zidane's response for whatever Materazzi whispered in his ear, in the Frenchman's final professional game, was cashback on an entire career.
What Zidane lacks in tactical nous at this stage of his managerial career he more than makes up for with the application of good old-fashioned hard work. Not in the traditional British sense of the word, which is generally associated with a crippling lack of quality in a team, but simply the idea that if you are paid a six-figure sum a week you should be able to run around for 90 minutes.
That is a notion that has rarely been entertained at Real Madrid. From Robert Prosinecki to Cristiano Ronaldo, there have been countless players at the club who figured a flash of genius, or the ball nestling in the back of the net, was job done. It used to be the case and there is something of the rose-tinted when looking back on the manic geniuses of the past; party animals, barbecue fans or just plain lazy, they lit the stage in their way when needed. But in the modern game a flash in the pan is not sufficient. A footballer's life now is more pulses and vitamins than a decent fillet and a couple of beers.
That's not to say that any of Real's squad are slackers per se but a few of Zidane's comments since he took over from Rafa Benitez have been instructive. "The thing with Cristiano is that he needs to work more," the Real boss said in his press conference ahead of the 6-0 victory over Espanyol last weekend.
"We have a lot to improve on in terms of our fitness," he stated after the Sporting match.
The barbs were not so veiled as to prevent Benitez coming out in his own defence.
Zidane has been clear about this from day one: There are no free rides under his regime. "Everybody has to defend," he said as soon as he had taken the helm.
And the message has been received, loud and clear. During the Espanyol game Ronaldo was harrying defenders and chasing down the keeper. Let that sink in. Forwards of Ronaldo's ability do not chase lost causes. The time-honoured tradition, as exemplified by Zlatan if you will, is to make a half-hearted feint and then lose interest entirely. Ronaldo is not at fault. It's a culture. But it's not one that Zidane is familiar with.
Zidane's influence as Real boss is weighted by the fact that he can outplay the majority of the squad and outrun most of them as well. He's not going to beat Ronaldo or Gareth Bale over 100 yards -- he would have struggled to beat Fernando Hierro over a similar distance at his peak -- but like Clint Eastwood in Heartbreak Ridge, he'll just keep slogging up the hill, his pupils slumped on the floor, gasping for air.
Isco is a prime example of this mindset. The fomer Valencia and Malaga midfielder has Zidane's magic in his boots, but has perhaps lacked the work rate to make good on his talent. Under Zidane, Isco has added graft to craft. Against Real Betis and Espanyol no Real player ran further and in both games Isco won possession more times than he had all season to that point, 13 against the former and seven against the latter.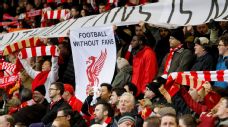 "Fat" James Rodriguez is also putting in the hard yards, adding backtracking to his array of passing skills in the final third.
Zidane is not going to change Real's ingrained attitude to flair players overnight and it is probably too late to ensure any sort of success this season. But the foundation has been laid for 2016-17. If Floretino Perez holds his nerve and retains his protege, Real could be a serious force. Leicester have shown what a side can do with a work ethic and a few decent players and Real were only lacking in one of those departments before Zidane's appointment.
A final word, from Materazzi: "I held his shirt, for only a few seconds. He turned towards me and scoffed at me, looking at me with super arrogance, up and down. He said 'if you really want my shirt, you can have it later.' It's true, I shot back with an insult."
Zidane has never shied away from confrontation. With Barcelona in such destructive form, his is exactly the sort of arrogance Real Madrid need right now. Whatever happens over the course of the rest of the season the next Clasico won't be a 4-0. That in itself is progress and it won't be based on overwrought tactics. It will be grounded in hard work and collective sacrifice. And that's enough for now.
Rob Train covers Real Madrid and the Spanish national team for ESPN FC. Twitter: @Cafc13Rob.