Ronaldo's La Liga goalscoring accuracy well behind Bale and Benzema
At football grounds across the globe one of the most common things to hear on any given match day is a fan, or several, or an entire stadium, shouting "shoot!" It's what the game boils down after tactics, team formations and trying to second guess the opposition have been covered during the week's training. And it would seem logical that the more you shoot, the more likely it is the ball will find the back of the net.
At Real Madrid, the urge to shoot is second nature. There is no walking the ball into the onion bag at the Bernabeu. No team in Europe has attempted more shots this season than Real (418) and only Bayern Munich can match Zinedine Zidane's side for shots per game, with both clubs racking 19.9 attempts on average in the league this season.
In La Liga, Barcelona have chalked up the second-highest number of shots overall, with 329, followed by Atletico (276) and Rayo (274). The lowest shots per game total in the division is held by Villarreal, with 8.9 attempts per game, yet the Yellow Submarine sit handsomely in fourth place. The reason for that is Marcelino's side are the second most-accurate team in terms of shots on goal in the division, behind Barcelona.
Real have scored 58 times this season, with the bulk shared fairly equally between the front three of Gareth Bale, Karim Benzema and Cristiano Ronaldo. The Wales forward has 13, the Portugal captain 16 and the France international 17. At a glance, the statistics appear fairly standard in Ronaldo's case but the No. 7 is misfiring badly in the league this campaign and it is costing Real points.
Of the team's total shots, the Portuguese accounts for 135, with Bale on 50 and Benzema on 60, which puts Ronaldo's accuracy rate significantly below that of his strike partners. Only 11.85 percent of Ronaldo's league efforts have beaten the opposition keeper so far in 2015-16, compared to 26 percent for Bale and 28.33 percent for Benzema. Of his 135 shots, only 52 have been on target. Broken down into goals per minutes on the pitch, Ronaldo is worth one every 118, Bale one every 89 minutes and Benzema one every 69 minutes.
Ronaldo has played every minute of Real's Liga campaign so far, but this is the first season since he arrived in Madrid that his goals-per-minute average has crept into triple figures. Last season he scored 35 in 35 games, at a rate of one every 65 minutes. His lowest return in that aspect was in his first season at the Bernabeu, but he still found the net every 95 minutes, bagging 26 in 29 games.
Of even more concern to Zidane will be the identity of the teams Ronaldo has scored against this season: Espanyol, Levante, Celta, Las Palmas, Eibar, Getafe, Rayo, Real Sociedad and Sporting. Five of his 16 goals came in a single afternoon against Espanyol and four in total have come from the spot. He has failed to score in 12 of 21 matches.
In Europe, Ronaldo is a different beast, bagging a record-breaking 11 in the Champions League group stages at a rate of a goal every 49 minutes. But again, the Portuguese put Malmo and Shakhtar to the sword yet failed to trouble PSG's back line over 180 minutes.
Ronaldo has often been accused of being a flat track bully, but 15 career goals against both Barcelona and Atletico and 21 against Sevilla makes a mockery of that supposition. What is curious about Ronaldo's statistics are the number of goals he scores from outside the box compared to inside: 83 and 417 across the three clubs he has represented when he reached the 500 mark earlier this season. He has also scored 45 free-kicks during his career, despite taking practically every one that presents itself other than those on the far right hand side. This season he has had 47 attempts from outside the area in La Liga with one resulting in a goal. The rest of his 16 strikes have all come from within the penalty area.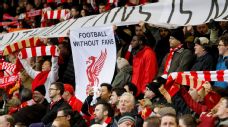 It's something for Zidane to ponder. His predecessor, Carlo Ancelotti, had the notion of converting Ronaldo into a central attacking player and giving him freedom to roam the front line looking to get into positions inside the area. That option could arrest what has to be considered a slide in his prolific scoring record this season. Bale is equally happy playing with freedom and Benzema is in his element pulling to the left and right to open up spaces for his colleagues.
But despite Ronaldo's problems in front of goal this season there is an aspect of his game that is largely overlooked simply because of his phenomenal strike rate. In his six-and-a-half seasons at the Bernabeu, he has provided 111 assists, with 82 in La Liga. So far in 2015-16 he has set up seven goals for teammates, compared to nine from Bale and two from Benzema.
It might be a bit too much to ask at this stage of Ronaldo's illustrious career, but perhaps when he finds himself sizing one up from 30 yards he could look for a pass instead. The crowd at the Bernabeu are more likely to shout that than shoot, after years of watching Ronaldo bother the upper tier several times a game. It's also something Zidane will be looking at in the coming weeks as the Real manager attempts to prevent further dropped points ahead of the derby next month.
Rob Train covers Real Madrid and the Spanish national team for ESPN FC. Twitter: @Cafc13Rob.