Real Madrid president Perez under scrutiny as Zinedine Zidane steps up
On Monday, Real Madrid dismissed Rafa Benitez after seven months in charge and replaced him with Zinedine Zidane, who had been in charge of the club's Castilla reserve side.
Club president Florentino Perez -- who had controversially dismissed Carlo Ancelotti in the summer -- came under fire from Madrid paper AS' editor, Alfredo Relano. Marca, meanwhile, suggested Zidane might be the solution, but its cover also provided a reminder that Perez had said only last month: "Benitez is the solution, not the problem."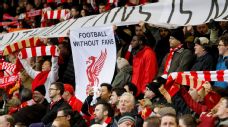 AS also provided a reminder in its headline that Zidane has become the 11th coach to work under Perez during his 12 years as president.
In France, sports daily L'Equipe devoted nine pages to the news while Le Parisien said the 1998 World Cup and Euro 2000 winner is taking a big risk by leading Los Blancos.
---
AS: ZineXIn Zidane -- Florentino discovers that Benitez was the problem, and immediately identifies who is the solution
La portada de este martes: Zinexin Zidane https://t.co/M1PWKHwg8a pic.twitter.com/vMRZoRSzFf

- AS (@diarioas) January 5, 2016
"Florentino had felt something in his stomach, and he's got rid of it. In his morning session with his sporting director, his own image in the mirror as he shaved, he decided now was the time to get rid of the irritant ... a few days ago this was the solution, but now it was quickly identified as an unbearable problem. Benitez is already a memory, but Florentino remains a present reality. A continuous reality."
---
Marca: The ZZolution
#LaPortada 'La soluzzión' pic.twitter.com/2Zt2dlmxvV

- MARCA (@marca) January 5, 2016
"The change of coach was greeted with satisfaction in the Real Madrid dressing room, where very few players shared the ideas of Rafa Benitez. The distance between the majority of the squad and the coach was huge, so the firing of the Madrileno coach was not at all sad news for many."
---
El Mundo: Zidane, the president's fetish
"Zidane's experience at Castilla is the least important. The choice of the Frenchman is, in reality, the choice of an icon, not of a conventional coach. This is one of the first Galacticos of the 'Florentino era' and a player always appreciated by his president, his chosen one, a type of fetish. In a way, Florentino is cloning his 'franchise player' to use him in a job the president has always disliked. Now instead of having to understand a coach, he will just talk with 'Zizou.' Like everything in Madrid, this is a presidential, personal decision, seconded by a board meeting called just so that protocol would be followed."
---
El Pais: Rafa Benitez, sacked as coach of Real Madrid
"Chosen to replace Carlo Ancelotti and named on June 4, Benitez is the first coach Florentino Perez has fired during a season since he dismissed Wanderlei Luxemburgo in the winter of 2005-06, just months before he himself resigned and plunged the club into an institutional crisis whose consequences are still visible today."
---
Zidane's appointment as new Real Madrid coach has been picked up by many global sports publications today. pic.twitter.com/jpxIH4dhTI

- AS English (@English_AS) January 5, 2016
L'Equipe: Royal
"Everyone has always asked if the best players could become the best managers. Johan Cruyff was their best spokesperson. Others were rather counterexamples ... [The role is a] great opportunity and a great risk [for Zidane]. It's always the case. It's even the essence of this job ... He's still Zidane. He's still the former player. That won't last: in a few hours, he will have changed skin [and] will be judged on his results, on his choices."
---
Le Parisien: Zizou's crazy challenge
"[Zidane's mission is] as exciting as it is risky ... It is an immense challenge and a risky gamble for the best French player in history [but] Zidane is starting off in conquered territory, with his exceptional aura and an immaculate image. Winner of the Champions League in 2002 with Real, he's an idol in the Spanish capital which he has never left since his retirement in 2006."