Jose Mourinho's Real Madrid shadow lingers on at the Bernabeu
Almost two and a half years have passed since Jose Mourinho left his job as Real Madrid coach. In that time, the Portuguese manager has added another Premier League title with Chelsea to his trophy collection, while the Madridistas have conquered their coveted La Decima (tenth European title) and have greeted/supported/booed two other coaches -- Carlo Ancelotti and Rafael Benitez -- at the Bernabeu.
One could therefore think that sufficient water has gone under the bridge for the Merengues to have moved on from the memories of the always controversial and often successful coach. However, every little step Mourinho takes in London is followed with shocking scrutiny by the media in Madrid, obviously catering to the interests of their readers, who apparently can't get enough of Mou.
On Wednesday, Marca and AS devoted a great deal of their online and offline versions to the Portuguese manager's troubled state of affairs at Chelsea. El Pais prominently offered an article titled "Mourinho is finished" in which the writer summarised the various complaints of the English press towards Mou's decisions and recent public statements. El Mundo also gave a leading position to Chelsea's elimination in the League Cup at the hands of Stoke City.
No other former Real Madrid coach, not even Vicente del Bosque -- famously fired by Florentino Perez after winning La Liga -- manages to generate this level of attention among the Madrid media. One could only think of Azulgrana icons such as Johann Cruyff and Josep Guardiola -- former players and coaches of Barcelona -- as comparable examples of ex-managers who years after their tenures with a top-level Spanish club still capture the attention of their former supporters the way Mourinho does with Real Madrid fans.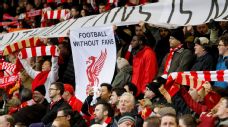 Mourinho's public persona brings several adjectives to mind among the socios: charismatic, driven, machiavellic, impulsive, arrogant, unpredictable... But to the reasonably objective analyst the winner has to be "divisive". His main legacy at the Bernabeu has to do with the way that his three seasons as Real Madrid manager split the Madridistas in two irreconcilable groups.
His supporters argue that things looked bleak before he arrived in Madrid, as Barcelona enjoyed unprecedented domination of most domestic and international tournaments. According to them, Mourinho recovered the winning attitude that have characterised the club since time immemorial, and did what it took to get the Merengues back in a contending position.
They also credit Mou with the unmasking of dressing room snitches -- namely Sergio Ramos and especially Iker Casillas -- players who unveiled team interactions that should remained secret to their friends in the media. His restless fight of all things Barcelona, on and very markedly off the pitch, earns him additional points among the most rabid Madridistas.
You may think that, after all this time, the number of Mourinhistas might have decreased significantly at the Bernabeu, and that all this talk belongs to the final season with Mourinho on the bench, in which his general demeanour became the main talking point about the team.
You'd be wrong. At the stadium, you can still see plenty of shirts with his name, or listen to several opinions coined by the Portuguese coach that have been religiously kept by his followers. For instance, the rejection of everything Iker Casillas or the conspiracy theories regarding refs, UEFA, FIFA and UNICEF that Mou stated at specific points of his eventful spell with the Madridistas.
On Tuesday evening, a famous Spanish radio journalist demanded his comeback -- assuming that Chelsea decide to pay his termination clause to fire him, of course -- to become a general manager above Rafael Benitez. Given the history between the two, this combination obviously sounds like the perfect recipe for disaster.
Such an unwise suggestion was the subject of endless articles, conversations and discussions the following day, as many Madridistas still miss the authoritative, self-assured way of dealing with media and opponents Mourinho brought to Madrid, and haven't been able to get over his exit. "Mou would complement Benitez perfectly," declared a Real Madrid socio on the Cadena Ser radio station.
While Mou supporters still fantasise about potential second comings of their icon to the club, the remaining Merengues try to offer some context. In heated arguments, they remind Mourinhistas that the club existed before Mou and is still alive after him, that we have enjoyed the easy calm of Ancelotti and are still discovering new sides of Benitez, that the world does not end in Mourinho.
They also insist that senorio -- the Real Madrid way of doing things created under the unforgettable presidency of Santiago Bernabeu -- has little to do with eye-poking or whining during news conferences. And believe that, similarly to Chelsea now, Mou tends to lose motivation, and that his abrasive nature makes it extremely difficult to keep things going with his dressing rooms after his second season.
All these arguments between detractors and supporters only tend to illustrate the point with more clarity: Even if Mourinho left Madrid in June of 2013, for good or evil his memory is still fresh in the mind of most Madridistas.
And as is the case with that ex-girlfriend (or boyfriend) one can't quite forget, what they probably need is another passionate, at times frustrating, often disappointing, but always full of energy and devotion woman (or man) by their side to get over the exhilarating ride they enjoyed under Jose Mourinho.
Can Rafael Benitez leave his set of statistics and provide Real Madrid fans with that? Only time will tell.
Eduardo Alvarez covers Real Madrid and the Spanish national team for ESPN FC. Twitter: @alvarez.