Varane deserving of starting status at Real Madrid
When club president Florentino Perez and manager Rafa Benitez sit down at the table to discuss Real Madrid's summer recruits, they will not have to look too far for a new first-team regular fit who can help the club to much-needed silverware next season.
While a deal still appears close to being rubber-stamped for Manchester United goalkeeper David De Gea and Benitez pens his shortlist of strikers and central midfielders to bolster his squad for next season, the name of Raphael Varane should be circled alongside Gareth Bale as crucial cogs to rejuvenate the Spanish giants next term.
Bale will be repositioned and remodelled after an indifferent campaign at the Santiago Bernabeu, but for Varane it will be the trust of being one of the first names down on the teamsheet for the biggest matches and no longer playing second fiddle to the partnership of Pepe and Sergio Ramos that he desires.
The Frenchman continues to be linked with a move away from the Spanish capital. In the mix are Manchester United, who missed out on the defender when he opted for Madrid back in 2011, and Chelsea, coached by his former Madrid coach and great admirer Jose Mourinho.
Those reports have persisted ever since Varane left Lens for Spain, but are owed largely to a seemingly unbreakable partnership between Pepe and Ramos. Varane has enjoyed plenty of chances, and has taken them, but no matter what kind of star-studded performances he provided there always seemed to be the feeling that he was little more than a backup and one for the future.
That future should be now for a Madrid squad that will be remodelled by Benitez this summer. Varane missed out on the opportunity of claiming a regular starting role last summer when Carlo Ancelotti continued with the old guard, and despite Madrid's failings last term, Varane's development continued on an upward trajectory.
Indeed, only Marcelo played more minutes than the former Lens man in the Madrid defence during La Liga and the Champions League action in 2014-15. Varane played more than Pepe, Ramos, Dani Carvajal and Alvaro Arbeloa, amassing 3,047 minutes on the pitch. Despite Varane's regular appearances, the Italian coach still had an inclination to play Pepe and Ramos when they were available. It seemed that when it came to the crunch, Madrid would stick with their tried and tested and keep Varane waiting.
That the Frenchman was handed those opportunities came down to good form, but it also came down to injuries to Ramos and Pepe over the course of the campaign. When all three were fully fit, Ancelotti opted to controversially play them all with Sergio Ramos shifted into a midfield role. It yielded mixed results.
A time for change was spoken of upon Ancelotti's arrival in the summer of 2013, but an injury to Varane saw Pepe and Ramos continue at the back and their fine form eventually kept the youngster out when he returned to fitness. Last summer passed with similar results, with Ramos' impressive campaign, rounded off with his historic leveller in stoppage time of the Champions League final, seeing him keep his starting role and a freshly disciplined Pepe doing likewise.
This summer should be different. The Lille-born defender was not shorn of errors, but they were rare exceptions rather than the rule. His worrying knee injury has showed no signs of impacting his rise to stardom and he has shown maturity beyond his years. At 22, Varane has at least a decade of football ahead of him at the top level and Madrid should harness his exceptional talent with a starting berth from the off in 2015-16.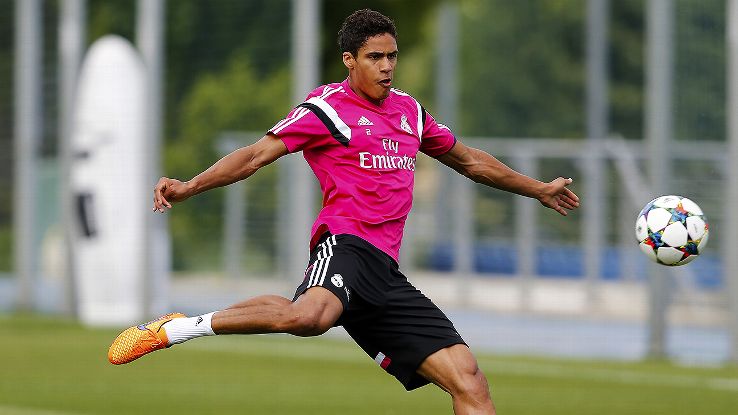 His talents aside, the timing could not be better for Madrid. The Frenchman has matured as a player during his four years at the club, and with Pepe not getting any younger and Ramos's contract dispute dragging on, Varane at least provides some long-term security after penning a new contract until 2020 earlier this season. Ramos's deal is up in 2017, and although still having two years to run, the Spain international's frustrations seem clear after reportedly rejecting two offers of a new deal.
The France international just turned 22 in April but has shown a maturity to excel in the big games ever since Mourinho trusted him in key matches against Manchester United in the Champions League and Barcelona domestically -- the biggest of them all. That maturity has rubbed off on France coach Didier Deschamps, who not only trusts the Madrid man as a regular starter but also with the captain's armband.
He showed that head for a big game this season, too, notably in the Champions League quarterfinal doubleheader against Atletico Madrid. Diego Simeone's men boasted an eight-game undefeated run against their more illustrious neighbours over the course of the campaign, but Varane was instrumental in a 1-0 aggregate victory.
In those two matches, the Frenchman not only showcased his strength, positioning and timing to thwart a potent Atleti attack, including an on-song Antoine Griezmann and powerful Mario Mandzukic, but also his level-headedness in the biggest of matches, partly through a dazzling jet-heeled counterattack from one corner kick that ensured people took notice in a tense but relatively lacklustre first leg at the Vicente Calderon.
Those qualities have transcended onto the international scene this season, and Varane will be desperate to guide his country to glory on home soil in Euro 2016 next summer. He became France's youngest-ever captain in a 3-0 victory over Armenia last October, in just his 15th international cap, and all the signs are that he will not only be a big piece in the Madrid jigsaw over the next decade, but he could be captain fantastic too.
Varane has endured fits and starts to his Madrid career, and despite accusations that a club such as Madrid can thwart young progression rather than aid it, his development has followed a perfect path. Now the time is right to take the next step and make him one of the first names down on the teamsheet.
Nicholas Rigg writes about Real Madrid for ESPN FC and blogs about La Liga for The Independent. You can follow him on Twitter @nicholasrigg.