Orlando City's new build on solid ground despite the loss of Kaka
For all the exuberance around the opening of Orlando City Stadium, there was a definite sobriety to the way Orlando City went about its business on Sunday evening.
In large part that was due to the pall cast by Kaka leaving the game after just 11 minutes, with a hamstring injury that will rule the Brazilian out for the next six weeks. Not only did that add some existential angst for the team and the fans who'd been enjoying the feel and spectacle of their new home, but it changed the shape of the game.
Kaka was replaced by offseason acquisition Giles Barnes, who on his day can provide plenty of directness and goalscoring threat, but presents nothing like the creative outlet Kaka does. Without that outlet, Orlando spent large chunks of the game with its midfield and attack awkwardly spaced out, being passed through and around by an increasingly confident New York City FC team.
Orlando City SC
New York City FC
Game Details
There's no doubt that losing Kaka for any length of time would be a significant blow to Orlando, yet a certain virtue emerged out of adversity on Sunday, as the hosts discovered a defensive grit that has historically eluded them. Whether through design or necessity, the team showed flashes of the type of resilience it will need to take the next step as a playoff contender, after two seasons on the outside looking in.
Nobody has ever doubted that on its day, Orlando City can play with a goalscoring swagger and confidence that's typified by the power and potency of Cyle Larin at the head of the attack. The trouble has generally been that that hasn't consistently translated into results -- particularly at home. Coming into Sunday's game, manager Jason Kreis had repeatedly emphasized that the home record needed to improve; and whatever the manner of victory, he'll appreciate a shutout, and making a dent in an underwhelming home record.
The result came down to the work done by a new-look defense integrating well with some existing key players. In goal, Joe Bendik continued his exponential development as one of the league's most underrated goalkeepers with the type of performance that inspires the players in front of him, and pulled off one great reflex save from Jack Harrison when a goal looked inevitable.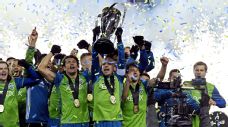 Subscribe to MLS LIVE today!
- MLS LIVE is back with an all-new platform for 2017
- Get the most matches ever, LIVE and ON DEMAND
- Packages start at only $14.99 a month
- Watch MLS on your phone, computer or TV
- Subscribe today at live.mlssoccer.com
At the heart of the defense, Jonathan Spector offered the solidity and organizational leadership that Orlando once thought they were getting with Aurelien Collin. For whatever reason, Collin never quite worked out in that way, in a manner that's even more puzzling given his subsequent return to his Sporting Kansas City form with the New York Red Bulls. In his wake, Orlando has never quite got the defensive alchemy right, or found the right general to create it. On Sunday, Spector looked the part in a new-look Orlando defense, as he mopped up crosses, made interceptions and generally anticipated the game with the benefit of his extensive experience.
Of the starting four, Spector and the also impressive Donny Toia were making their Orlando debuts in a defense further augmented by the well-traveled Will Johnson at right-back, as he too adjusted to yet another new club. In fact, the only holdover from last season was Jose Aja, and given that he only arrived on loan last summer and was only made a permanent signing in December, the 23-year-old former Club Nacional de Football player is hardly an Orlando veteran.
With the problems in front of them, the four relative strangers saw plenty of action as NYCFC's abundance of attacking options repeatedly tried to force space in and around the box. The constant New York pressure and possession (68.4 percent) did nothing to encourage a party atmosphere for the home fans. But by the end of the game, when the defense had upheld Larin's 15th-minute goal, those fans had got the result, if not the performance, they wanted to christen the new stadium.
It's something of a paradox that Kreis, hardly a showman by any stretch of the imagination, should have found himself so involved with expansion projects down the years, as both a player and coach with Dallas, Real Salt Lake, NYCFC and now Orlando's attempt to hit the reset button at its new home. There is a lot of distracting hype that comes with those scenarios, and at NYCFC in particular he was burned by the process, and had to learn some tough lessons about events and people beyond his control circumscribing his ability to do his job.
In that regard, a new state-of-the-art stadium, replete with the league's first ever standing section -- the steeply raked, visually striking "Purple Wall" -- could have been a mixed blessing for a coach trying to recalibrate his team along decidedly unglamorous lines. Never mind the streamers and balloons, look at the seven-pound drop in weight of Larin, as the coach tries to encourage more goals from him late in games. Yes, the acoustics of the new roof are wonderful, but as Atlanta United learned later that evening, unless the team on the field is prepared to manage a game as well as an event, a new stadium can get awfully quiet too.
Most fundamentally of all, Kreis might note that the measure of a home advantage is not determined by the angle of the seating or the view of the bowl, but in points earned there. Orlando City has three so far. It was solid rather than spectacular, but Orlando needs solid ground to build on.
Graham Parker writes for ESPN FC, FourFourTwo and Howler. He covers MLS and the U.S. national teams. Follow him on Twitter @grahamparkerfc.