Ranking the United States' top 25 players
It's a never ending debate, in part because it's so darn subjective. Who is the United States' best soccer player right now? Ask five U.S. soccer players, coaches or fans, and you might get five different answers. We get that -- because before compiling this final ranking of the Top 25 Yanks, we sought the counsel of other close followers of the American game.
Of course, there was no consensus, which is part of what makes the subject so fun to discuss. Everyone has different criteria. Some weigh some qualities or accomplishments above others. Statistics help only so much. The timing is tricky too, with MLS (and Bundesliga) players still idle. Not that any of that mattered much: This being the people's game, the picks tended to be based on the visceral as much as anything else.
RANKING THE TOP 25 U.S. PLAYERS
1. Clint Dempsey 2. Jermaine Jones 3. Alejandro Bedoya
4. Brad Guzan 5. Michael Bradley 6. Omar Gonzalez 7. Greg Garza
8. Timmy Chandler 9. Geoff Cameron 10. Fabian Johnson
11. John Brooks 12. Jozy Altidore 13. DeAndre Yedlin
14. Lee Nguyen 15. Kyle Beckerman 16. Graham Zusi
17. Matt Besler 18. Mix Diskerud 19. Aron Johannsson
20. Rubio Rubin 21. Bill Hamid 22. Nick Rimando 23. Julian Green 24. Joe Gyau 25. Emerson Hyndman
To help make the job a little easier, a few self-imposed guidelines were respected: First, a player must be eligible to play for the U.S. men's national team. That means World Cup hero Tim Howard, on a well-earned break from Jurgen Klinsmann's squad, was not considered. Neither was recently retired Landon Donovan. (That might seem obvious, but one of those we informally polled still considers Donovan, 32, the top man.) There were also injuries to factor in. After careful consideration, it was decided that though being hurt might naturally -- through inactivity or diminished performance -- impact a player's standing, it shouldn't exclude one completely. The end result is the list you see below, one that has a familiar face back on top for the first time in almost two years -- not that we expect you to agree.
1. M-F Clint Dempsey, 31, Seattle Sounders
A year ago, Dempsey was finishing up an unsuccessful loan spell at former club Fulham that had some wondering if he could still produce at the highest level. An inspired World Cup performance that included crucial goals against Ghana and Portugal helped erase those doubts, and Deuce kept the offense coming long after he got back home, as he scored regularly for Seattle all the way through the Sounders' elimination from the MLS playoffs. In the process, he earned back the throne as the country's best player.
2. D-M Jermaine Jones, 33, New England Revolution
Nobody has raised his profile more over the past 12 months. Jones might have been the best U.S. player not named Howard at Brazil 2014, and he was the biggest reason the Revs reached the MLS Cup final in 2014. Despite his age -- and a move to the back line for the U.S. -- he's showing no signs of slowing down.
3. M Alejandro Bedoya, 27, Nantes (France)
He's still more supporting piece than star, but the versatile Bedoya deserves plenty of recognition for what has been a superb 2014-15 in Ligue 1 so far. It's not a stretch to say he's been as good as any European-based Yank this season.
4. G Brad Guzan, 30, Aston Villa (England)
With his performances in the Premier League since August -- he's third in save percentage among keepers with 15 or more starts -- Guzan is staking a claim to keep the U.S job even after Howard returns from his hiatus later this year.
5. M Michael Bradley, 27, Toronto FC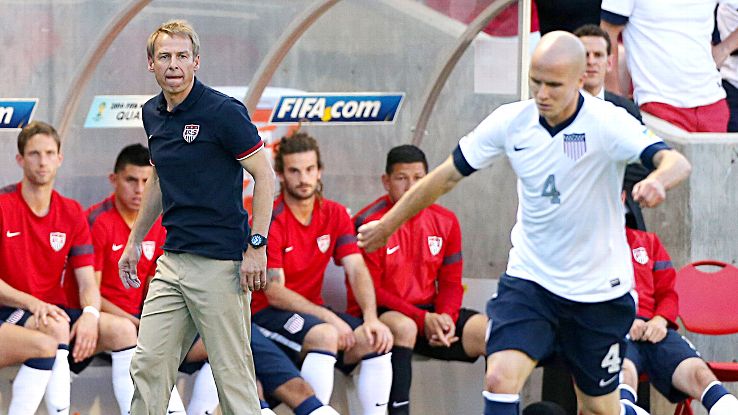 The foot injury he quietly carried through most of 2014 contributed to a down year by his standards, but a case can be made that Bradley is still the best all-around player the U.S. has to offer. Now that he's healthy, expect him to rebound in 2015.
6. D Omar Gonzalez, 26, LA Galaxy
After acquitting himself at the World Cup -- he was particularly strong in the Yanks' group stage loss to eventual champion Germany -- the powerful Gonzalez returned to lead a stingy Galaxy back line that won its third MLS title in four years in December.
7. D Greg Garza, 23, Tijuana (Mexico)
The hard-tackling Texan has been a revelation since debuting for the national team this past September. He has already made the traditionally hard-to-fill left back job his, in part by delivering mature, assured performances against quality, European-based foes.
8. D-M Timmy Chandler, 24, Eintracht Frankfurt (Germany)
It took him time to settle after arriving in Frankfurt from Nurnberg, but the athletic Chandler has been the cream of the Yanks' German-based contingent this season, as he has started 11 of Eintracht's past 13 games, mostly at right-back.
9. D-M Geoff Cameron, 29, Stoke City (England)

Cameron is the Premier League's lone Yank, outfield starter, and he'd be even higher if he weren't still mostly playing out of position (at fullback, instead of central defender or midfielder) for Mark Hughes' side.
10. D-M Fabian Johnson, 27, Borussia Monchengladbach (Germany)
Johnson's talent is obvious. But he has found playing time and a regular position difficult to come by at high-flying Gladbach -- currently fourth in the Bundesliga standings -- after a summer transfer from Hoffenheim.
11. D John Brooks, 21, Hertha Berlin (Germany)
Although still dealing with the consistency issues that plague many young central defenders, the 6-foot-4 Brooks was downright dominant at times in the first half of the Bundesliga season.
12. F Jozy Altidore, 25, Toronto FC
Altidore's strong hold-up play makes his teammates better. His strike rate for the U.S. -- one goal every three games (25 goals in 76 games overall -- remained consistent even during his nightmare 18 months at Sunderland, during which he scored just one Premier League goal.
13. D-M DeAndre Yedlin, 21, Tottenham Hotspur (England)
The explosive right-sided player still hasn't featured for Spurs, but his ability to stretch the field -- a key component of U.S. coach Jurgen Klinsmann's preferred tactics -- is nearly unmatched in the U.S. player pool.
14. M Lee Nguyen, 28, New England Revolution
It's a small sample size, to be fair, but the way Nguyen played in a brief cameo against third-ranked Colombia in November suggests he can reproduce some of his lights-out MLS play at the top level.
15. M Kyle Beckerman, 32, Real Salt Lake
Beckerman's a specialist, sure, but he remains excellent at what he does: protecting the back by sitting deep and winning balls.
16. M Graham Zusi, 28, Sporting Kansas City
Zusi might be higher on this list if not for the foot injury that hobbled him at the end of 2014 and prevented him from being included on the current U.S. roster.
17. D Matt Besler, 27, Sporting Kansas City
After an altogether solid World Cup, Besler's late-season dip caused him to tumble. Now that he's had a break, he is a safe bet to shoot up the rankings in 2015.
18. M Mix Diskerud, 24, New York City FC
Diskerud is always a threat going forward, and the physical play he'll find in MLS should help him continue to improve that side of his game.
19. F Aron Johannsson, 24, AZ Alkmaar (Netherlands)
He's still finding his legs after returning from various injuries, but Johannsson's scoring record (22 goals in 46 Eredivisie appearances so far) is hard to argue against.
20. F Rubio Rubin, 18, Utrecht (Netherlands)
Rubin carved out a starting spot less than a year after inking his first pro deal. Not bad for a guy who won't turn 19 until March.
21. G Bill Hamid, 24, D.C. United
The Virginia native took home MLS Goalkeeper of the Year honors in 2014, and he got the nod ahead of Rimando for the USMNT's final match of the year vs. the Republic of Ireland.
22. G Nick Rimando, 35, Real Salt Lake
The longtime U.S. No. 3 can still play -- and probably will. With Hamid (shoulder) hurt, expect the diminutive Californian to earn his 17th cap Wednesday against Chile.
23. M-F Julian Green, 19, Hamburg (Germany)
Green's loan from Bayern Munich to HSV hasn't gone according to plan. But the teenager is still getting minutes in one of the world's truly elite leagues, even if just here and there.
24. M-F Joe Gyau, 22, Borussia Dortmund (Germany)
No, Gyau (knee) hasn't resumed full training yet. But the speedster was making huge strides before going down in October, as he started consecutive games for the U.S. and saw Champions League action with Dortmund.
25. M Emerson Hyndman, 18, Fulham (England)
The little (5-foot-6) playmaker's technical ability and intelligence are well beyond his years. That's one reason he has started nine league games for Fulham this season.
Doug McIntyre is a staff writer for ESPN The Magazine and ESPN FC. Follow him on Twitter @DougMacESPN.