USMNT: Who stays and who goes?
SAO PAULO -- The moment any nation's World Cup campaign ends, another cycle begins. With it comes a cold, hard look at which players on the current squad might be able to contribute four years from now.
That is where we find ourselves the day after the United States was eliminated in the round of 16 for the second tournament running. And the truth is that some of the Americans' top performers in Tuesday's gut-wrenching, extra-time loss to Belgium -- heart-and-soul types like DaMarcus Beasley, Tim Howard and Jermaine Jones -- have probably played their last game on the sport's biggest stage.
Mostly, it comes down to age.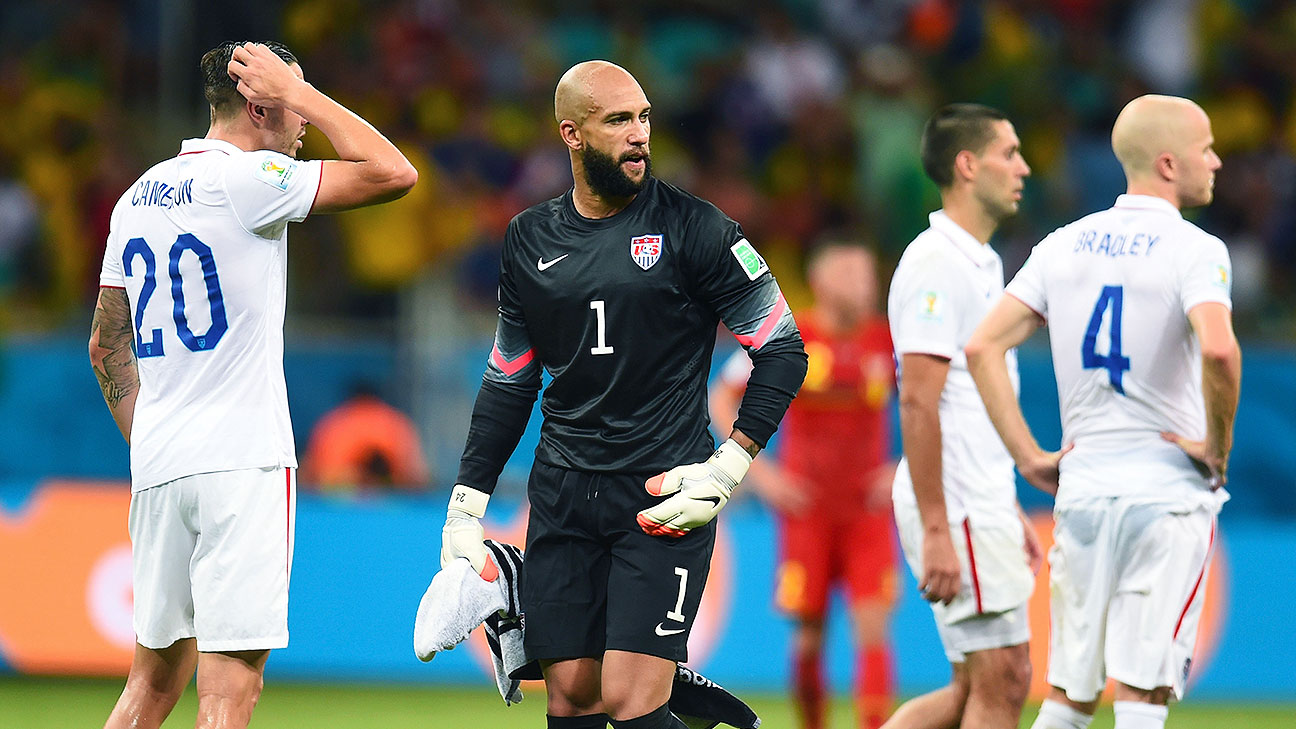 "The players that are beyond 30, this might be their last moment in the World Cup," Klinsmann said in the days before the match. "That's just reality."
Even for those on the right side of that threshold, nothing is guaranteed. Klinsmann left five 20-somethings who played in 2010 off his roster this time around, and there's no telling where some of the younger guys will be four long years down the road.
Only five of the men Klinsmann named to his final 23-man roster for Brazil had ever played a World Cup minute before the competition began, not that that should've come as a shock. Coaching changes usually result in turnover, and Klinsmann was always going to jettison a number of key guys from the Bob Bradley era and build a team in his own image.
But with Klinsmann signed through Russia 2018, it is expected that more players will stick around. The dual-nationals he recruited will likely be given a lot of rope, and the backline -- a huge question mark a month ago because of its lack of experience -- could return almost entirely intact.
Still, competition for places will be at an all-time high in four years as the national team program's talent pool continues to deepen, so some surprises are in store. For now, though, here's an early guess at who figures to stay and go.
STAYING
G Brad Guzan, 29 years old -- The Aston Villa keeper has patiently waited his turn, backing up Howard at the last two World Cups. The job will be his in Russia.
D John Brooks, 21 -- With four more years of Bundesliga experience in his future, the imposing left-footed central defender should push to start in 2018.
D Omar Gonzalez, 25 -- Gonzalez was terrific in the two starts he made at this tournament, and he'll be right in his prime next time around.
D Matt Besler, 27 -- After Howard, the Kansas native was arguably the Yanks' most consistent performer this summer, and 31 is a center-back's ideal age.
D Geoff Cameron, 28 -- There's no reason to think that a 32-year-old Cameron won't be one of the national team's core leaders four years from now.
D Timmy Chandler, 24 -- Chandler was just one of two field players not to see action in Brazil, but his athleticism and Bundesliga pedigree can't be overlooked.
D Fabian Johnson, 26 -- The versatile German-American is too valuable to fall by the wayside before 2018. He'll be one of Klinsmann's key men in Russia.
D DeAndre Yedlin, 20 -- The Seattle Sounders speedster was a revelation against Belgium. You can pencil him in for 2022, too.
M Michael Bradley, 26 -- Let's be honest: It was a forgettable tournament for the central midfielder. Look for him to rebound (and captain the side) at what could be his final World Cup.
M Alejandro Bedoya, 27 -- Bedoya started three of four U.S. games here, but he'll surely still face a challenge from some of the youngsters coming through.
M Mix Diskerud, 23 -- The other American who didn't play, Diskerud could emerge as the Yanks' chief playmaker by the time Russia rolls around.
M Julian Green, 19 -- After his stunning late goal against Belgium, nobody is questioning Green's national team future anymore.
M Graham Zusi, 27 -- Zusi may be the least sure thing on this list, but his World Cup experience will serve him well over the next four years, when he'll be 31.
F Jozy Altidore, 24 -- Injury robbed Altidore of his chance to make any impact in Brazil, but he's a near shoo-in to lead the U.S. line in Russia.
F Aron Johannsson, 23 -- Along with close friend Diskerud, the skillful, hardworking striker may have the most upside on the 2014 roster.
GOING
G Tim Howard, 35 -- Howard was noncommittal about his future after the Americans were eliminated, but the smart money is on him stepping aside before 2018.
G Nick Rimando, 35 -- The affable Real Salt Lake keeper was the perfect No. 3 behind Howard and Guzan, but his national team career is now surely over.
D DaMarcus Beasley, 32 -- The loss to Belgium may have been Beasley's final match with the U.S., which he represented at a record four World Cups. It's fitting that it was one of his best.
M Kyle Beckerman, 32 -- Nobody could have seen Beckerman starting here four months ago, let alone four years. He did himself proud in Brazil.
M Jermaine Jones, 32 -- It's too bad injury ruled Jones out in 2010. But he saved his best U.S. games for this tournament, which was almost certainly his last.
M Brad Davis, 32 -- Davis deserves credit for making this team, and he could still play a role early in 2018 qualifying. Even that's doubtful, though.
M Clint Dempsey, 31 -- Bet against the irrepressible U.S. captain at your peril, but it's hard to see Dempsey having the physical ability to contribute as an attacker at 35.
F Chris Wondolowski, 31 -- It's unfortunate that the lasting memory of "Wondo" for many U.S. fans will be his late miss on Tuesday. But the fact that the former MLS reserve even made this team speaks volumes about his character.
Doug McIntyre is a staff writer for ESPN The Magazine and ESPN FC. Follow him on Twitter @DougMacESPN.