Belgium's duality clashes over chances
There's a strange duality in Belgium; it is and always will be a nation of contrasting feelings. Talk to a Belgian and he will tell you everything that is wrong with the country, but he will proudly defend his country if an outsider were to repeat his words.
Many Belgians voted for the Flemish separatist party in last month's elections, yetany of those same Belgians now have tricolores stuck on every available surface of their houses and cars.
Make no mistake: Belgium has been slowly turning black, yellow and red over the past year. It started in qualification when it appeared that the Red Devils had turned a corner and were not just a promising bunch playing some fine football, but actually getting some clinical results.
The Belgian Football Association's marketing machine also did its work. There were "The Devils' Challenges," in which the fans were asked to do something special for every home game: make sure the whole stadium was red, get a whole block of female fans, get as many children as possible to make drawings for the players -- which were then hung up at the stadium. The players, in turn, did all sorts of things, ranging from sumo wrestling to visits to a children's hospital.
Then, of course, there is the fact that this is a World Cup -- the country's first since 2002. It's a massive deal, especially because Belgium has a real chance of doing well. For people under a certain age, this is completely new. They have never thought of the Red Devils as a real force in football before.
- Kompany injury scare for Belgium
- Van Walle: Wilmots must learn from mistakes
For those old enough to remember a competitive Belgium, it brings back fantastic memories from the years when the Red Devils were runners-up in Euro 1980, beat Argentina in Spain in 1982, played the semis in Mexico in 1986 and had that amazing game against England in Italy in 1990.
It's all unbearably exciting, and it has been slowly building up, but then Romelu Lukaku spoiled it. When asked when he would be happy about the tournament, he replied, "If we win it. That is my dream. We have the team to do it."
You can't blame Lukaku for wanting this. Every player in the world dreams of lifting that trophy. And in any other country, he would have been applauded.
But this is Belgium. Belgians don't beat their own drums. Being favourites, even in what is perceived as the weakest group of the World Cup, doesn't sit well with them. This is a country of perennial underdogs. Every Belgium coach has always done his best to manoeuvre the side into that position. So, who are all those mad people saying Belgium will do well in Brazil?
So as the opener against Algeria drew closer, the atmosphere changed. Many were secretly, quietly, shyly thinking that maybe, just maybe, there might be a repeat of the 1986 heroics. It gave the country a warm feeling, while it stuck safely to its underdog roots. But now Lukaku has blown that cover, having the unthinkable nerve to say it aloud.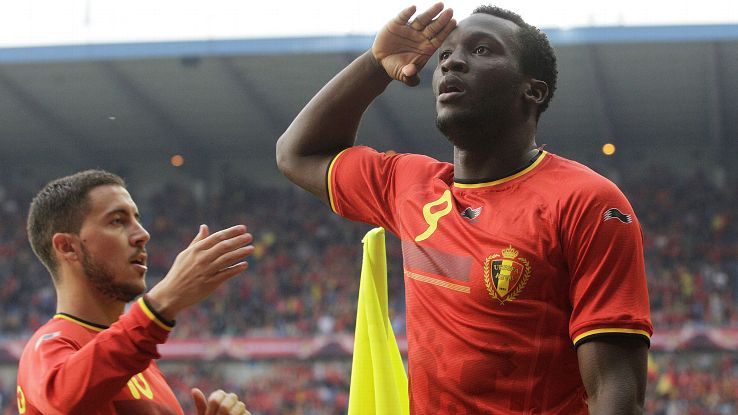 The tricolores were still there, sure. In fact, there are more now after the Algeria match than before. You get the feeling that there will be even more if Belgium beat Russia and progress to the second round. Then the flags will really start coming out.
The Belgians certainly have the best team in Group H, which makes topping the group a distinct possibility. Should that happen, they'd likely be met by the U.S. or Portugal. Without the likes of Fabio Coentrao and Hugo Almeida, and some of Cristiano Ronaldo, the Portuguese can be had. And should the USA be waiting in the second round, a 4-2 win over the Yanks a year ago will be fresh in mind.
But that is not what Belgians want to read, of course. So, for their sake, let me say this: Belgium will struggle. They narrowly beat Algeria, and now Russia will tear them apart, allowing the side to only just scrape through in second. After which, of course, a date to be ridiculed by the Germans in the second round awaits.
No one will bother going to Brussels airport to welcome home that bunch of arrogant no-hopers. There, that's better, isn't it? Of course not, but it is what many Belgians force themselves to believe for the sake of self-preservation.
While wearing a Belgium training jacket this morning, I was approached by a man in a Russia shirt. He asked what I thought of the game. I said Belgium would probably win and he agreed, adding that this is the only game in which he would not support Belgium. "I was born here," he said. "It's a bit strange supporting two countries but I'm not complaining because Belgium are going to do so well."
Maybe it takes a broader kind of perspective to let go of that underdog feeling. "Good luck," the man said as we shook hands. "Really, Belgium will be fine."
Wim Van Walle has contributed to ESPNFC since 2010. Back in 1980, his passion for football was decided by the teams of the day. And apparently it stuck. Three decades later, Van Walle is still as passionate about Belgium's Red Devils and Nottingham Forest.