Dutch close to realizing their dream
RIO DE JANEIRO -- Holland's new hero going into Saturday's quarterfinal with Costa Rica is not the world's most talented player. He's good old Dirk Kuyt, 33. "He starts as left-back, then he's right-back, and when the situation demands it he plays striker," marveled Johan Cruyff, the man who invented Dutch soccer, after Holland's last-gasp round of 16 victory over Mexico. "You're blessed as a team if you have someone like that. With Kuyt you can go in all directions tactically."
That's what the Dutch have started to do. They are revealing themselves as possibly the tournament's most tactically flexible team. Conversely, after losing Nigel de Jong, their midfield is becoming as big a worry as their shaky defense.
Netherlands

Costa Rica
Netherlands wins 4-3 on Penalty Kicks.
Match 59
Game Details
Holland went into the World Cup playing a 5-3-2 formation, chiefly because coach Louis van Gaal had decided that his inexperienced defenders needed extra cover against the world's best strikers. The system worked beautifully in the opening 5-1 win over Spain. But in the next match against Australia, Holland soon switched to playing three up front, and did it again after going one down to Mexico.
During the second-half drinks break, still chasing the equalizer with just 15 minutes left, Van Gaal even moved Kuyt forward to create a four-man attack. Simon Gleave, head of analysis at the Dutch-based Infostrada Sports company, notes that these positional changes have been a Dutch trademark since the "Total Football" era of the 1970s. In this tournament, they have been executed so intelligently that even pro-Cruyff media in the Netherlands are now praising his ancient enemy Van Gaal.
The coach hasn't yet revealed which formation Holland will use against Costa Rica, though many Dutch fans yearn for a return to Holland's traditional 4-3-3. When the Algemeen Dagblad newspaper polled readers online, that's what the majority wanted. Playing three up front would push the Dutch to a more possession-based, less counterattacking game. If Memphis Depay plays left-wing in a three-man attack, it would help playmaker Wesley Sneijder, who tends to pass to the left.
When Sneijder has only two targets up front, he struggles to find them. This tournament, he has been chiefly a defensive runner. He has covered, on average, three kilometers more per game than Argentina's creator, a certain Lionel Messi, notes the Algemeen Dagblad. Sneijder, who was not in the best shape just months ago, is now the fit centrepiece of a fit team that, against Chile and Mexico, sealed two straight victories in the closing minutes in the heat.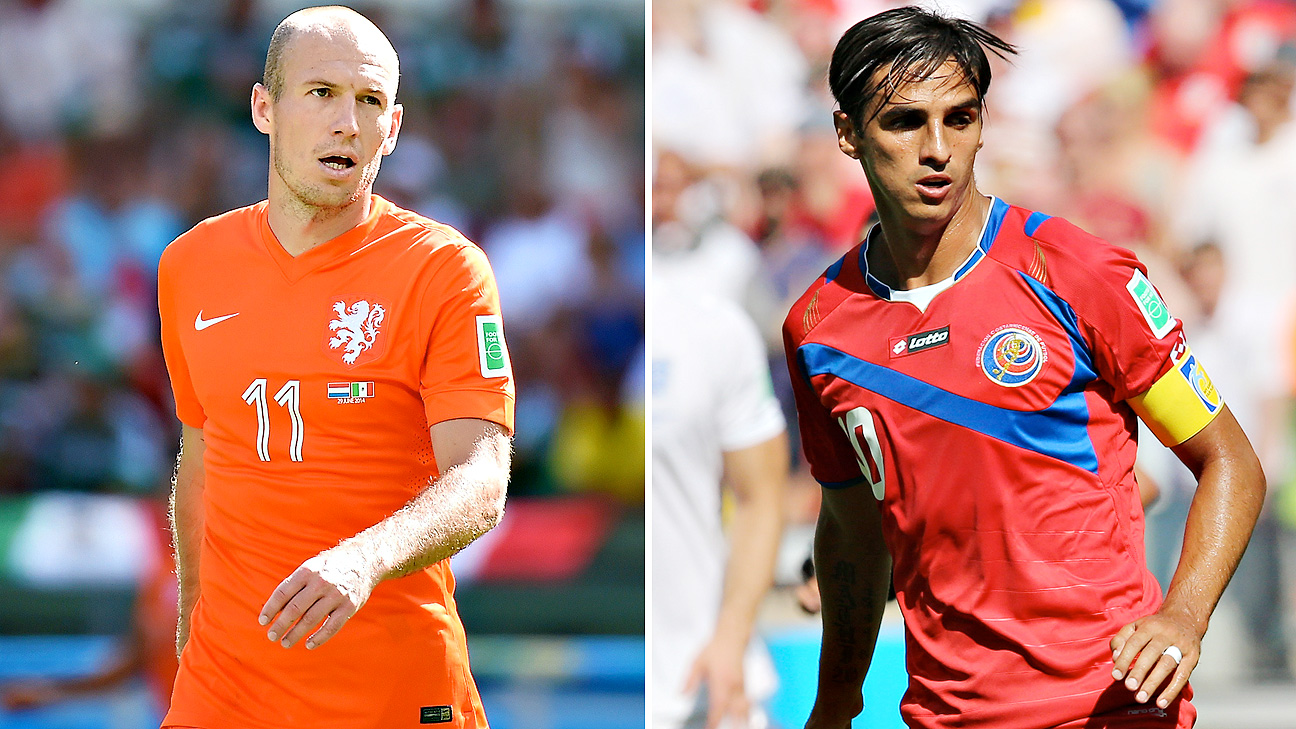 The attack is Holland's only world-class line. Stats from data provider Opta reveal their frightening efficiency: 63 percent of Dutch shots have been on target, the most of any team here, and Holland have attempted on average only 120 passes per goal, the fewest of any team.
The best of the Oranje's forwards so far is of course Arjen Robben. Van Gaal, against his own principles, has created a team that relies on the dribbles of one genius, and probably no previous Dutch team depended more on a single player (Holland reached the 1978 World Cup final without Cruyff.) Robben is wily -- too wily for some. He may not get another penalty in this World Cup after admitting that he dived once against Mexico, though the penalty he did get looked real: Rafael Marquez stepped on his foot, even if Robben then went gratefully to ground.
Normally quiet, Robben has become influential off the field too. Midfielder Georginio Wijnaldum says: "He's a real leader, the sort of captain you'd expect. Arjen keeps us sharp, talks a lot more than Robin van Persie [the actual captain]. He keeps talking about Euro 2008. Then too it went fantastically in the group stage, but as soon as it really counted they weren't there and got knocked out [by Russia in the quarterfinal]. Robben absolutely wants to prevent that."
Robben is 30 now, as are Van Persie, Sneijder and Klaas-Jan Huntelaar. They suspect this is their last chance of a prize with Holland and that may be why they are behaving in Brazil, in contrast with the endless squabbles in Ukraine during Euro 2012. Then, Huntelaar couldn't handle being a sub. Now he calls his match-saving cameo against Mexico "the best moment of my career." Holland's camp in Rio -- where Van Gaal cancels the odd training session, and children and wives are frequent visitors -- sometimes resembles a family beach holiday.
Holland's problem is the weak back eight. Before the World Cup, Dutch fans were despondent about a defense drawn chiefly from their own domestic league. Now De Jong's groin injury, which rules him out of the tournament, weakens the defensive midfield too. "One of my biggest pawns," Van Gaal called him. (The word "pawn" is revealing. Van Gaal has a tendency to see players merely as cogs in his brilliant tactical schemes.)
No other Dutch midfielder can win balls like De Jong. Daley Blind passes forward better, but loses too many duels, and allowed Giovani dos Santos to shoot for Mexico's goal. Still, Blind will play in central midfield from now on, with beside him either Wijnaldum or the only one of Holland's 20 outfield players not to have featured yet, Jordy Clasie. That won't scare Costa Rica, who are led by Bryan Ruiz, the man who finished last season on loan to PSV Eindhoven in the Netherlands.
Historically, Dutch arrogance goes in cycles. The better Holland's team is, the more likely it is to underestimate opponents. Now, with several weaker players, the Dutch are in a humble phase. It would be unforgivable to underestimate a Costa Rican side that has already beaten Uruguay, Italy and Greece. Still, even now the Dutch are tempted to do exactly that. It's in their nature. Sneijder tried for modesty, saying, "Costa Rica is a good South American team." But in fact Costa Rica is a Central American team.
Given that there is no invincible team here in Brazil, the Dutch have a decent shot at winning their first-ever World Cup. If they throw this one away, they won't forgive themselves.