Lukaku's Chelsea future could change in Brazil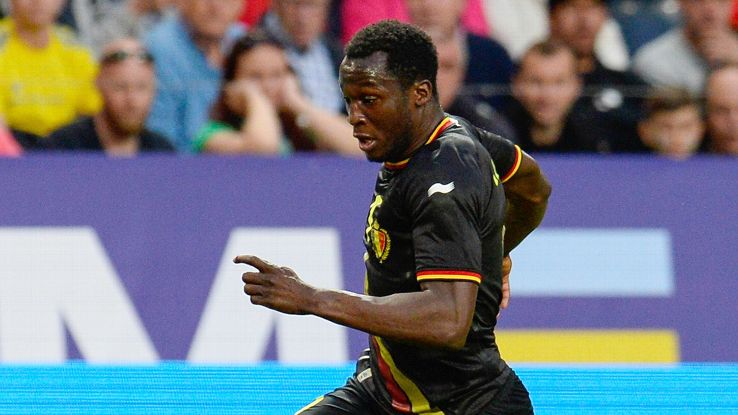 On the eve of the 2014 World Cup, a Chelsea player prepares to enter his first international tournament ranked as the fifth-likeliest to emerge as its top goal-scorer. Only Lionel Messi, Neymar, Cristiano Ronaldo and Sergio Aguero have shorter odds to acquire the biggest haul once the curtain comes down on 13th July than Romelu Lukaku. And yet while the clubs of those aforementioned superstars are busy installing implausible buyout clauses into their extended contracts and building next season's hopes around them, the Belgian finds himself with little clue as to where he will be playing in August.
Much has been said about Lukaku's immediate future, not least by the man himself. In the last week at least two separate interviews with the striker have appeared in print that seem to offer conflicting views on how he sees his position. In the first one he referred to himself as one of those at the World Cup that was "looking for a transfer", citing Chelsea's perennial search for a star name to lead their line. But then a few days later he appeared to backtrack from that opinion by claiming that "Chelsea are still the biggest team in England" and that they have "a very, very good manager." The question remains: does he want to stay at Chelsea or does he want to leave?
Now, everyone knows how the press love to manipulate the words that come out of footballers' mouths, especially in relation to a transfer. Such tittle-tattle provides the fuel for the rumour mill to keep turning, irrespective of the veracity or context of those words. But Lukaku has always been a very talkative person, a trait that is not doing himself any favours. It seems a shame that a player with a genuine opinion should remain silent while those that parrot the bland indoctrination of club media training dominate the landscape. But with clicks to gain and newspapers to sell, any remark away from the well-trodden path is ripe for exploitation and he would be better served by keeping his own counsel.
What does seem apparent is that Lukaku is very confident in his own ability and is happy to tell that to anyone in his proximity. That is an admirable quality in a footballer and is essential when striving to reach the very top. The problem is whether he truly believes this or if it is actually masking for a trace of self-doubt. This might seem a little unfair and it might be wide of the mark, but there has been the odd insinuation that this might be the case.
For instance, it is well-known that the arrival of Samuel Eto'o at the end of last summer's transfer window prompted Lukaku to speak to Chelsea manager Jose Mourinho and request a move away from the club. Being fearful of a 32-year-old veteran who had been wiling away his dotage in the Russian Premier League is not necessarily the action of someone so assured of his own talent. Of course, he might have been given the signal that he was some way down the pecking order of strikers at Stamford Bridge which would make his reaction totally understandable. On the flipside, the fact that he reiterated his concerns last week that Chelsea would be back in the market for a target man this summer bely a sense either of inadequacy or entitlement.
Taking the latter of those possibilities, Lukaku has undeniably impressed in the last two seasons on loan at West Bromwich Albion and Everton, shining in the maelstrom of the Premier League. He might well feel that he deserves his chance at his parent club and it would take a very harsh judgment to proclaim otherwise. The problem he has is that there is zero chance that Mourinho is going to put all his eggs in the Lukaku basket -- a player with very little European experience and none when it comes to battling at the sharp end of a major championship -- especially given the meagre output from his trio of hitmen last season that ultimately undermined the quest for silverware.
If Chelsea are to compete for the big trophies next season they will need a collection of marksmen that can be trusted to fire on every occasion which means approaches for the likes of Diego Costa and Mario Mandzukic are vital. In a perfect world, Lukaku would complete the set and with Mourinho determined to employ a meritocracy at the club he would know that he would be consistently selected if he produced the goods when afforded the opportunity.
- Report: Costa admits to possible Chelsea move
There could also be another motive behind his transfer rumblings talk and that is the desire to put down roots. In the last four years he has played for four different clubs, through no fault of his own, and he could be forgiven for getting weary with the nomadic lifestyle. Few players achieve much in the game through a peripatetic existence with perhaps Christian Vieri the only modern example of an itinerant footballer getting to the very top of his profession.
Chelsea do have a tendency to collect talent and farm them out on loan, and while it makes economic sense for the club, the players themselves can understandably feel like little more than faceless commodities. Goalkeeper Thibaut Courtois is another who faces an uncertain future with the Blues, though his rise to the higher echelons of the world game means that he has an incredibly strong bargaining position and could almost choose which club he wants to play for assuming that they were able to meet the asking price.
Lukaku might not currently be quite so blessed, but his free-scoring in the Premier League has seen many covetous glances come his way from both near and far. Should he confound Messi, Neymar and the rest and win the Golden Boot this summer, then he might be able to emulate his compatriot goalkeeper and decide his own future.
Follow Phil Lythell on Twitter @PhilLythell