Pinto has Ticos primed for the Netherlands
SAO PAULO -- No matter the outcome of Saturday's quarterfinal between Costa Rica and the Netherlands (4 p.m. ET, ESPN/WatchESPN), the Ticos will go home as heroes.
What the Cinderella squad has already accomplished in this competition -- not just surviving, but winning the only World Cup group in history to contain three previous champions, advancing to the final eight for the first time in the tiny (pop. 4.8 million) Central American nation's history -- guarantees it.
Besides, after beating Italy and Uruguay in the first round, surely they don't have another upset left in them.
- Brewin: Quarterfinal defensive discussion
- Report: Costa Rica players to earn clubs £60,000
- Cox: Key matchups of the quarterfinals
But who would bet against Jose Luis Pinto's team at this point? (Plenty of people, actually, but you get the point.)
The Dutch are the overwhelming favorites, that much is clear. But after what Pinto's men have done in the past three weeks in Brazil, there is at least some reason to believe that Costa Rica can stun the mighty Dutch when they meet at Arena Fonte Nova.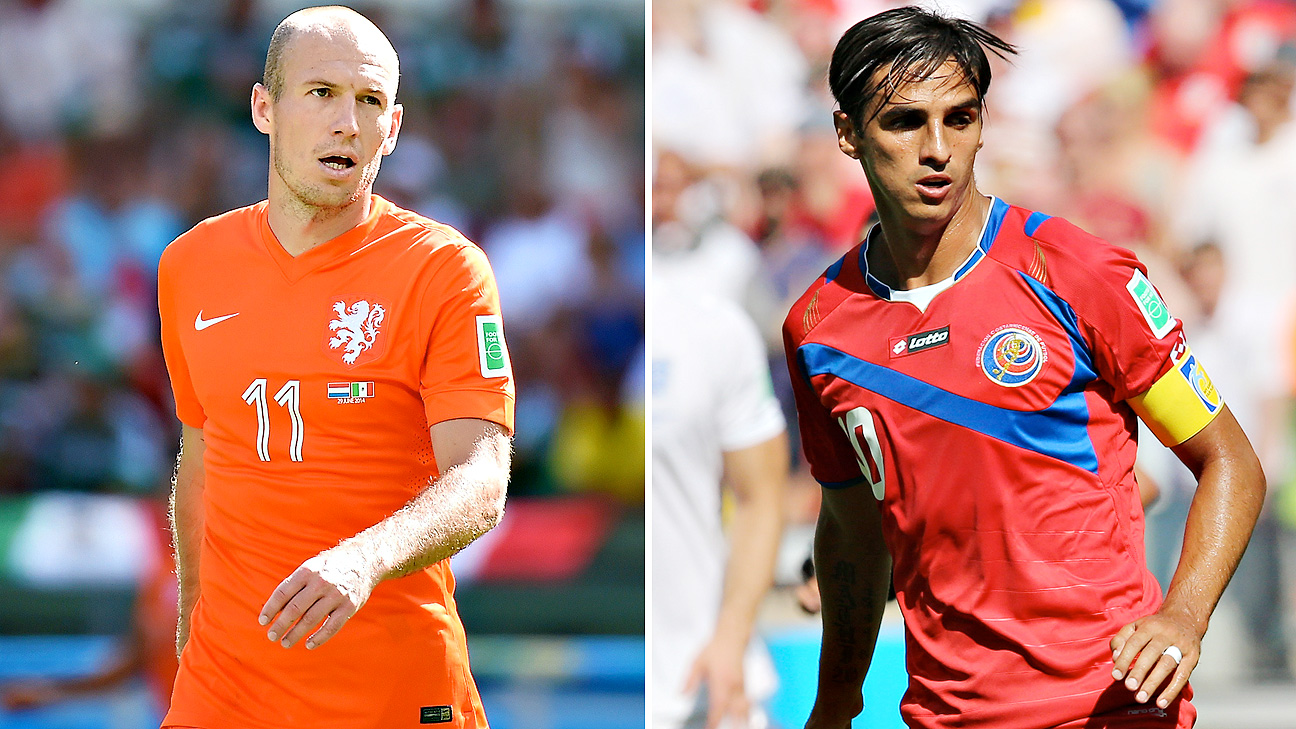 It will come down to how much they have left in the tank.
There's no question that Costa Rica's heroic performance in the penalty-kick win over Greece in the round of 16 -- a match they finished with 10 men -- depleted their reserves significantly. But while the physical and emotional toll of playing short-handed for more than an hour may come back to bite them, the contest may end up being closer than many anticipate.
What Pinto's side lacks in pedigree, they make up for in organization. The Colombian is a meticulous planner, and he's gotten his players to not just to buy into his defensive-minded system, but to embrace it. The proof is in the numbers: In four games, the Ticos have given up just two goals.
"We have a very well-established structure," Pinto said after his side beat the Greeks. "Everybody knows what they have to do."
Also, the coach has gotten his players to believe.
Costa Rica could have folded when Greece scored a late equalizer in the round of 16. They could have given up another goal long before the match went to penalties. Instead, they defended like their hair was on fire, and when it came time to take the spot kicks, the Ticos' steely mentality was what saw them through.
Besides, while the Netherlands come into the contest having gone 4-for-4 in Brazil, that perfect mark is somewhat deceiving. The Oranje were just minutes away from elimination against Costa Rican rival Mexico, and they had more trouble than they should have putting away Australia in the first round.
In short, they appear beatable. But it will have to be another complete effort mixed in with a little luck if the Ticos are to pull the upset. Here are their three keys to making it happen:
1. Keep Arjen Robben in check
Easier said than done, no doubt. The Bayern Munich man has been the player of the tournament (along with Colombia's James Rodriguez) so far, and how he goes, so go the Dutch. The Netherlands have other weapons, too -- striker Robin van Persie seems poised for a breakout after a relatively quiet tournament -- but Robben is the straw that stirs the drink. But he also has a tendency to get frustrated when he's marked tightly, which he will be against the Ticos. And after the controversy surrounding his alleged dive(s) against El Tri, the officials will be watching any embellishment extra-close.
2. Keylor Navas will have to come up huge once again
It could take a Tim Howard-like performance from Costa Rica's keeper to keep the mighty Dutch attack at bay, but Navas' record in the tournament suggests he's up for the challenge. The 27-year-old has the highest save percentage of any keeper who has played in multiple games in the tournament, Howard included. That mark is no fluke: Navas, who plays for Spanish club Levante, led La Liga in saves and save percentage last season.
3. Pinto will have to outcoach Louis van Gaal
On paper, this looks as big of a mismatch as the one between the two managers' teams. Van Gaal -- who will take over Manchester United when the World Cup is over -- is among the most decorated coaches in the game, and his in-game tactical adjustments during the Netherlands' win over Mexico went a long way toward helping his team pull off the late comeback. He also has switched looks from match to match, going with a five-man back line at times (such as when van Persie was suspended against Chile in the group stage) and a three-man defense at others. But Pinto is making a name for himself in this tournament, too, and you can be sure he'll be eager to match wits against one of the best coaches in the world. If he can keep the Ticos' miracle run going a little longer, he'll have his pick of European club offers himself.