Pride a motivator for fallen Brazil
RIO DE JANEIRO -- Louis van Gaal said it on Wednesday and Luiz Felipe Scolari mentioned something along the same lines while working with Portugal at the 2006 World Cup. The third-place playoff is a drag. It is the game in which the two losing semifinalists have to try and find a reason to actually look bothered on the pitch. With all due respect to the Netherlands' heartbreaking penalty shootout defeat to Argentina in São Paulo, it is worse if one of the teams involved is still nursing a massive hangover after being whooped unceremoniously in front of their own fans.
But for Brazil, meaningless this game is no more, like Master Yoda would say. The Seleção need to find energy from somewhere so they can finish the 2014 World Cup on the faintest of high notes.
While third place holds little intrinsic value, victory over the Dutch could actually be a shot in the arm for Brazil at a time when they're not looking forward to a rebuilding job after failure to land their coveted sixth title and their first on home soil. It will save them some face and buy them some peace for a process that looks troubled and uncertain, starting with Big Phil's refusal to make a decision about his future. In Friday's news conference in Brasilia, the manager once again dodged the question by once again throwing responsibility at the Brazilian Football Confederation (CBF).
"My job here finishes after the game against [the Dutch]. It will be the end of a first stage in the mission I had received from CBF and then I will handle them my report. We will see what happens," Big Phil said before defending his record at the job.
While there are hints that newly elected federation president Marco Polo Del Nero could offer an extension until the end of the year, there are conflicting reports that the CBF is wary of how the public could react to Scolari keeping his job after overseeing Brazil's worst-ever defeat. These matters will have to wait until after the game in Brasilia, though. Especially because even after van Gaal's hardly encouraging remarks about having to play, the Netherlands remain a team capable of giving the Seleção enough problems.
Since Tuesday, Scolari has been on a mission to refocus his traumatized players, and the fact that injured Neymar was the only player who took part in any media activities since the Belo Horizonte debacle suggests that the mood is hardly buoyant -- an impression reinforced by the images of a sulky Thiago Silva sitting alongside the overly jovial Felipao at the Mané Garrincha stadium. After missing the Germany game through suspension, Silva will be back in the fold, and he didn't hesitate to return to his captain role by issuing a call to his teammates.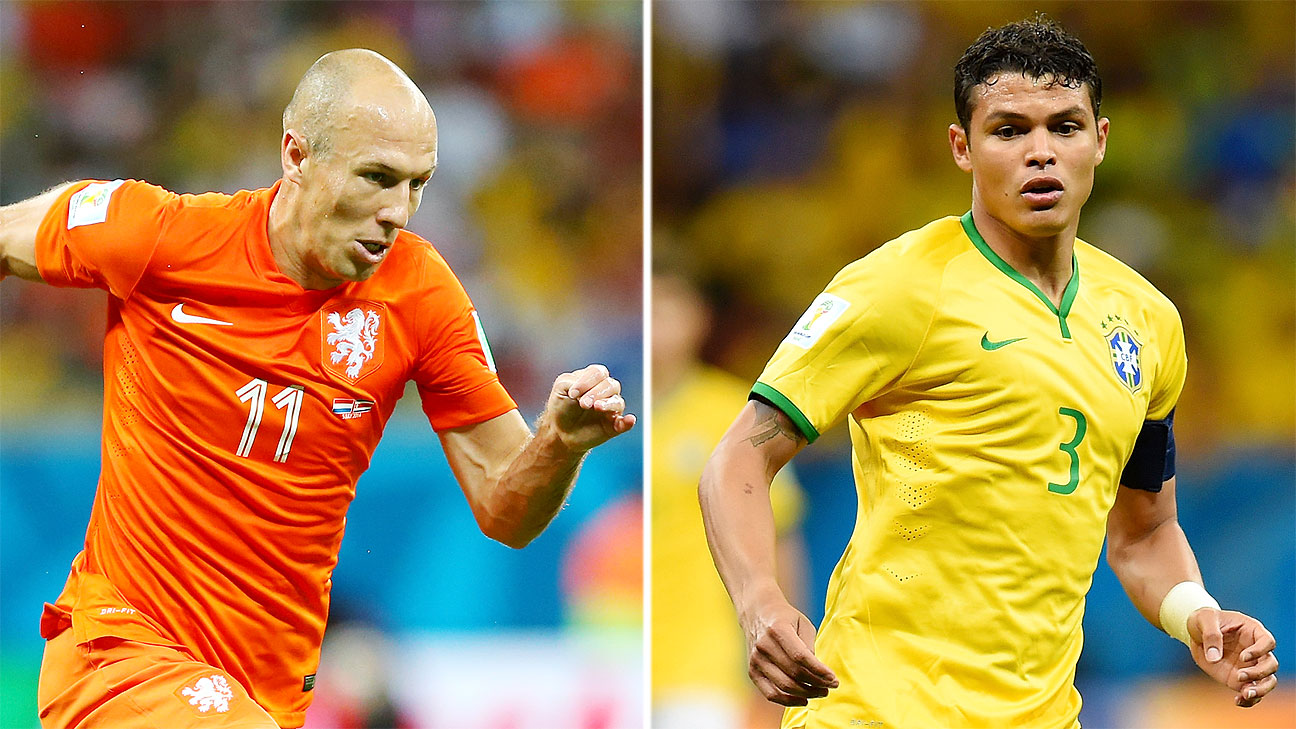 "Of course we cannot fulfill our dream to win the World Cup but this game against the Dutch is important for us to regain our honor and dignity. When you play for the Seleção you have to respect it above all. The motivation has to come from the fact you are wearing that yellow shirt," reckoned the Paris Saint-Germain defender.
Easier said than done. The Dutch have frustrated many a team in this World Cup and van Gaal surely will take special pleasure in trying to upstage his Brazilian counterpart after they traded some insults during the competition. The new Manchester United manager certainly wants the players to do so, too -- his side would actually fancy their chances after what they saw on Tuesday.
Brazil, naturally, have problems, and Scolari hinted that two changes will take place for the duel in Brasilia. One seems really likely to be Fred's "demise" after a horrendous World Cup, although it remains unclear if Scolari, ever the stubborn man, would simply bring also-misfiring Jo in or attempt a "false nine" upfront. The other change could simply be the introduction of another midfielder to beef up a sector so exposed by Germany. Fernandinho, who had a nightmare game in Belo Horizonte, would make way for Ramires to anchor the midfield alongside Luiz Gustavo and Paulinho.
While the lineup doesn't matter much in theory, in practice it's a chance to leave the Seleção with something positive for the rest of the year. After a couple of friendlies Brazil will gear up for their first official competition, the 2015 Copa America in Chile, and the fact that pundits and analysts expect at least 70 percent of the World Cup squad to remain in the plans of whoever takes over in the next few weeks. Normally not an amazing priority for the Seleção, the Copa America regained some importance after the strong showings of many South American teams in Brazil. "The Copa America will be a huge competition and we have to motivate ourselves," said Silva.
But then the focus will shift toward another competition Brazil cannot really afford to lose: Rio 2016. The Olympic gold medal is the only title Brazilian football has never won, and chasing it will become much more of an obsession after the Seleção fell short this summer. Given the competition is mainly played by under-23 players with three "wild-card" players allowed, some Seleção players might as well pick themselves up and go for it in Brasilia.
"We can still leave this tournament giving some joy to people," Scolari believes.
Fernando Duarte is a U.K.-based Brazilian football expert who has reported on the Selecao for over a decade. Follow him on Twitter: @Fernando_Duarte.