Herrera must learn from Bosnia loss
Mexico lost 0-1 to Bosnia-Herzegovina in Chicago, but the lessons learned in the match might actually help the team in the future.
Perhaps El Tri coach Miguel Herrera wanted to get his first loss out of the way before the World Cup. The team has enough to deal with in Brazil without worrying about keeping that unbeaten record intact.
- Hernandez: Mexico vs. Bosnia-Herzegovina player grades
- Highlights: Mexico 0-1 Bosnia-Herzegovina
There's a focus created by a loss, and that's important. No matter how dire or turgid a match, if the final result is a win, or even a draw, it tends to provide a salve of forgetfulness about the reality of the performance. Defeat is humiliating, but the soul-searching that it prompts is often useful.
It was always going to be hard for the squad to move on from the emotionally draining victory over Ecuador that included a ghastly injury to Luis Montes and ended his World Cup dream. The absence of Rafael Marquez due to a slight foot injury only added to the disequilibrium of a team trying to keep an even keel.
In the first half, there was simply a lack of urgency to Mexico's performance. Bosnia-Herzegovina, by contrast, had a lively start, with Edin Dzeko shooting early and often on goal. Mexico seemed confused and reactive, instead of proactive.
Despite that, a nice moment came for El Tri in the 24th minute, when Miguel Layun laid a lovely, long pass into the path of Javier "Chicharito" Hernandez, who wore the captain's armband that night. Hernandez, eager to break his scoreless streak, fired off a solid shot, but it banged off the post.
Other than that chance, Mexico was somewhat listless. Alfredo Talavera looked anxious in goal. Raul Jimenez was a ghost. Miguel Ponce was invisible. Hernandez was trying, but nothing worked out for him.
The loud crowd cheering for Mexico in the sold-out stadium did not intimidate the Bosnia-Herzegovina players, who continued to create chances. Five minutes before the half, their efforts finally paid off. Sejad Salihovic controlled a ball in the box, including sending a sharply angled pass to teammate Izet Hajrovic, who was charging into the area. Hajrovic one-timed the ball through the legs of Layun and past a diving Talavera.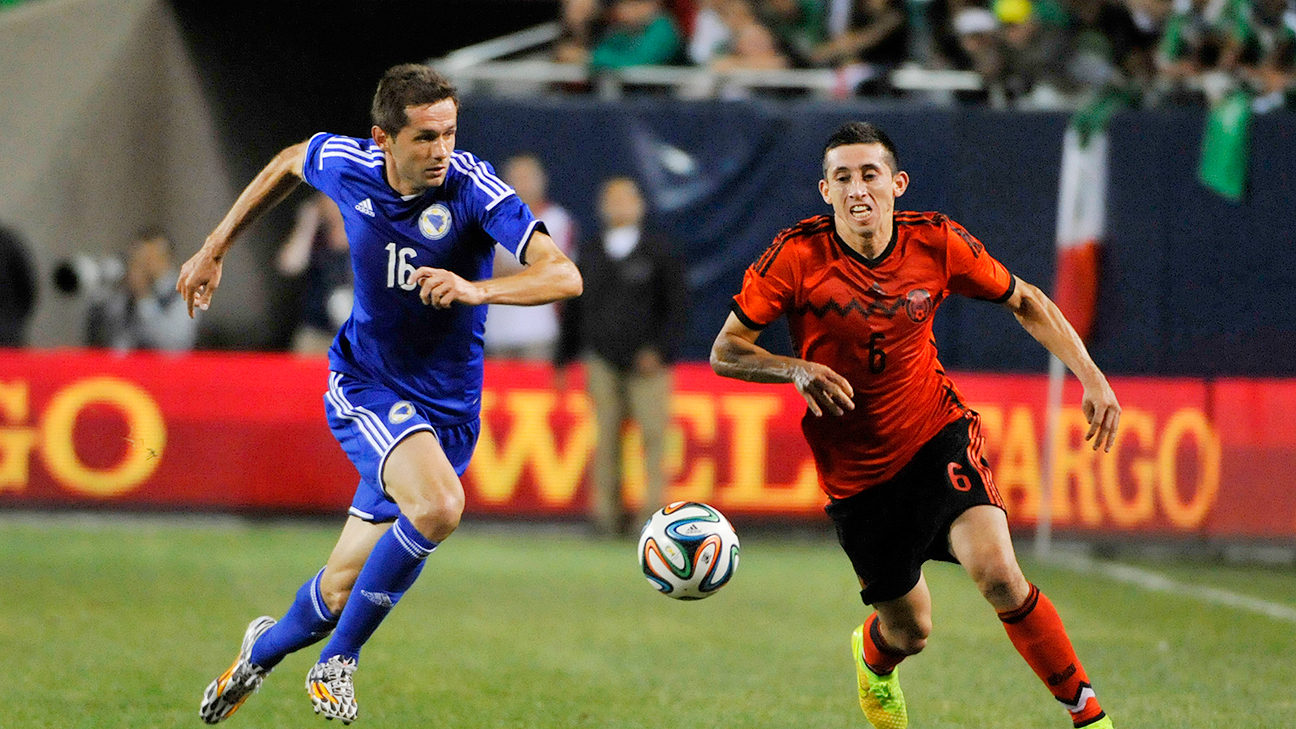 Herrera has proven that he can inspire a team to rally from behind. That's exactly what El Tri did when down two goals to the USA earlier this year.
Indeed, after the half, Mexico did play much better, possessing the ball most of the time and creating chances. Ponce fired a shot that forced Bosnia-Herzegovina goalkeeper Asmir Begovic into a diving save. Another quality save denied Francisco Rodriguez on a header.
Herrera gave two of Mexico's best, Giovani Dos Santos and Marco Fabian, little time to affect the match. Dos Santos was sent on in the 71st minute, and Fabian entered with less than 10 minutes left in the game. Still, they helped turn the final minutes of the match into a firing range of chances that Begovic heroically denied again and again. As the famous last words go, it was too little, too late.
Mexico finished the game with the majority of possession and more shots, but Bosnia-Herzegovina had the stat that mattered -- the win.
In this match, Herrera didn't experiment just with little-used players like Talavera, but also with his traditional formation. Under Herrera, Mexico has played 5-3-2, but against Bosnia-Herzegovina, Herrera tried out a back four.
Though a traditional format for many teams, this change seemed to confuse Mexico's players. Without Montes, Carlos Pena seemed befuddled in the midfield. Layun, normally one of Mexico's best players, was caught out of position for the goal. He seemed disoriented when moving upfield as well and sent crosses awry, twice colliding with his own teammates.
What Bosnia-Herzegovina has taught El Tri should not go to waste. Herrera needs to establish and stick with a starting goalkeeper. He should also realise that tinkering with formations is unnecessary and even counterproductive. He must sort out which players are ready for the pressure of quality competition.
The fire of any loss burns, but it also tempers steel to make it tougher.