Transfer Talk: Borussia Dortmund's summer so far
With the transfer window in full swing, ESPN FC Borussia Dortmund blogger Stefan Buczko discusses how Jurgen Klopp's side are shaping up ahead of the new season.
IN -- Ciro Immobile (Torino, 19.4 million euros), Adrian Ramos (Hertha BSC, 9.7 million euros), Nuri Sahin (Real Madrid, 7 million euros), Ji Dong-won (FC Augsburg, free), Matthias Ginter (SC Freiburg, 10 million euros)
OUT -- Robert Lewandowski (Bayern Munich, free), Julian Schieber (Hertha BSC, 2.5 million euros), Manuel Friedrich (unattached, free), Marvin Ducksch (SC Paderborn, one-year loan)
- Buczko: Ginter deal great for Dortmund
Expected budget: With Robert Lewandowski leaving on a free, one might think that this year's budget would be a bit tighter than usual, but that's not the case. Just like last year, this year's budget is around 50 million euros, as BVB stacked up enough money over the last couple of seasons to be prepared for a situation such as this. Even without the Evonik sponsorship deal, which racked up about 27 million euros for the club, Dortmund are financially healthy to invest in players.
Rate your business so far: Nine out of 10. Since all the business is done, this is already a final rating. Replacing Lewandowski sure isn't easy, but with Adrian Ramos and Ciro Immobile, Dortmund have signed two capable strikers who will give Klopp more options in his style. The 28-year-old Ramos has enough experience to hit the ground running, which shall lift the weight off Immobile's shoulders from the start.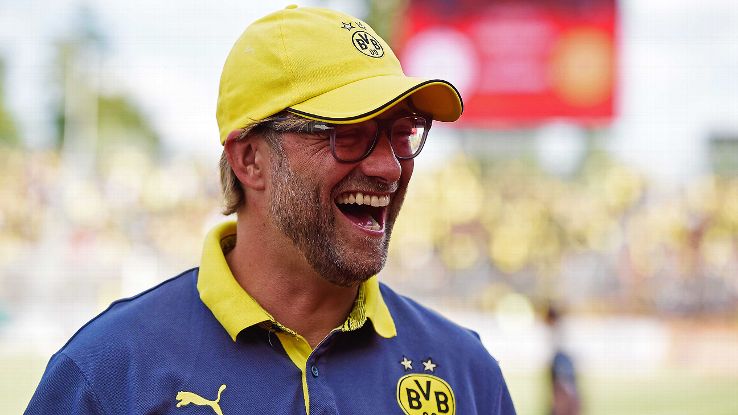 This transfer window was all about depth, which is why a talented young striker like Ji Dong-won was also signed -- just to be prepared for another injury crisis. But depth isn't only important in the attacking department. With the signing of Matthias Ginter, Dortmund enter the season with four quality central defenders. The competition within the team will be very interesting over the season, and player management will be essential.
Who should be sold? Well, there was only one name on that list, and he's already gone to Hertha BSC: Julian Schieber never quite made it under Klopp's tutelage. Lewandowski's importance for the team was always too big for Schieber to play a role. By signing Ramos and Immobile, Dortmund made it clear that they were not planning with the 25-year-old Swabian.
Apart from that, no one should be sold. There is no further need for players to depart. Manuel Friedrich was always going to leave, and loaning Marvin Ducksch to SC Paderborn for one season was a very sensible choice. Other than that, the black and yellows will keep their squad together as it is now. Speculations about Marco Reus, Mats Hummels or Ilkay Guendogan leaving are worries for next summer.
- Buczko: There's life after Lewy
Who should be signed?
This will be a quick one, as the main targets have all been acquired already. Every other name is just a breeze floating through the rumor mill, but not actually a target. Of course, the BVB officials are keeping their eyes open for a bargain that might come along, but that's more about young, talented players -- not about spectacular signings.
Problem solving: What do you need? The main problem area is of course the striker position, with it unclear how well Ramos and Immobile will fill the void left by Lewandowski. Apart from that, it's hard to point out a problem area. BVB is excellently staffed at every position for the upcoming season. Players like Neven Subotic, Sven Bender and Jakub Blaszczykowski are finally coming back from injury, Reus will miss only the first few games of the season and even Guendogan will re-enter team training in September. Just to give an example: With the signing of Ginter, BVB have four center-backs brimming with quality. Both fullback positions will find an interesting battle between Marcel Schmelzer and Erik Durm on the left, and Lukasz Piszczek and Kevin Grosskreutz on the right. The kind of depth that Borussia Dortmund has to offer will be a whole new experience for the fans -- and for Klopp.