Solskjaer still perfect, but how he handles adversity could determine Man United fate
LONDON -- So far, so flawless, for Ole Gunnar Solskjaer as Manchester United's caretaker manager. Friday's FA Cup fourth-round victory at Arsenal extended his winning record to eight out of eight and, still, his team has yet to even fall behind in a game under the Norwegian.
In terms of a job audition, there really is little more that Solskjaer can do to persuade United's owners, the Glazer family, and executive vice-chairman Ed Woodward to hand him the manager's position on a permanent basis at the end of the season. Ultimately, a trophy would help, and United are now into the fifth round of the cup after this 3-1 win, while a top-four finish in the Premier League -- thereby securing Champions League qualification -- would also be a big tick in the box for Solskjaer. But right now, he is answering every question posed of him, and nothing has halted his stride.
Solskjaer has quickly drawn a line under the Jose Mourinho era; he has United winning again, has put a smile back on the players' faces and has generally lifted the mood of everyone connected to the club. In just over a month since Mourinho was sacked, the likes of Paul Pogba, Marcus Rashford, Anthony Martial and Victor Lindelof have been transformed from underperforming, confidence-shorn players into men at the top of their game. Even Alexis Sanchez, in the fast lane to becoming an expensive flop under Mourinho, has found some form, with the Chilean scoring the opening goal against his former club on his first return to the Emirates since he left for United 12 months ago.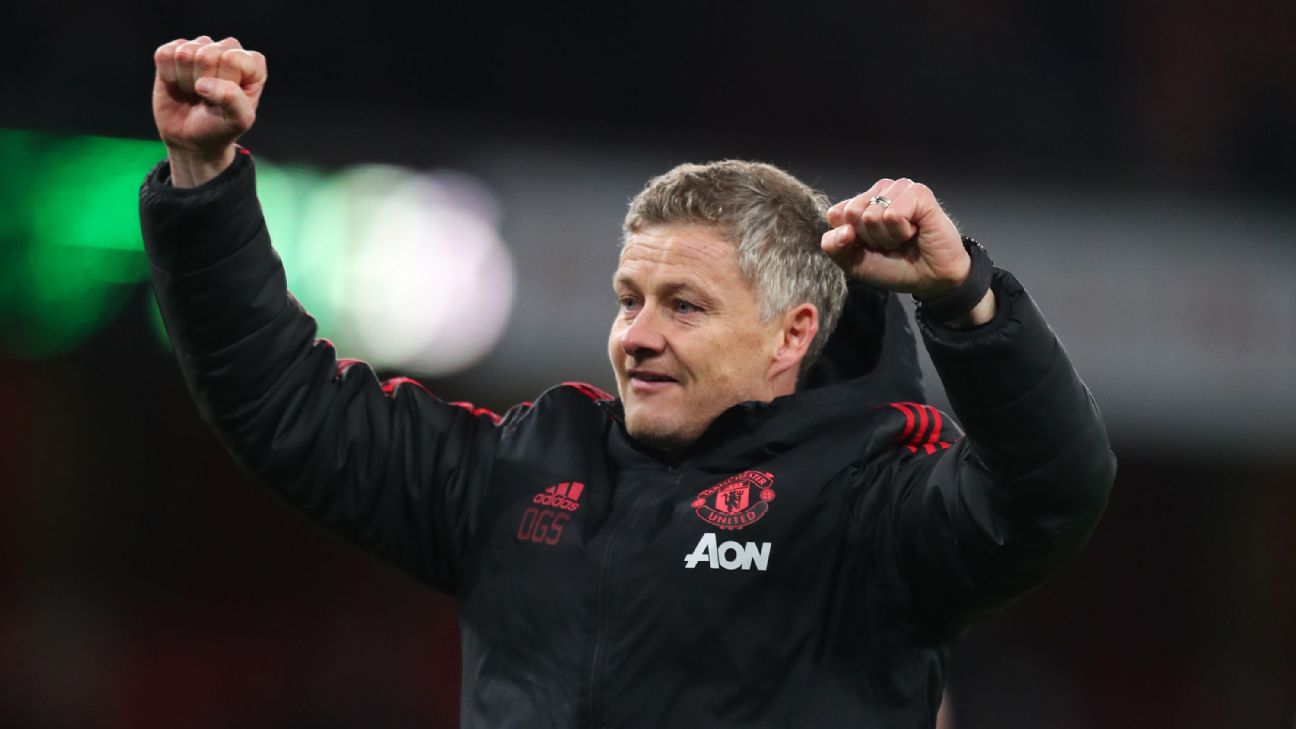 But football is not without its ups and downs, and Solskjaer knows that the feelgood factor will be -- has to be -- tested at some point in the coming weeks and months. And though he is currently putting together the perfect job application, the 45-year-old admits that, sooner or later, he and his players will have to deal with adversity and negativity.
"That will be a new experience for us, which will be great," Solskjaer said after the win at the Emirates. "It will happen and we'll learn from it, that's the thing.
"I'm getting to know these players, I'm learning how they react, but that'll be a new experience and you might just sit back and see how we handle it."
Momentum can only take a team so far. It is only when momentum fades that the true strengths and weaknesses of a team and a coach come to the fore.
Maurizio Sarri started the season with an 18-game unbeaten run as Chelsea's new manager, but the Italian has found it more difficult to keep the good times rolling since suffering his first defeat against Tottenham in November.
Arsenal's Unai Emery, having lost his first two games in charge against Manchester City and Chelsea, oversaw an 11-game winning streak, which extended to a 22-game unbeaten run, before the wheels fell off with a defeat at Southampton in December. That defeat at St Mary's sparked a run of five defeats in 10 games, including this FA Cup loss against United, so Arsenal and Emery are also discovering that football teams need more than momentum to keep the positive results coming.
Solskjaer has shown that United's run is about more than just momentum. Tactically, he has masterminded away wins at Spurs in the Premier League and Arsenal in the FA Cup, with an admission that the team has "worked on the structure" since it relied on goalkeeper David De Gea to keep Spurs at bay at Wembley recently. He is getting it right on the training ground as well as on matchdays, but if he is to become Mourinho's permanent successor, Solskjaer will likely have to find a way to solve a problem between now and the end of the season.
That problem could come in the Champions League round-of-16 tie against Paris Saint-Germain, with Solskjaer needing to devise a game plan to stop Neymar, Kylian Mbappe and Edinson Cavani from tearing United's defence apart. He will have to meet the challenge of taking on Pep Guardiola and Jurgen Klopp in games against Manchester City and Liverpool, respectively, and at some point sooner or later, Solskjaer will have to get his team out of a hole when they fall behind.
But United's next three games come against Burnley, Leicester City and Fulham, so there is a strong possibility that they will face PSG on the back of an 11-game winning run. Maybe that is when the hard work will really begin, but in truth, Solskjaer has made it all look easy so far, and not even PSG will be worrying him right now.