How does Rui Faria's departure affect Jose Mourinho, Man United?
Rui Faria will leave his position as Manchester United assistant manager at the end of the season, ending a 17-year association with Jose Mourinho. The pair have worked together since 2001, with the past two years at Old Trafford.
After spells at Uniao Leiria, Porto, Chelsea, Inter, Real Madrid and United, 42-year-old Faria, who earned a reputation as Mourinho's spiky sidekick, is set to take a break from football before "pursuing any new challenge."
Sources have told ESPN FC that Faria had been considering his future for some time, but his decision was still a surprise when it was confirmed by the club on Saturday. It leaves Mourinho without the man who has been at his side for eight league title wins in four different countries, as well as Champions League triumphs with Porto and Inter.
What does it mean for Mourinho?
Mourinho has said he will miss Faria and admits he will find it difficult to work without his longtime friend, but the bulk of his backroom staff, including Silvino Louro, Ricardo Formosinho, Carlos Lalin, Emilio Alvarez and Giovanni Cerra, will remain in place. It is, though, a chance for Mourinho to freshen up his team.
Sir Alex Ferguson would routinely appoint a new assistant to bring in new ideas: Archie Knox, Brian Kidd, Steve McClaren, Jimmy Ryan, Carlos Queiroz, Walter Smith and Mike Phelan all did the job during Ferguson's 27 years at Old Trafford, while Rene Muelensteen was also part of the inner circle by the time the Scot retired in 2013.
Mourinho has already confirmed Michael Carrick will join the coaching staff when he retires as a player this summer, but there is also speculation Muelensteen could return after Faria's departure.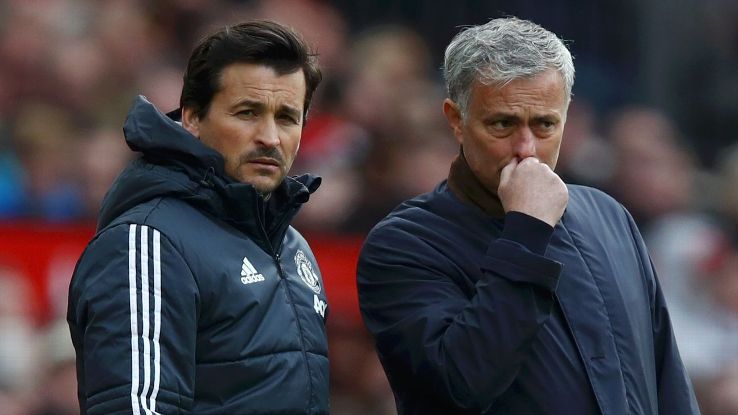 What does it mean for United?
Fans will hope Faria's exit means a more exciting brand of football will be played at Old Trafford next season. The majority of supporters are happy with the progress made since Mourinho took over and the possibility of three trophies in two years, coupled with a runners-up finish this season -- the club's highest Premier League position for five years -- speaks for itself.
But there are still grumbles about the style of play, and the appointment of Meulensteen, who has a reputation for pushing attacking football, would go down well; there was outrage when he was shown the exit door after David Moyes' arrival in 2013.
What does it mean for Faria?
Mourinho has spoken about his trusted lieutenant as a potential manager and, in the statement provided by United on Saturday, suggested that could be his next move.
It seems likely that when Faria returns to football, it will be as a No.1. He has been linked with the Arsenal job; when asked about the possibility last week, Mourinho said the role would be "a good fit" for someone he calls his "friend and brother."
Much could depend, though, on how much of a break Faria seeks. Arsenal need a new manager as soon as Monday, so a move to the Emirates Stadium appears unlikely. Maybe it's a long shot, but might a return to Chelsea, where he enjoyed so much success with Mourinho, be a more realistic possibility if Antonio Conte departs?
Rob is ESPN FC's Manchester United correspondent. Follow him on Twitter @RobDawsonESPN.