David De Gea showed again why Man United can't let him join Real Madrid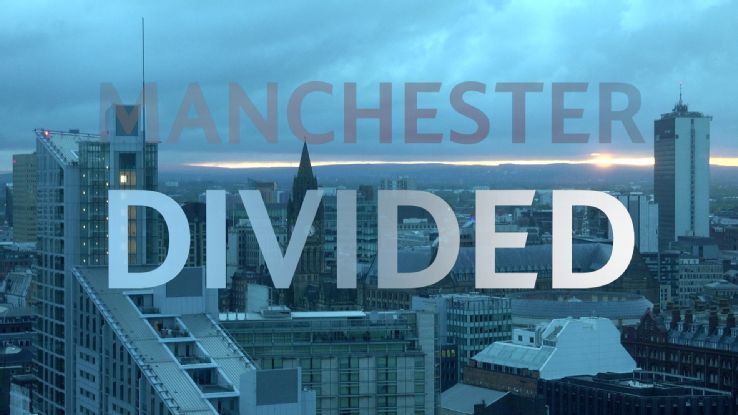 As the 3,000 Manchester United fans bounced and sang in delight after coming from two goals down to win another Manchester derby 3-2 at the Etihad Stadium, one matchwinner approached another on the pitch.
Pointing at David De Gea, two-goal Paul Pogba bellowed: "Eres numero uno! Numero uno! Numero uno!" [You are No. 1]. Then he hugged arguably the world's best goalkeeper.
Pogba's goals got the headlines on Sunday, but De Gea's 89th-minute save from Man City striker Sergio Aguero -- his former Atletico Madrid teammate -- sealed the three points. As with saves earlier this season against Arsenal and Sevilla. it was an effort the goalkeeper looked like he had no right to stop, but he did; this time with his right hand tipping the ball over the bar.
Aguero put his hands on either side of his head, while some City fans were so certain it was a goal that they had already begun their celebrations.
De Gea has kept 20 clean sheets in 39 games for United in all competitions this season and few would complain if he was named club's Player of the Year for the fourth time in five years. On one hand, it's worrying that the goalkeeper keeps winning the award; on the other it reflects his continued brilliance.
Superb reflexes and distribution first caught United's attention when they signed De Gea seven years ago, but add in agility, shot stopping and calmness and you see why he's been so successful, even when playing behind central defensive partnerships that leave many fans unconvinced.
While he's not been winning trophies like former legendary United keepers Alex Stepney, Peter Schmeichel and Edwin Van der Sar, there's already a strong case for De Gea being the club's greatest-ever goalkeeper, despite the stellar competition.
That's all subjective -- as is Pogba awarding him the title of the world's No. 1 -- for who is to judge? After all, United fans aren't watching Juventus' Gianluigi Buffon, Barcelona's Marc-Andre ter Stegen, Atletico's Jan Oblak or Bayern Munich's (injured) Manuel Neuer, who United tried to sign before De Gea, every week. But what matters is that De Gea stays at Old Trafford.
United have no intention of selling one of their best players, especially one with such commercial appeal. De Gea guards his privacy and doesn't dance around on social media, but his 11 million followers on Twitter are more than those of Pogba and Zlatan Ibrahimovic put together.
De Gea is out of contract at the end of the 2018-19 season, though the club holds an option to extend it by one year, and United certainly don't want him to run that deal down. The club are negotiating with his agent and know his value, but no deal has yet been signed.
The worry is always that he will want to join Real Madrid, but there's no repeat of Cristiano Ronaldo's 2008 situation here, wherein Sir Alex Ferguson knew 100 percent that he was leaving for the Bernabeu a year in advance of his departure.
United don't want to be seen as a club that loses their top talents to Madrid -- even if they are Madrilenos. De Gea will watch the Champions League games from home this week, including Real Madrid vs. Juventus, and he couldn't be blamed for wanting to be there himself, playing for a side that actually wins the trophy rather than reaching the quarterfinals just once since he joined the United.
The attraction of his home city club is obvious and will always be there but, by hook or dodgy fax machine, he's stayed in Manchester for almost seven years. United's strength is that they can pay so much money that even Real Madrid can't compete. They will push the boat out for star forwards but their goalkeeper Keylor Navas, who is popular with teammates and fans, is not on anything like the money that the biggest names earn.
When Madrid were linked with De Gea last year, Sergio Ramos told club president Florentino Perez that the players were with Navas. That wasn't a slur on De Gea, but merely the truth. Not much has changed since: Navas has two years on his contract, is playing well and was at the top of his game in Turin last week and during Sunday's Madrid derby. There's no clamour to replace him.
United also hope that De Gea can see improvement. He has now spent the majority of his professional career at a club in transition and timing has not been good to him in that respect. He did win the league title in 2013, though that's still nowhere near enough for someone of his abilities.
Yet, at just 27, he still has time to be part of United's recovery. They are still way off the best teams in Europe, but De Gea could have another decade as a top-flight goalkeeper. He eats well, trains well and is popular with the other goalkeepers and coaches.
Any worries about him not being in the Spain team because he's in Manchester have also gone. He's now the established No. 1 for La Roja, one of the favourites to win the 2018 World Cup in Russia.
And, as United showed in 2015, they'll play hardball with Madrid, even if it means De Gea sitting in the stands. The goalkeeper, as ever, will say little. As much as United fans would like to hear otherwise, it's his choice and his life, but he's loved in the red side of Manchester. Even more so when he pulls off saves like the one from Aguero on Saturday.
Andy Mitten is a freelance writer and the founder and editor of United We Stand. Follow him on Twitter: @AndyMitten.