Paul Pogba and Man United stuck together but need to work on relationship
Only Paul Pogba will know whether he is truly happy, or otherwise, at Manchester United, but the only certainty about the France midfielder's situation is that he really has nowhere else to go than Old Trafford.
Like it or not, Pogba is stuck with Jose Mourinho and Mourinho is stuck with Pogba. The 24-year-old may be one of the most highly-rated players in the world, but you would do well to find a club that is willing and able to give United their money back on a player they signed from Juventus for a then-world record £89.3 million just 18 months ago.
That is not because Pogba is not worth the fee -- although many would argue that the flaws in his game suggest that United overpaid for him in the first place -- it is because the list of potential buyers has been diminished by a variety of factors since he left Turin to return to Old Trafford in August 2016.
Manchester City have spent close to £500m since Pep Guardiola took charge in the summer of 2016 and they hardly need an attacking midfielder to bolster their squad, while Barcelona have already reinvested the £198m banked for Neymar by signing Philippe Coutinho and Ousmane Dembele.
Real Madrid? Now that is a team in need of new blood, but the priority at the Bernabeu is to rebuild an ageing forward line and sign a long-term replacement for centre-back Sergio Ramos, who is 32 next month.
Unless United can persuade Real to part with Luka Modric and/or Toni Kroos in part exchange for Pogba, it is difficult to envisage him turning out in Madrid colours anytime soon, especially with the likes of Eden Hazard, Mo Salah and Harry Kane much higher up Real's shopping list right now.
Bayern Munich are too sensible to consider a £90m move for Pogba and Paris Saint-Germain are already spending £166m this summer in order to make Kylian Mbappe's loan move from Monaco a permanent deal.
So, in the list of clubs who have the cash reserves to make a deal happen, that leaves Chelsea and, as we have seen over the past two years, owner Roman Abramovich is no longer prepared to pay eye-watering fees for players.
Still, all is not well for Pogba at United, even if talk of bust-ups and rifts has been overblown. Mourinho has insisted he has no issue with the player, beyond his recent poor displays, although the manager has certainly become more critical of Pogba in recent weeks.
Mourinho's public praise for the "simplicity" of Michael Carrick and Scott McTominay's performances carried the air of a coded message to Pogba, whose game is anything but simple.
The 24-year-old tries to do too much of some things (tricks, wonder passes, speculative shots) and not enough of others (tackling, tracking back, defending) and it would serve him well to sit in a locked room for an afternoon to watch videos of Carrick, or the likes of Modric and Kroos, emphasising why simplicity beats spectacular every time.
Yet for all of his Pogba's faults and shortcomings, he is a supremely talented footballer and one who makes United a better team when he is playing well.
United desperately missed his energy and ability to stretch the game during the 2-1 home defeat against Manchester City in December, when he was suspended after being sent off against Arsenal a week earlier.
He was outstanding in the 2-0 victory at Everton on New Year's Day, but dismal in the 2-0 defeat at Spurs five weeks later.
Against Everton, he played on the left of a midfield three, his best position, but against Spurs, he was asked to perform a role he simply cannot perform: alongside Nemanja Matic in a deeper-lying midfield two.
Mourinho is a smart coach and he will know that Pogba is not being utilised to his maximum in that holding role, so what happens next is crucial to how Pogba's second spell at United plays out.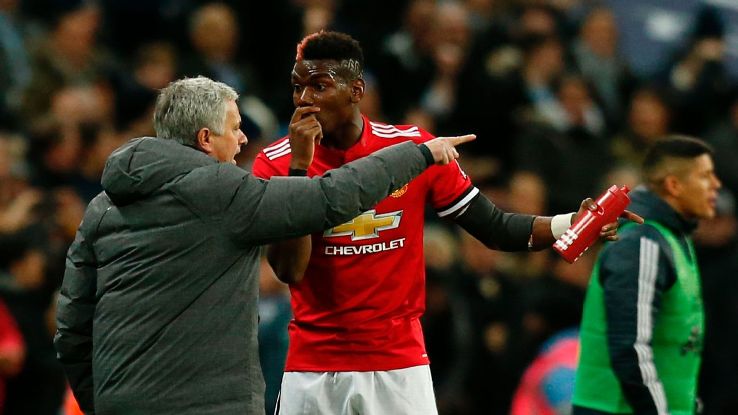 Ultimately, for Pogba to be a success at United, it depends on Mourinho playing him in his best position, but it also relies on Pogba knuckling down and working at ironing out his flaws.
And there is a third element too, which centres on United giving Mourinho the players he needs to improve the midfield to the point where Pogba can play where he is at his best.
Carrick's fitness problems have hurt Mourinho and United this season, and also led to Matic being overworked and overplayed, while Marouane Fellaini has also missed too many games. Ander Herrera is not good enough to play the defensive midfield role against the best opponents, nor is Daley Blind, so Mourinho has had to turn to Pogba recently because he simply has nobody else to play there.
But playing Pogba in a midfield two is like playing Luke Shaw at centre-back -- he is without the tools for that position and the end result of him being there is the situation we have now, with Pogba lacking in confidence and question marks growing over his ability.
But with some strategic summer recruitment, Mourinho can build a midfield capable of accommodating Pogba in his best role.
If Pogba is able to flourish, he must also accept the challenge of working on his game and cutting out the unnecessary extravagance, adding more of that much-needed simplicity.
But make no mistake, Pogba, Mourinho and United will be together next season. It is now up to all three of them to make sure it is a relationship that works as it should do.
Mark Ogden is a senior football writer for ESPN FC. Follow him @MarkOgden_