Arsenal's Mesut Ozil could be answer to Man United's No. 10 woes
That Manchester United manager Jose Mourinho likes Arsenal midfielder Mesut Ozil is not in dispute. He has said as much: calling his former playmaker at Real Madrid "the best No. 10 in the world" in 2013.
But Mourinho's admiration is likely to be growing with each passing day he stands on the sidelines at Manchester United's Carrington training base. He already has two natural No. 10s in his squad, yet Henrikh Mkhitaryan's form has been so dismal that he has not even made the bench in seven of United's last eight games and Juan Mata is, more often than not, used on the right.
Mkhitaryan was the designated No. 10 all the way through preseason and for the first three months of season. But the fact that the Armenian was not even among the substitutes against Manchester City, or Bournemouth on Wednesday night, shows how far out of favour he has fallen.
Mourinho's lack of options left Jesse Lingard to fill the role in the 2-1 derby defeat against Manchester City.
Lingard loosely fits what Mourinho demands of his No. 10 -- "defend, get in the box and finish goals" -- but he is not of the quality of David Silva or Kevin De Bruyne. Pep Guardiola even had the luxury of bringing on Bernardo Silva, a player who was linked with United before making the €50 million move to the Etihad this summer, for the last two minutes at Old Trafford.
There are more complex reasons why United lost the derby and why they are 11 points adrift in the title race. Yet on Sunday, Lingard had 22 touches of the ball and did not have a shot; Silva and De Bruyne combined to have 184 touches and three shots, while Silva scored the opening goal.
Lingard, of course, cannot be blamed for Mourinho's plan to try to soak up City's pressure and hit them on the break with the pace of Anthony Martial and Marcus Rashford. However, there was a huge difference in the influence exerted by Lingard and that of City's playmakers.
It has not gone unnoticed at Old Trafford that both Ozil and his Arsenal teammate Alexis Sanchez are out of contract this summer. Sanchez already seems destined for City, having come so close to a £50m switch on deadline day, and while United have played down their interest in Ozil, Mourinho was in mischievous mood ahead of the trip to Arsenal earlier this month when he was asked directly whether he would like to sign the 29-year-old.
Usually Mourinho refrains from talking about opposition players, yet this time he would only answer "no comment" while wearing a smirk the size of the Carrington media room -- suggesting there is something else going on.
The attraction is obvious. Mourinho knows Ozil well from their time together at Real Madrid and familiarity was one of the reasons that led him to sign his former players Zlatan Ibrahimovic, Nemanja Matic and Romelu Lukaku.
Add in the chance to get one over on his old rival Arsene Wenger, who would be loathe to see another of his world-class stars head for United, especially now they are managed by Mourinho, and it seems a perfect fit.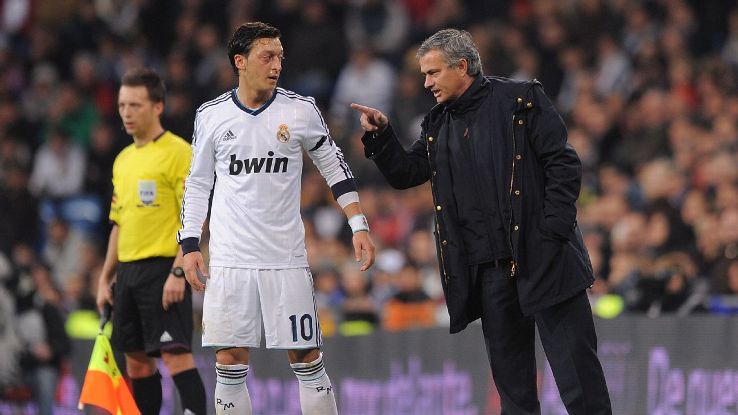 United are not planning to buy in January, according to ESPN FC sources, but taking advantage of "an opportunity" that presents itself has not been ruled out.
For Ozil's part, while sources said he is keeping his options open, there is a growing feeling he will leave the Emirates. If he moves, he would rather do it at the end of the season and, though Wenger has already insisted neither Ozil nor Sanchez will be sold in January, there have been suggestions from Ozil's camp that a £25m offer would tempt the Gunners into a sale rather than lose him for free next summer.
Ozil's own admiration for Mourinho may be key. Sources told ESPN FC that the German feels he has been allowed to coast under Wenger and that he has come to realise he needs to be pushed in the way he was by Mourinho at the Bernabeu.
There has been interest from clubs in Spain and Italy, but Ozil is fond of the Premier League and would like to stay in England. So that leaves only a few options: City, who already have a wealth of playmaking talent; Chelsea, who have Eden Hazard in the No. 10 role already; Liverpool, whose high pressing game would not be suited to Ozil; or United, where there is the space and opportunity for him to shine.
United's stance on situations like this is usually that they are "always interested in the best players in the world" but that those players are very rarely available.
Ozil appears set to become available in the coming months and, though the final decision will be left to Mourinho, landing a world-class No. 10 for a cut price fee (or on a free transfer next summer) seems any easy way to solve his current issues.
Rob is ESPN FC's Manchester United correspondent. Follow him on Twitter @RobDawsonESPN.