Mata the survivor has adapted his game to suit Mourinho's Man United
What's next for Juan Mata? It's only worth asking this question because the Spanish midfielder has been the most surprising survivor of Jose Mourinho's stint at Old Trafford -- even more so than Marouane Fellaini.
When Mourinho arrived at United last year, the prevailing wisdom was that Mata would immediately be sold, just as he was shortly after the manager returned to Chelsea in 2013. If someone had said then that he -- not Oscar -- would have the more promising future at the highest level of continental football, most people would have laughed.
Yet here we are. While Mata celebrates a triumph in the Europa League and United's return to the UEFA Champions League, Oscar is in China, where he has scored just one goal in 13 games and is best known for starting a fight. Life, as they say, comes at you fast.
Mata was sold by Chelsea because he was the wrong type of player for Mourinho's plans, while Oscar departed because he failed to become what Mourinho wished him to be. Maybe there's a moral in there somewhere about staying true to yourself.
Oscar joined Chelsea from Internacional as an attacking midfielder, drawing comparisons to Gerson by none other than fellow Brazil legend Carlos Alberto. In 2011, he scored a hat trick in the Under-20 World Cup final as Brazil defeated Portugal 3-2. A year later, he was beating Juventus' Gianluigi Buffon from 25 yards out in the Champions League.
Yet by the end of Oscar's time at Stamford Bridge, many of his compatriots seemed bemused by the lack of imagination in his play, and his transformation into a functional, hard-running midfielder. He is still only 25, but it seems as though his most exciting football might be behind him. Meanwhile, Mata grinds on, confirming there is strong resolve beneath his affable exterior. His career is the classic example of someone whose kindness has often been mistaken for weakness.
Popular wherever he has played (his thoughtful blogs were a regular highlight during several otherwise dour seasons at United), Mata has always taken responsibility when his performances -- or those of the team -- have been below par.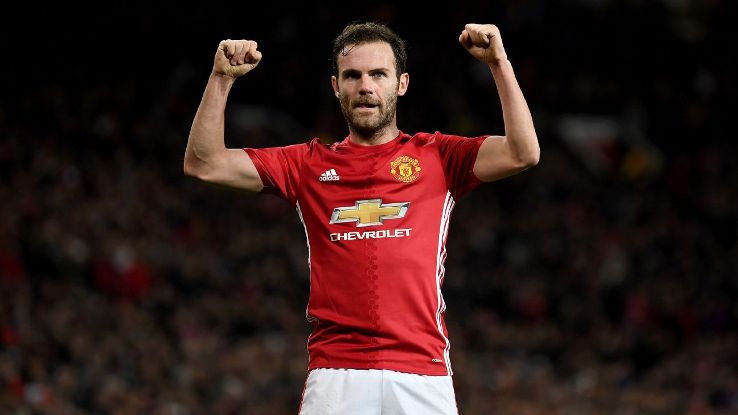 While inconsistency has been a hallmark of United in recent seasons, Mata has hit double figures in goals in all three of his full campaigns at Old Trafford, and has generally dictated play with patience and intelligence when his team needed it most.
He should benefit from the summer transfer window and Mourinho's apparent plans to sign younger, faster players. But whether he will actually get that chance to thrive remains uncertain; does Mourinho see him as central to his plans?
Mata completed 90 minutes just once in the Premier League last season. He was frequently taken off at around the midway mark of the second half, when the game is most in need of decisive play. Meanwhile, might Paul Pogba be pushed further forward, occupying some of the space where Mata does most of his best work?
For the time being, Mata can safely say that he has Mourinho's confidence in the biggest matches. Though his greatest gift lies in his attacking ability, he has good discipline in possession and still rarely loses the ball in areas that would endanger his team.
In order to discern Mata's discipline and growth, one need not look further than United's Europa League final win against Ajax. Mata was the very picture of mature, restrained distribution, retaining the ball astutely and always providing an outlet for teammates. Perhaps this adaptability and willingness to limit the natural range of his game have allowed him to survive, and even to prosper, under Mourinho.
For United to see his best, they will have to invest more heavily in the full-back positions, particularly on the right. Mourinho has often used Mata as an inside-right and allowed Antonio Valencia to overlap beyond him, but though he covers an impressive amount of ground, Mata's combination play is one rung below elite level.
If United add a playmaker in the right-back position -- someone who can not only receive quick, clever passes but also offer them -- then Mata can thrive. He is at his best when playing in tight triangles, which is why he suffers when played on the same wing as Matteo Darmian. The Italian is often given a conservative set of tactical instructions, meaning Mata has few opportunities to build play.
For now, it is good to see that such a skilled operator still has a place in Mourinho's thoughts, given how unlikely that seemed a short time ago. As United attempt to capture a league title, Mata might yet have a compelling role to play.
Musa Okwonga is one of ESPN FC's Manchester United bloggers. Follow on Twitter: @Okwonga.