Manchester United improve but still face a battle to finish fourth
A month before Nemanja Vidic's retirement was made public and before he'd been heartened by 5,500 Manchester United fans were singing his name, I spoke to the Serbian defender in Milan.
Among other topics, the subject of Chelsea came up. Vidic played more games -- 17 -- against the Stamford Bridge side in his eight years at United than any other club. The frequent meetings reflected the dominance of both clubs.
"Chelsea were the team who pushed us and we pushed them," Vidic said. "We drove each other on. In the league, in the cups, in Europe. Arsenal always tried to bring young players through and had a good team, while Liverpool had a good season and pushed us in 2009 but, between 2007-09 it was United and Chelsea. We were doing well in England and also in Europe. We had a team which was getting better each year, with so many good players on our bench as well. There was a special atmosphere in our squad; it's one of the reasons we were so good."
How things have changed. Sunday's clash between the two clubs saw 13th-placed Chelsea host United, in fifth. Despite both clubs being wealthier than at any time in their history, they're slipped from the top of English football. Chelsea's fall from being runaway champions last season has been stark and only Diego Costa's late equaliser prevented their 10th league defeat of the current campaign.
But while Vidic was part of a United side that often defeated Chelsea in the biggest games -- like European Cup finals and league title deciders -- his former side's last win against their London rivals was in October 2012. In the 10 games since, United have drawn five and lost five.
They came close to ending that run on Sunday when, with 90 minutes played, Louis van Gaal's team led by a single goal. Jesse Lingard's super strike after 61 minutes was sufficient reward for United's third successive impressive performance.
But Lingard's goal didn't kill Chelsea; it killed United, who went from being on the front foot to dropping back and conceding free kicks to opponents who had little option but to attack. Still, as stoppage time began it was 1-0 and United were heading for back-to-back league victories for the first time since November.
Then a pass from substitute Memphis Depay, the most underwhelming of United's close-season signings, failed to find fellow sub Morgan Schneiderlin. United are never more vulnerable than when they try to defend or maintain possession, as Van Gaal would prefer.
Moments later, Cameron Borthwick-Jackson, whose excellent form and crossing had continued throughout the game, played Costa onside and the Spaniard scored past his fellow countryman David De Gea. It finished 1-1 which, at the same time, was a decent yet disappointing result given how well United played.
For all the valid criticism of Van Gaal and United's youth system, the Dutchman does give young players a chance, albeit sometimes due to injuries elsewhere. Lingard may need greater consistency but he's a talent and has scored with three of his last four shots on target. Borthwick-Jackson has been another bright light in a bleak season, giving United width and more attacking presence on the left.
Homegrown players are important but they need to be nurtured, encouraged and given opportunities. That requires patience from fans because it is almost impossible to go from playing for the U21s in front of hundreds to the first team and crowds of 76,000. Borthwick-Jackson has done that and, with Luke Shaw out until May at the earliest, he should get plenty more chances.
On paper, United have won six, drawn one and lost one in all competitions since the start of 2016. Some of those victories have come despite poor performances and two in cup matches against lower league opponents, but it's a significant improvement on a dreadful December, though not quite as spectacular as Van Gaal describes it.
Just as they were last season, United face a fight to finish in the top four, with title ambitions having all but vanished. The team are 12 points behind Leicester with 13 games remaining. The leaders are still to play at Old Trafford, as are joint third-placed Arsenal, while United must visit Spurs, currently in second, and Manchester City, who are fourth.
The Manchester giants are set to meet in China ahead of next season, but there's a lot of competitive football to be played before then and much to be decided. After City's defeat to Leicester on Saturday, United trail their rivals by six points.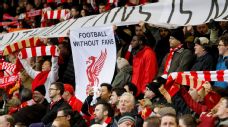 At least recent performances have been better. De Gea remains a game saver and shows a consistency that other players must aim for. The defence in front of him is playing higher up the pitch and, while Chris Smalling hasn't reached the level he achieved before being injured, Matteo Darmain has found better form, having struggled with the intensity of English football after a bright start.
In midfield, Michael Carrick remains reassuringly steady and Anthony Martial looks like he could become the best player in the league. More chances are being created and there have been more shots on target. Wayne Rooney has been a direct beneficiary and is playing with more confidence as he edges towards becoming the club's all-time leading scorer -- he is currently five behind Sir Bobby Charlton's 249.
If more players can find greater consistency then the team can get closer to the sum of its parts, yet the form of young players can become erratic. How good will Martial be in a year? Will he be happy? Will Depay be any good? Will he even be at the club, if the man who bought him isn't?
United have failed this season. When the Champions League restarts later this month, they will not be in it and attention, as sponsors will remind the club, will be elsewhere. The Europa League will be taken seriously, as will the FA Cup, but it's still a time of considerable uncertainty.
Unlike a year ago, few fans expect -- or want -- Van Gaal to be in charge next season. They've seen enough and they've had enough, but while United need to start planning for 2016-17 and working on transfer targets, it's harder to do that while there's so much uncertainty about their manager.
Despite his bombastic nature with the media, Van Gaal is well aware of the sentiment. He'll not be taking out a mortgage on a Cheshire property any time soon, but he does still has time to salvage some credit.
A cup win or two, plus a top four finish and more performances like those seen recently, may make the overwhelming majority, who want Jose Mourinho to replace the Dutchman, think twice.
Andy Mitten is a freelance writer and the founder and editor of United We Stand. Follow him on Twitter: @AndyMitten.