Composed Borthwick-Jackson makes the most of his Man United chance
Anfield's Kemlyn Road stand is an unforgiving place for any Manchester United players who venture near its side of the pitch. It's where Liverpool fans held up a flag saying "Form is temporary, class is permanent" in 1992 as United agonisingly missed out on a first league title in 25 years.
Last month, it was in front of the Kemlyn Road stand that Cameron Borthwick-Jackson was required immediately after he came on as a 42nd-minute substitute for the injured Ashley Young.
Borthwick-Jackson, a Mancunian who turned 19 on Tuesday, had to take a throw-in and was mocked by the fans behind him when he fumbled the ball as he went to pick it up. He steadied himself and then delivered a perfect throw to Marouane Fellaini, which earned a sarcastic "wooh" from the home fans.
It was only a throw-in, but Borthwick-Jackson's coolness provided an example of the composure that has both surprised and pleased the other players and coaches at United's Carrington training ground. They knew he possessed a wicked cross, which was most recently seen on Tuesday when he set up Jesse Lingard for United's opening goal in a pleasing 3-0 victory against Stoke City.
United's youth system has rightly been criticised for being under-resourced and falling behind that of Manchester City, yet there are still some excellent individuals at the club and they also know they're far more likely to get a chance of first-team football under Louis van Gaal than they would at the Etihad Stadium.
United have held onto players like Marcus Rashford, who was a target for City, but Borthwick-Jackson wasn't a player coveted by others. Even now, nobody is getting carried away with the player who runs in the upright style of sprinter Michael Johnson but, in the nine first-team games he has played so far, his temperament has impressed Van Gaal so much that the manager had the confidence to veto the signing of another left-back in the January transfer window.
United had talks with a player who was keen to join the club, even though a transfer would have been difficult to complete. It didn't happen and, while the different sides offer alternative explanations, Van Gaal was adamant that he wants space in the team for young players to grow.
He believes Luke Shaw will be one of the world's best left-backs within a couple of years and didn't want to block that progress, nor that of Borthwick Jackson. Van Gaal made that decision about United's future when there was much speculation about his own job. Using inexperienced players carries a risk but, in truth, injuries have meant Van Gaal has had little choice and Borthwick-Jackson has not let him down.
The former student of St. Anthony's Catholic College in Urmston -- the school which Ravel Morrison and Tyler Blackett also attended -- made his debut in November when he came on in the 2-0 win against West Brom at Old Trafford. A week before, Van Gaal had phoned United's U21 coach Warren Joyce and, half joking, asked: "What have you got for me?"
Despite the difficult circumstances and coming into a team that has struggled -- he made his first start in December's defeat at Bournemouth -- Borthwick-Jackson has impressed. Having been calm and collected as a substitute against Chelsea, he stayed cool in Anfield's febrile atmosphere and has started each of United's three games since then. He was solid during the 3-1 FA Cup win against Derby County a week ago, as was fellow full-back Guillermo Varela.
Borthwick-Jackson has been associated with United since the age of six and grew up in Flixton, an area of strong United support that is only one mile from the club's training ground. He played for the same junior team -- Fletcher Moss Rangers -- that produced the likes of Lingard, Wes Brown, Daniel Welbeck and Tyler Blackett and, after he made his first-team debut, his former PE teacher Kevin Speake spoke to United We Stand.
"Cameron is a great kid, who still comes into school to say hello to everyone," said Speake. "He's completely teetotal with his head screwed on."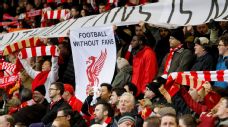 At the start of this season, Borthwick-Jackson wouldn't have considered getting close to United's first team. Shaw, Young and Blackett, as well as Marcos Rojo, Daley Blind and Matteo Darmian were all ahead of him, but injuries, loans and positional changes shook up the pecking order.
Borthwick-Jackson was not a standout player last season -- the rave reviews at youth level went to Timothy Fosu-Mensa, Ben Pearson, Axel Tuanzebe and Callum Gribbin -- and started 2015-16 playing for the U18s, U19s and U21s. Having been a left-sided central defender when he first came into the U18s, he settled in as a left-back.
"He is a very elegant player who prefers to use positioning and interceptions rather than crunching tackles, although he is a decent enough tackler," says Ian Brunton, a long-time watcher of United's reserves and youth teams. "He needs to improve considerably when getting forward but as he's very quick, he could be very useful when overlapping the wide player."
Borthwick-Jackson's weekly wage upon breaking into the first team was £2,000 but he's expected to sign a new contract which pays him five times that figure.
Fans love to see a youth product make the first team and it's even better if they're a Mancunian United fan, although it's far too soon to say that Borthwick-Jackson will be the next Denis Irwin or Patrice Evra. In any case, Shaw is still expected to be the club's long-term left back.
But the 19-year-old's development has been a bright spot in an otherwise poor season, even if the mood has lifted after two successive wins, in which United have played well and scored a total of six goals.
Andy Mitten is a freelance writer and the founder and editor of United We Stand. Follow him on Twitter: @AndyMitten.