Louis van Gaal defiant as Man United's FA Cup win doesn't distract his critics
Friday's 3-1 FA Cup victory at Derby County produced a telling demonstration of the defiant part of Louis van Gaal's persona.
"The next match I can lose and then I am sacked by you," Manchester United's manager snarled sarcastically at a reporter, one of a number of broadsides fired at his press room tormentors. A week of speculation about his future followed last week's 1-0 defeat to Southampton, including back page splashes suggesting that he had considered resignation, and he is none too happy.
"Why this question?" he replied dismissively when asked if his team found it easier playing away from Old Trafford. "It is more easier at home because we have won more matches at home than away, I am sorry." In Premier League terms, Van Gaal was not quite correct. United have won five at home and the same number away from Old Trafford.
But that error obscures the broader point: United may have eyes on winning a first FA Cup since 2004, but it is the Premier League, where his team are five points behind fourth-place Tottenham, on which the Dutchman will be judged. It was after a 2-0 loss at Everton on Apr. 20, 2014, confirming United could not mathematically qualify for the Champions League, that the club cut the cord with predecessor David Moyes.
For now, amid dissent from fans, Van Gaal is keen to accentuate the strong relationship he has with the club's executive class. "It is a period of three years and this board is very intelligent to understand," he said at Derby, making explicit reference to his contract that runs until the summer of 2017. Earlier, he made another attempt to show the breadth of his support from the club's powerbrokers, he revealed the gift that executive vice-chairman Ed Woodward had lavished on him for United's 1-0 victory at Liverpool a fortnight ago.
"We drink a nice bottle of wine, probably the most expensive wine, because I have received that from Ed Woodward," Van Gaal said of his post-match wind-down plan. "I always get expensive wine when we beat an opponent of the top six."
Woodward was a notable face in the crowd at Pride Park; at one point, TV cameras caught him chewing a mint and the manner in which United brushed aside a decent Championship opponent brought refreshment after a distasteful week.
A limp 1-0 home defeat vs. Southampton had ratcheted back up the speculation about Van Gaal's future, and such negative headlines will swiftly reappear if Stoke City repeat their 2-0 Boxing Day victory at Old Trafford on Tuesday. United's first objective must be to break the run of 11 matches in which they have failed to score in the first half at home. That, too, suggests United's difficulties in playing on their own patch.
On Friday, a raucous away following of 5,500 United fans kept singing throughout the entire 90 minutes though pointedly, they did not chant the name of either their manager or indeed any of the current players. Van Gaal didn't seem to notice.
"I think it's fantastic that such a big party is coming to watch the boring Manchester United," said Van Gaal, again rebutting a widespread media opinion of his team, though he appears lucid to the fact that he has a significant road ahead in order to win over that tough, doubting crowd.
"I am not a stupid man, I am an intelligent man and I cannot predict the atmosphere," he said. "It's not so important that they yell at me. It's more important that they support the players. That's the most important thing. The players have the most difficult task."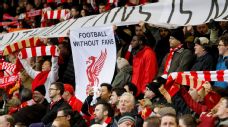 United's manager has felt the lash of heavy criticism before at Barcelona, Bayern Munich and during his first spell as Netherlands manager, when he failed to qualify for the 2002 World Cup. In both his spells at the Camp Nou, he was the recipient of the white handkerchief gesture that signals stadium-wide dissatisfaction, while in Germany, he made the mistake of falling out with the posse of ex-players who run the club. Once results went against him, his exit beckoned in April of 2011.
"If I am not so popular anymore it is not the first time that it has happened with me, but I can survive," he said.
At United, where Woodward and the Glazer family appear keen to back their manager for now, Van Gaal has done rather better at managing those above him than those under his charge. Credibility among fans and local media remains a wholly different affair. Stoke, a significant threat for any Premier League team, are the next stage in United's manager's battle to prove that his doubters are wrong and that he was right all along.
John Brewin is a staff writer for ESPN FC. Follow him on Twitter @JohnBrewinESPN.