United's transfer misses with Steven Gerrard, Arjen Robben and Ronaldinho
Last week we looked at some of the players that Liverpool almost signed down the years. Now, here are 10 that nearly joined Manchester United ...
10. Joe Cole
It's easy to forget that at one time Joe Cole was considered the great hope of English football, and as such he was in demand as a teenager. Harry Redknapp would often say that for years, the first thing Sir Alex Ferguson said to him when the two met was: "How's that Cole boy?" when he was in the West Ham youth system. United nearly snagged him before that too, inviting a 13-year-old Cole to the 1994 FA Cup final as they tried to entice him to Manchester. "Alex Ferguson loved him -- he was desperate to sign him," Redknapp said in 2000. "Joe told us he was off to Man United for a few days and I had some sleepless nights."
9. Tony Adams
We only have the player's word for this one, and whether you trust it is entirely up to you. "Alex Ferguson wanted to sign me twice, just before Arsene Wenger came to the club," said Tony Adams last year. "I was ready for a change and he was on to me every day. The chairman at the time, Peter Hill-Wood, convinced me that there was a good man on the way and that we were going to be ambitious financially. I found my salary tripled, which was amazing. Arsene came, and the rest is history." While Ferguson undoubtedly rated Adams, there's no mention of a potential move in either of the Scot's autobiographies, which doesn't necessarily make it untrue, but it does make you to wonder.
8. Raul
Ferguson's admiration for Raul was made clear back in 2003, when he declared the Real Madrid striker to be the best player in the world. And he nearly recruited the Spaniard too, when his time at Real was coming to an end in 2010. "He certainly wasn't too old to be effective," Ferguson said in 2011. "We spoke to his agent about a possible move, but we already had Javier Hernandez by then, and with Wayne Rooney, Dimitar Berbatov and Michael Owen available, we thought we could afford to let the chance pass. If we hadn't had Michael at the club at the time, I might well have signed him." Raul moved to Schalke and retired last year after spending time with the rebooted New York Cosmos.
7. Aaron Ramsey
In 2008, a young talent emerged from Wales that had the top teams in the Premier League tripping over themselves to sign him. Aaron Ramsey had come through at Cardiff and fees had been agreed with Arsenal, Everton and United, and United went as far as to announce the deal on their website. However, a combination of Arsenal's record with youngsters and a trip to Switzerland to meet Arsene Wenger persuaded Ramsey to plump for London. "I felt more wanted here [at Arsenal]," Ramsey told the Independent in 2010. "They did more things to try to get me. They had a plan set out for me and knew exactly how they wanted to develop me."
6. Arjen Robben
It seems like Manchester United have been targeting Arjen Robben for his entire career. Some reports suggest he could move to Old Trafford even now, but he very nearly did right at the start of his career, in 2004, just after he had emerged as one of Europe's most exciting young talents at PSV Eindhoven. In January of that year, he travelled to Manchester and was shown around Old Trafford by Ferguson, and it seemed there was a deal in place to take him to England that summer. "It would be fantastic if I could play for Manchester, but at the moment I just have to wait," said Robben that year, while his father commented that his decision "will be PSV or Manchester United." However, Chelsea, which had recently been bought by Roman Abramovich, swooped in weeks later.
5. Gabriel Batistuta
It's probably not a colossal surprise that Ferguson was keen on Gabriel Batistuta, given that he'd witnessed the brutal power in the Argentinean striker's right foot first-hand. Starting in the mid-1990s, rumours that United were trying to buy Batistuta circulated regularly, and according to the man himself, they approached him in 1997. "Manchester United contacted me last year, and it wasn't a question of money why I stayed," he said. "Fiorentina pay me well. It's simply that Fiorentina could not sell me. The reaction of the fans would have been too angry." Ferguson wrote in his first book that Martin Edwards stopped him from signing Batistuta and others for financial reasons, something that Edwards confirmed a few years ago, saying that the forward's remuneration "would have destroyed our wage structure."
4. Steven Gerrard
The last time a player moved directly between Liverpool and Manchester United was in 1964, when Phil Chisnall swapped Old Trafford for Anfield. Ferguson tried to repeat that feat with what would've been the biggest fish of all, Steven Gerrard, when the former Liverpool captain's future was uncertain back in 2005. "We made a show for him," wrote Ferguson in his second autobiography. "But there seemed to be some restraining influences from people outside the club and it reached a dead end." Ferguson apparently sent Gary Neville to have a quiet word with Gerrard while on England duty, but perhaps unsurprisingly, his efforts were unsuccessful.
3. Alan Shearer
As if United didn't dominate enough in the 1990s, imagine what they would have been like with Alan Shearer in their team. They nearly signed Shearer a couple of times, first when he left Southampton in 1992, but they were gazumped by Blackburn. They tried again four years later as Rovers prepared to sell him for a world-record fee of £15 million. Shearer initially chose United, even going as far as finding a house close to their training ground, but a late sales pitch by Kevin Keegan persuaded him to sign for his boyhood club, Newcastle. "He sold me the idea of wearing the famous black and white No. 9 shirt," Shearer wrote in his autobiography.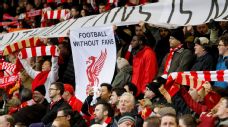 2. Ronaldinho
In the summer of 2003, David Beckham was on his way to Real Madrid from Old Trafford, leaving a space for a flamboyant creator. Ferguson thought he had filled it with Ronaldinho. The brilliant Brazilian had fallen out with more or less everyone at Paris Saint-Germain and agreed to a deal to take him to United. "I would like to be at a great club like United," said Ronaldinho at the time. However, just when he was set to move, Barcelona entered the race and new president Joan Laporta eventually persuaded the Brazilian that La Liga would be more to his tastes.
1. Paul Gascoigne
One of the great what-ifs of English football history is what might have happened if Ferguson had managed Paul Gascoigne. In 1988, Gascoigne was set to leave his boyhood club, Newcastle, and understandably plenty of teams were interested in this mercurial but dazzling talent, not least United and Tottenham. United thought they had Gascoigne in the bag as they'd agreed on terms, and so confident were they that Ferguson went on holiday. Alas, his trip was interrupted by a phone call from United's then-chairman Martin Edwards telling him that Gascoigne had changed his mind and signed for Spurs. "The explanation of the late switch was said to be that Paul's feelings were swung when Tottenham bought a house for his parents," Ferguson wrote in his first autobiography, and Spurs threw in a car for his dad and a sunbed for his sister too. "My heart was always set on Spurs," Gascoigne rather unconvincingly said at the time.
Nick Miller is a writer for ESPN FC, covering Premier League and European football. Follow him on Twitter @NickMiller79.