Manchester United's cup tie with Derby brings back memories of the 1970s
Many of the 5,500 Manchester United fans travelling to Derby for Friday's FA Cup fourth round tie against Derby County will cross the Peak District from Manchester. With train travel problematic after the game, most will go by road on the A52, through one of the most beautiful parts of England.
As they approach Derby from the west, they'll pass by a golf club where, largely out of view at the end of the club bar, hangs a solitary black and white picture of a man playing football for Derby County.
It was put there by regulars to honour one of their own, Dubliner Gerry Daly. Along with Gordon Hill, Daly was one of two 1970s United terrace heroes who were sold to Derby, then a major force in English football. Neither wanted to leave Old Trafford and both felt pushed out, but Derby boasted top players.
"Derby were a prestigious club and my wages were far higher," explained Gordon Hill when I went to see him at his home in Dallas, "but they weren't Man United."
Hill was a winger and Derby fans knew all about him as he'd scored both goals for United in a 1976 FA Cup semifinal between the two sides.
"Those goals were the highlight of my whole career," said the man who also played six times for England. "The first one stands out. I was in the middle and played a one-two with Gerry Daly, who was at the left edge of the penalty area. I took one touch and, as Roy McFarland ran to close me, down I bent a left-footer into the top corner. We were going to Wembley."
"A wonderful piece of skill by Gordon Hill," recalled his then-manager Tommy Docherty. "He was 25 yards from goal when the ball was played to him wide on the right. I expected him to control the ball and lay it off. Instead he conducted a half-turn of his body, got his head over the ball and volleyed it with his left foot. Eric Steele (later Man United's goalkeeping coach) stood frozen to the spot. A matter of a second after leaving Hill's boot the ball jerked the centre of the net into the shape of an elbow. It was a tremendous goal."
United fans had dominated the 55,000 crowd at Sheffield Wednesday's Hillsborough ground that day.
"Everyone was singing, even the players," said Hill. "We stopped at Mottram Hall (a hotel once used to host new United players) to celebrate after and there was a wedding reception on. They invited us in and 'Save Your Kisses for Me' was playing. Tommy Docherty began singing away but with the words to the United version ('Bye bye, Derby, bye bye... because we beat you 2-0, with two goals from Gordon Hillllllll.') We were so happy to be going to Wembley for the first time since 1963 in the greatest cup competition in the world."
United lost in the final to Southampton but went one better the following year when Docherty's brilliant attacking side beat Liverpool at Wembley. Shortly afterwards, he was sacked because of his relationship with the wife of the club physio. Docherty and Mary Brown are still together 40 years later and live near Manchester.
With Dave Sexton taking over at United, Docherty's next job was at Derby and one of his first signings was Hill in 1978, for £250,000.
"I had been looking to sign a direct, flying winger and Gordon fitted the bill perfectly," said Docherty later. "Word reached me that he was unhappy at Old Trafford. Gordon had caused me no problems at United. He put everything into his game, was a model professional and had been happy. I couldn't understand what had happened to make him feel so unhappy in such a short space of time. It was insinuated that some of the United players had singled Gordon out for mickey-taking, but he was big enough to take all that in good heart."
"I was off to Derby," sighed Hill. "It all happened too quickly. I returned to Old Trafford two days later to pick up my stuff and saw 'Sexton Out, Hill In' graffiti on the wall. The fans were worried that he was breaking the team up, which he was."
At Derby, Hill joined Gerry Daly who, as a 19-year-old in 1973, had arrived at United from Dublin side Bohemians. He pocketed £6,000 of his £20,000 fee but arrived to join a side heading for relegation.
"Docherty resigned himself to relegation happening," said Daly. "He wanted to start over again with young players, which was the right thing to do as he would prove. Some of the players who had won the (1968) European Cup were not the future of Manchester United. We were."
Backed by a raucous Red Army, Docherty's side came straight back up and Daly played 45 games in United's 1974-75 promotion campaign, scoring 11 goals.
"We weren't playing the best teams in the world but second division sides, but we still had to go out and perform and we still had to win games," recalled Daly. "We did that. We took the league by storm and winning against inferior sides boosted the confidence of a young team at the right time. I know that my own confidence was really lifted and a lot of that came from the crowd. I don't know why, but I had an exceptional rapport with the United fans. They used to sing: 'Five foot eight, underweight...' I was actually five nine and ten stone one, which was perfectly healthy!"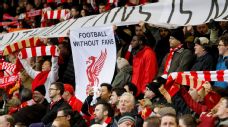 A Republic of Ireland international, Daly scored 32 goals in 142 games for United before he was sold by Docherty in early 1977.
"It was bullying," said Daly. "[Docherty] told me that, no matter how well I played in the reserves, I would never leave the reserves. He said that I would never play football for United's first team again."
Six months after Daly left United, the pair worked together again when Docherty was appointed manager of Derby.
"He came up and shook my hand," recalled Daly. "I told him that he'd got me out of Old Trafford, but that he wouldn't get me out of the Baseball Ground. It was me saying, 'You won't be selling me this time!' I was playing well for Derby. He just looked at me. I didn't trust him and didn't believe a word that came out of his mouth. People used to say when he walked in at Old Trafford that if he said 'good morning' you'd have to go outside and check. We became known as the Tom and Jerry show because we always argued!"
Daly outstayed Docherty at Derby by 14 months. Other players and staff have moved between the clubs since, but United's links with Derby haven't been as strong since that late 1970s flurry.
On Friday, United face Paul Clement's Championship side who, until the turn of the year, were going well in their quest to get back into the Premier League. The mood among the travelling fans could turn mutinous if United don't win but, whatever happens, it's unlikely that Louis van Gaal and two of his best players will find themselves at Derby this time next year.
Andy Mitten is a freelance writer and the founder and editor of United We Stand. Follow him on Twitter: @AndyMitten.