Manchester United failing on and off the pitch as decay sets in
For Manchester United supporters, it's time for wishful thinking.
Some would argue that they have little to complain about -- after all, with their formidable commercial department, they remain as wealthy a football club as anyone could wish.
Yet somewhere along the line, the senior figures at Old Trafford seem to have forgotten that football is sexy and accountancy isn't; that a fan's passions are not aroused by bursting balance sheets but by spectacular goals, title challenges and the promise of the odd cup final.
And so here is the age of wishful thinking, and maybe even envy, as Liverpool advance to the Capital One Cup final and Manchester City look best equipped to win the Premier League.
Louis van Gaal has spent so much money yet still ended up with a squad so unbalanced that it still has, in Chris Smalling, just one elite and dependable centre-back. United's failure to add anyone in this January's transfer window, even though they are in need of greater strength in both attack and defence, may at best be an oversight. At worst, it signals a reluctance to trust Van Gaal with the contents of United's coffers.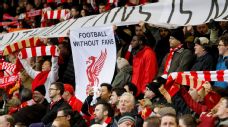 Given that Van Gaal has thus far survived longer than most people expected him to -- perhaps even longer than he expected himself to -- it is most likely to have been an oversight. This sluggishness looks all the more strange at a time when Liverpool are looking to add Alex Teixeira, the superb forward who plays for Shakhtar Donetsk, to their ranks, and when Arsenal have recruited Mohamed Elneny, a very fine defensive midfielder, from Basel.
Both of these rivals for a Champions League place have bolstered their squads while United have dithered. It is difficult to shake the suspicion that United have become the one thing that they should fear above all: complacent.
The period of success under Sir Alex Ferguson was so prolonged that the boardroom probably still bears the scent of champagne, and the club's finances are in such rude health that they will give little hint that the party is over. There has been much talk of how Van Gaal is paving the way to the next successful manager to take over, but who exactly would that be?
Who is there in the immediate future, save perhaps Pep Guardiola, who could return the club to anything like the glory to which they have become accustomed? So many of the managers on the market are either inexperienced or merely very, very good -- which means that United must seek prominence the same way as every other big club, which is to have excellent structures in place to support the head coach.
It is these structures that are in most severe decay, and the damage done to this crucial aspect of the club's fabric could set United back a decade. That is not to say that they will not win anything in this time, but rather that they will not have the continuous supply of talent that is the hallmark of the world's very best sides. This is why the suggestion that they have recently been looking for a director of football is especially heartening, since it has long been acknowledged that United's youth programme lags far behind that of their local rivals City.
Yet even in that department, their approach seems to lack sufficient ambition. They are currently being linked with Dan Ashworth, the Football Association's technical director, but they should arguably be setting their sights higher. Andoni Zubizarreta, for example, is only in his mid-50s and was recently dismissed in untimely fashion by Barcelona after he put in place the foundations for their 2014-2015 season, where they won a treble of La Liga, Copa del Rey and Champions League. This is the calibre of person that United should be pursuing.
Across the board, there is a sense that United are going for either merely big names or personnel whose best years may be behind them, which is a feature of too many of Europe's leading clubs -- namely AC Milan and Inter Milan, who have often found themselves as also-rans.
It is an unfortunate pattern, and the longer the uncertainty persists over Van Gaal's future, the more pronounced it will become. Just as the Ferguson era was marked by a never-say-die attitude punctuated by last-minute goals, the post-Fergie era may come to represent an oblivious smugness, which rides on the coattails of a trophy-laden past.
Musa Okwonga is one of ESPN FC's Manchester United bloggers. Follow on Twitter: @Okwonga.