Time for Louis van Gaal to leave Manchester United
While Manchester United manager Louis van Gaal's job reportedly is safe for now, somehow, the fans have reached the end of their tether. It's hard to imagine how volatile the crowd might be during the next home match against Stoke, but it's clear that he's got very little, if any, support left.
By and large, the fans were pleased when he was initially appointed. You would be hard-pressed to find any Manchester United supporters who were thrilled to hear that David Moyes was Sir Alex Ferguson's replacement, but then there also wasn't a huge variety of top-class managers to choose from at the time.
Pep Guardiola was joining Bayern Munich, Carlo Ancelotti was at Real Madrid and Jurgen Klopp was staying with Borussia Dortmund. Jose Mourinho seemed an obvious candidate, but there wasn't the excitement surrounding him then as there is now because of his historically dull tactics, failure to promote youth and propensity for court drama.
After almost three seasons without silverware and the worst football they've endured for decades, United supporters are considerably less picky, and most would be more than happy to scribe a six-page letter in response to the Portuguese manager's efforts, begging him to save them from mediocrity.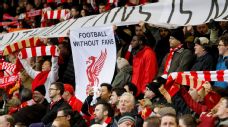 Still, when Moyes was given the job, the desperation hadn't set in yet. United were the champions of England and some fans had bought in to the romance of supporting a less successful manager, who had been given a six-year contract, as if it was a repeat of Ferguson's arrival almost 30 years earlier.
The problem with this delusion was that Moyes hadn't won a single trophy, whereas Ferguson had won league titles, domestic and European trophies, beating Real Madrid to win the Cup Winners' Cup with Aberdeen and then defeating champions of Europe, Hamburg, in the European Super Cup before coming to United. The claims that Moyes and Ferguson were cut from the same cloth were ludicrous. Granted, they were both Glaswegian and disciplinarians, but that's about where the similarities ended.
Ferguson was a proven winner, claiming silverware at every club he managed (with the exception of his first job at East Stirlingshire, where he was part-time manager and stayed for just four months before being snapped up by St. Mirren), while Moyes had nothing to show for his 15 years of management. Ferguson had lifted over 10 trophies at the same stage in his career.
Still, when called to support the new manager by Ferguson, who had made the lives of United fans immeasurably better through the fantastic days that his football team had provided them, they felt as though they had better listen.
It's incredible to think now, given the reaction of Old Trafford to Sunday's defeat against Southampton, that Moyes never got booed. There were those oddballs who paid a few hundred quid to fly a plane with "Moyes out" over the ground, but inside the stadium, the fans stuck with the team.
Some of the examples of Old Trafford's greatest atmosphere in recent years came during Moyes' time at the club. Following the consecutive 3-0 home defeats against hated rivals Liverpool and Manchester City, the supporters were on their feet, chanting for 90 minutes, and applauding the players off the field. Maybe that was misguided. Maybe club chairmen Joel and Avrem Glazer would have acted sooner had the supporters shown how unacceptable they found the idea of keeping Moyes as manager, but that's probably unlikely.
However, now that United fans are faced with another unacceptable situation, they will continue to sing songs of support for the players -- but they also will happily voice their unhappiness too. Against Southampton, the fans were on their feet berating the team when the ball was passed backward, and the volume of the boos at full-time was something Old Trafford hadn't heard for decades.
Van Gaal didn't benefit from the magic that was present when Moyes was appointed, with Ferguson's presence still felt. He also didn't have Ferguson imploring the supporters to stand by the new manager. And Van Gaal also didn't have the benefit of massive optimism, given that many hopes had been dashed during Moyes' tenure.
It's silly to make arguments that Moyes did a better job than Van Gaal based on meaningless points tally comparisons, when the latter finished in the top four in his first season and the former was sacked when the team were seventh in the table, 23 points behind league leaders Liverpool. It's also fairly obvious the Dutchman needs to go.
If Van Gaal was younger and there for the long haul, it would make more sense to soldier through, with the hope that he could adapt his tactics and win the players back. As it is, he's retiring at the end of next season anyway, so there's little point in persevering.
His end-of-season awards speech in which he owned the stage and commanded people to "listen to the manager" feels like a lifetime ago. The supporters were disappointed at the end of the 2014-15 campaign that the team had collapsed in the final weeks, instead of pushing for second as seemed likely during that purple patch in March, yet they were still huge fans of Van Gaal.
It's hard to imagine anything but scorn for such a performance now though, turning what the supporters once found hugely entertaining and endearing into something to mock and feel embarrassed about.
When speaking of Victor Valdes in the summer, Van Gaal claimed, "When you are not willing to follow the principles of the philosophy, then there is only one way and that is out."
Now, the same can be said of Van Gaal, who has refused to play the sort of football Manchester United is famed for. He hasn't followed United's philosophy, and as far as the supporters are concerned, there is only one way for him to go.
Scott is one of ESPN FC's Manchester United bloggers. Follow him on Twitter: @R_o_M.