Manchester United fans have had enough of Louis van Gaal
You wonder how long it can go on, this monotonous existence of Manchester United under Louis van Gaal. But it does go on, game after game, week after week, month after month.
Van Gaal doesn't deserve some of the pernicious online abuse that is aimed his way, but it's a measure of fans' deep frustration that he gets it. Football matters to millions. It's a release and, in theory, a form of entertainment. Yet Manchester United seem to have forgotten that.
After Saturday's home defeat against Southampton, David Gill, the club's former chief executive who is still a director, spoke on British radio and mentioned United's style of play. It was that which caused him to start supporting the club as a young man in the 1950s, despite living in when Reading, some 200 miles away from Manchester.
I first met Gill in the summer of 2000 and will never forget him describing the club's priority: "To make sure we win on the field," he said. "The key focus is understanding the importance of investing on the field. It's simple but, at the same time, a complex problem, but we won't lose focus."
After many years of keeping focus, it has been lost. From an under-resourced youth system to the first team, the few remaining vestiges of the "United Way" have become redundant under Van Gaal.
This season's disastrous December wasn't a blip; the team have been unable to recover any style because they had none before then. Highlights have been reduced to passages of encouraging play, such as immediately after half-time against Southampton. And still United didn't score.
The defeat was the latest in a long line of woefully unacceptable first-team performances, the majority of which have come at Old Trafford, where United have gone 11 league games without a first-half goal.
Opponents are allowed to settle in and grow in confidence, which contrasts markedly with the increasing nervousness of the home team as a game goes on. It used to be that United scored late, whereas now fans expect opponents to net. It's so painfully bad at present that adverts for 2016-17 season tickets, which flash around the pitch perimeter, are viewed more as a sardonic joke than anything else. For better or worse, though, such is United's vast support that those tickets will still sell out.
The fans at Old Trafford have turned, though. While many refuse to hound the manager out of a job, on Saturday the boos were much louder than any the Dutchman has heard previously.
"Didn't like the booing but without it the club can just drift on thinking it'll come good under [Van Gaal] eventually," one season ticket holder wrote to me after attending the game. "At least they know fans have had enough, even if it is rather unedifying. It's only because we slated [Manchester] City so much for booing every week that it's become a no go for us. Still don't like it, but the frustration bubbled over. It came from sections of the ground not populated by members or tourists. Enough is enough. They should change now while there's a season left to salvage."
Another exasperated supporter, Bryan Wilkinson from Manchester, emailed: "To be five seats away from their supporters singing, 'you used to be good but now you're s---' and watching a team that look scared to move forward, was my lowest point ever at Old Trafford since my first game in 1968."
That's the mood. If Van Gaal resigned now, it would be greeted with enthusiasm by those fans who have any left. They're sick of the situation.
Anodyne comments from players -- "We can't dwell on today too much. We must learn from this and pick ourselves up," said Chris Smalling -- just don't wash either. Of course, players are under contract and have limits on what they can say about their boss in public.
Most like Van Gaal as a person, respect his record and admire his honesty and openness. They don't pretend what he's doing as United's coach is working, though, because it's not. And it's not unfair to judge a football manager after 78 games in charge.
Most disconcertingly, United appear to be getting worse, not better. Players regress rather than improve under their boss as the football deteriorates by the month. United had one shot on target -- a 35-yard effort from Daley Blind that was easily saved -- against Southampton.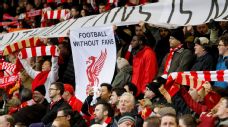 So what happens now?
United had a clear plan that Ryan Giggs would take over from Van Gaal, ideally after three years, with a youthful team of fine players in place. Such a situation now seems implausible. There's talk of the Dutchman stepping down, but that's news to those who know him best. Or is he waiting to be sacked to get a better pay-off?
Only last week, the manager was active in United's transfer policy and vetoed a move for one player who wanted to join the club. Van Gaal also talked like a man with a long-term plan for developing structures that can be built on for young players within the club.
He is not solely culpable for United's fortunes. It wasn't his fault, for example, that Charlie Austin was allowed a free header from eight yards to give Southampton victory with their only effort on target, after United substitute Adnan Januzaj has conceded a cheap free kick.
It's not entirely Van Gaal's fault either that his entire reign has been beset by injuries to key players, but he must take a huge portion of blame for the failings. Nor can he complain about the support he's had. At what other club in the world would he get so much backing, both financially and emotionally? Nowhere.
But fans will no longer listen to him crediting teams that come to Old Trafford and are hard to break down -- that's how opponents have played at Old Trafford since the Second World War. Nor will they countenance Van Gaal saying the team has played well, when the opposite is glaringly obvious.
With 15 league games this season, United are 10 points off the top with their lowest points total -- 37 -- at this stage of the season for 25 years. Seventy points is normally good enough for a team to finish fourth and was United's total last season when they grabbed the last Champions League qualifying spot.
To reach 70 this term, the 20-time English champions would need to win 10, draw three and lose two of their remaining games. At present, there appears more chance of the team scoring a first-half goal at home than that happening.
Andy Mitten is a freelance writer and the founder and editor of United We Stand. Follow him on Twitter: @AndyMitten.