Resurgent Wayne Rooney gives Man United a day to remember at Anfield
Wayne Rooney has gone from a non-scoring striker, bearing the brunt of criticism for Manchester United's poor performances, to a player with five goals in his last four games. His latest, the winner on Sunday against Liverpool at Anfield, was unquestionably the biggest.
While there is still much room for improvement, 2016 has brought with it an upturn in United's form and results. Individually, Rooney has been the main beneficiary of a meeting that he and two other senior players had with Louis Van Gaal almost a month ago.
Captain Rooney, Michael Carrick and Ashley Young went to see their manager at the Carrington training ground. Not for the first time, they had concerns. United's form was falling apart and the players wanted to air their views.
They expected resistance. Instead, they found an open door. Van Gaal had previously thought that everything was fine and that the grumbling was the norm at any football club but, with his side in freefall, he knew that all wasn't well, that his philosophy was becoming a matter of ridicule rather than respect.
For the first time since he took charge of United in July 2014, Van Gaal presented no opposition and gave the players what they asked for. That meant fewer meetings, fewer set meal times, and a return to exercise bikes before training and boxes during it.
That goes back to how things were done when United won doubles and trebles. Assistant coach Ryan Giggs would have more to do in training, while the team would try and play without the shackles which had made them hard to beat but hard to watch. Fearing for his job, Van Gaal relented.
Rooney was right to be relieved and has since gone on his best scoring run since March 2012. He'd assiduously stuck to his manager's plans, earning praise and loyalty from his boss, even though it meant sustained criticism from the media and his own fans. Nobody is pretending that Rooney is as quick as he was, but he was playing in a straitjacket, his wings clipped to fit a system.
Rooney has borne the brunt of criticism right from the start of United's struggles. Even when he scored a hat trick at Bruges in August, his first goals for 10 games, he was one of the few players who didn't stop to speak to journalists afterwards. His supporters, people like Andy Cole and Gary Neville, maintained that his problems were because of the way United played rather than the way Rooney did.
The mood at training lifted immediately after that meeting, while United's style has changed markedly, with increased wing play and a defence that has been pushed higher.
United's second half at Stoke was better than their dreadful first and the first half against Chelsea was decent before the team managed to beat struggling Swansea. The subsequent performance against Sheffield United in the FA Cup was rightly criticized, while there were mixed feelings after United scored -- but also conceded -- three times at Newcastle.
Those who have watched the football would be stretched to use the word "improvement" because there's been no transformation but there has been some progress. But defeat at Liverpool on Sunday would have provoked more criticism.
As it is there was cause for celebration among fans after Rooney's most important goal at Anfield, a pitch in his hometown on which he has often struggled and where he'd not scored for 11 years. He blamed its size, but how much did psychology have to play when he gets criticism in song from the people he grew up with?
Rooney now has 12 goals this season, which is hardly prolific but not so bad when you consider he only managed 14 in the whole of the last campaign, albeit in a year when United didn't have European games and he only played 37 games.
His 19 goals in 2013-14 and 16 in 2012-13 were hardly the stuff of Ballon d'Or winners either, but he's found form when United were at rock bottom. His assist for Jesse Lingard at Newcastle last week formed part of one of United's best moves of the season. It was just a shame that team who'd been allowed to attack again couldn't manage to defend at the same time.
Whatever, the victory at Anfield on Sunday has lifted the mood around United. To win at the home of your biggest rivals thanks to your side's only effort on target provides a massive buzz, especially coming so close to the end of the game and in front of the 2,600 travelling fans in the Anfield Road stand. They included the injured Phil Jones, Marcos Rojo and Michael Carrick.
The trio made their own way to Liverpool and, as with Rio Ferdinand a decade ago, put their hoods up, hats on and covered their faces outside the ground. While Rojo stood out a little more in a big red coat and white cap, Carrick and Jones stood amid a sea of black and blue coats. Showing United colours isn't wise in Liverpool, but it's a positive that the trio mixed in among match-going fans.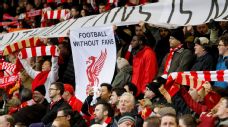 Players don't come into contact with enough of them. They meet wealthy supporters at expensive dinners, as well as disadvantaged and disabled fans thanks to the superb charity work of the United foundation, but it was good for them to be in an away end and feel the buzz of seeing a Manchester United winner at Liverpool -- and the pain it inflicted on the home fans to their right in the main stand paddock.
That's what the United/Liverpool rivalry -- England's finest -- is all about. It has that edge, that mutual loathing and yet, hidden away, there's a begrudging respect for a shared brilliant history and common traits.
And while Van Gaal has had several failings and his stock remains low among fans, he can't be criticised for his form against Liverpool. His side have won all four matches under him, five if you want to count a rain swept preseason victory in Miami. All four of United's shots on target this season against Liverpool have resulted in goals.
Let's not get carried away. Sunday's game looked exactly what it was: A match between two teams playing outside the top four for only the second time since three points for a win was introduced in 1981. The only other time, in 2004, was at the start of the season when the league table tends to be skewed.
As Van Gaal himself noted on Sunday, United are still in with a chance to win the league. They've bored fans for most of the season, yet are only seven points behind leaders Arsenal and Leicester. They were a dozen behind first-placed Chelsea at this stage a year ago.
A league triumph remains most unlikely, though convention would say that United should win their next two games, at home against Southampton and Stoke. But this is Manchester United in 2015-16 we're talking about, a team that have been so uninspiring at Old Trafford in recent times that two matches are enough to pop the tiny bubble of enthusiasm inflated at Anfield.
Until then, we can enjoy the memory while it remains so fresh.
Andy Mitten is a freelance writer and the founder and editor of United We Stand. Follow him on Twitter: @AndyMitten.