Louis van Gaal sees improvement but Man United must keep getting better
After an improved second half at Stoke, albeit in what was ultimately a defeat, and a decent first period in the 0-0 draw with Chelsea, Manchester United again showed signs of attacking spark in Saturday's 2-1 win against Swansea City.
United were as woeful as the wet Manchester weather last month and the alarming dip in form -- the worst December in the club's entire 137-year history -- brought matters to a head. After the defeat at home to Norwich on the 19th, players again told manager Louis van Gaal how they felt.
Regular communication is normal between the Dutchman and his charges in the many meetings they have. Van Gaal listens, but usually insists that his way is right and that the players must believe in his way of thinking.
He's a disciplinarian with rigid rules; this is the man who, to much astonishment, told Luis Enrique that he must tuck his shirt into his shorts during a Barcelona training session. At United, players dare not be a minute late for a meal -- before a home game there's one in late afternoon at the training ground and then a 10 p.m. supper at the team hotel -- or his many meetings.
Van Gaal's way of working has suited him well in the past but it was not working for United last month. It's one thing when Pep Guardiola tells his players to trust his method after two games -- one defeat and one draw -- as Barcelona manager; the players listened and won everything. It's another when Van Gaal tries it after 50, 60 and 70 matches in which his team have been so unconvincing.
After the Norwich defeat, Van Gaal admitted that he was worried about his job: "I know belief in a manager is very important. When you lose the games the belief in the manager should decrease. That is happening now. I cannot close my eyes to that."
"I am always evaluating myself also," he continued. "It's an aspect of the same philosophy that I had. I'm not the same coach as 25 years ago. I am -- or maybe I say now 'was' -- a very successful manager."
Van Gaal wants to be a successful coach again but needs his players onside to win matches, let alone trophies. The upshot is that their comments have been listened to and that has been reflected in their recent play, which has seen them given more licence to create and to attack.
Is that a sign of weakness that the manager had to accept that his methods weren't working? He'd see it as the opposite: A sign of strength, of him evaluating and adapting to make better use of the tools at his disposal.
Regardless, confidence has lifted at United's training ground, formations were switched and the team played a higher defensive line against Chelsea, which added excitement that has been lacking -- even if part of that was due to the away side breaking away with opportunities of their own.
More chances were taken against Swansea from a man who had previously been risk averse. A three-man defence was used, with Antony Martial and Ashley Young wide. It worked; the pair were the best players on the pitch, with Young crossing for the Martial's opening goal and Martial crossing for Wayne Rooney's winner.
United desperately needed a win, which they got, but also needed to play well. They entertained for periods, especially in the second half, though it felt like the confidence of the team was draining away after yet another opening period in which they failed to score.
In the previous nine home games at Old Trafford, the only first half goal scored came from Norwich's Cameron Jerome. United haven't scored at home before the break since Juan Mata converted a penalty against Wolfsburg in September.
After Saturday's plodding first 45 minutes, Old Trafford was subdued but fans refused to hound the manager and his players, even if there were groans when, at one point midway through the half, Rooney passed all the way back to goalkeeper David de Gea.
What was Van Gaal's assessment of the first half? That it was better than the second. Whatever the case, what mattered was that United scored goals and won the game. The stadium atmosphere was also far better after the break, which matched the improvement in the play on the pitch.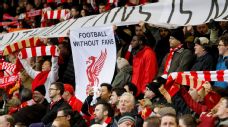 United's next game is an FA Cup third round tie against third-tier Sheffield United on Saturday. It is a competition well worth winning and one in which United have performed poorly for a decade. When United won the FA Cup for an 11th time in 2004, they were the record holders. Now, they've been overtaken by Arsenal.
The game should be another chance to build on the fragile confidence, but the team needs to do much more to get to a level which restores fans' faith in their manager again. The football must entertain and the players all need to raise their game.
"Does Manchester United have a single outfield player you'd rate as world class?" one former Premier League player asked in an interview recently. "I've watched them this season and the spark isn't there. The attackers do more running backwards than forwards. Chris Smalling is their best player. They have good footballers, but nothing like the quality of their great teams. That's not what you expect from one of the greatest clubs in the world."
United are sticking by a manager they have allowed to spend so much money -- and they'll allow him more -- and senior people within the club feel it would set the club back if they were to dismiss him now, but Van Gaal will be judged more accurately by everyone at the end of the season.
If any good can come from the December form meltdown, it's that Van Gaal has put more trust in his players and realised how unpleasant it can be when the media turns after your team have not come close to reaching expectations.
Just because Van Gaal is still in a job doesn't mean that expectations have changed -- he's still expected to compete for the title and cups. There's still a lot of football to be played. Fans hope it will be a whole lot better than what they've seen so far.
Andy Mitten is a freelance writer and the founder and editor of United We Stand. Follow him on Twitter: @AndyMitten.