Man United face crucial January window as Louis van Gaal digs in
Louis van Gaal has ended the year in bullish fashion, and also in a manner that suggests he is not particularly keen to learn from history. Giving a press conference in advance of Manchester United's Premier League game against Swansea on Jan. 2, he reflected with some pride on his team's achievements so far during his tenure at Old Trafford.
"We have fulfilled the wish and our aim in the first season that ended halfway through 2015," he said, presumably referring to the club's return to competition in the UEFA Champions League.
"After that we have managed to give balance to the team and that resulted in October and November in us being first in the Premier League. Then we are out of the Champions League and that gives us a big blow, and we are still in that period, so when you don't assess December, it was a very good year."
The problem with Van Gaal's version of events is that it shows a very partial view of the situation. It is indeed true that Van Gaal's team topped the Premier League at one point. However, it is not so clear that he has brought balance to that same team given its recent timidity in front of goal compared to almost every other side in the division.
It is also not entirely reasonable to discount United's performance in December, given that this was a month in which they lost four games in a row, including three Premier League games to clubs of vastly inferior resources.
From one standpoint, it is unsurprising that Louis van Gaal is being very creative with the facts. After all, it is nothing new among managers -- witness Sir Alex Ferguson's comment that the Swansea City defender Ashley Williams could have killed Robin van Persie. In continuing to argue that he is the best man to take United forward, Van Gaal has not chosen the path of contrition but one of denial: December was an awful month for all concerned at the club and therefore it should not be assessed.
Of course, van Gaal was more than happy to assess the month of December when it came to discussing one of its high points, the performance against Chelsea. Here Van Gaal commented that "we've had many games like that. The way we've played this season, we're more or less always the dominant team. The way we played, under that pressure and in the style we want to play, was fantastic."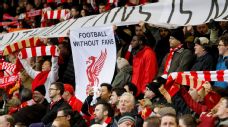 This quote is interesting for several reasons. The first is what Van Gaal means by "the dominant team." If he is referring to dominance in terms of possession then that is accurate, since United routinely see more of the ball than their opponents. Yet much of that possession isn't threatening. Indeed, it is difficult to think of another half of football where United played as confidently as they did for the first 45 minutes against Chelsea.
Van Gaal's use of the word "many" therefore seems misleading. It is also striking to see Van Gaal speak of playing "under that pressure" as if his tactics were not in large part responsible for the pressure the team has been under of late.
It is understandable that Van Gaal is doing his best to talk himself out of what has undoubtedly been his toughest time at United. He might argue that these are merely the growing pains of rebuilding. If true, he must still find radical answers for why his team is creating so few chances, and quickly. The sheer open nature of the league this season works in his favour; for all his side's recent struggles, they are still only nine points off the lead.
One challenge as he looks forward will be to recognise that so many of his problems have been avoidable. It is baffling, for example, why Morgan Schneiderlin was left on the bench for so long given the resilience that he immediately brought to the midfield against Chelsea.
Another question is who United might bring in as a forward alongside Anthony Martial, Wayne Rooney and Memphis Depay. On the evidence so far, Depay looks unlikely to become a regular goal threat this season, which makes United's links with Lazio's Felipe Anderson all the more intriguing. The 22-year-old Brazilian has many of his best years ahead of him and is capable of both making and scoring goals -- assuming, of course, that he would be allowed greater freedom than United's attackers currently enjoy.
It is hard to see whether the Anderson deal will go through but it is at least reassuring that United are pursuing this kind of player -- one who not only addresses their needs up front but who also seems to be a realistic target. The days of going after stars such as Thomas Muller and Neymar, who appear only to pay United much attention when they are using their interest to renegotiate contracts, should be over.
If Van Gaal is going to be evasive when it comes to his assessment of his team's performance, it becomes all the more important that United's talking both on the pitch and in the transfer market is straighter than ever. If the talk is that the Chelsea draw will be the turning point, then the January shopping window may be as important as any period of the Dutchman's career to date.
Musa Okwonga is one of ESPN FC's Manchester United bloggers. Follow on Twitter: @Okwonga.