Mahrez and Mane make sense for United while Stones remains a dream
With the transfer window upon us, here's a look at what to expect from Manchester United.
Will Louis van Gaal be busy in the transfer market?
United fans can't be too upset about the players who Van Gaal has moved along, but the problem is not enough players were brought in to replace them. Even if United were to get through a season injury-free, the squad still wouldn't be big enough. The fact that United have had periods where 11 players have been unavailable through injury or suspension, meaning reserve players are making their debuts week after week, has contributed to the string of bad results.
They should be busy in the transfer market, but whether they will is a different matter.
What do United need?
The biggest problem area is the attack, as United currently only have two strikers in the squad. Anthony Martial made a great start at the club, but has struggled to maintain his form. He obviously isn't helped by the tactics employed by Van Gaal. The other striker, Wayne Rooney, has been dreadful. Not only is he not scoring, he also slows down the play and loses possession, and more often than not, United look much better when he's not on the pitch.
Another area that needs strengthening is defence, with Chris Smalling the only player in this position to consistently play well this season. Other defenders drift in and out of decent form, get injured, or have only ever made a handful of first-team appearances.
Transfer targets
United have been linked with dozens of strikers over the past couple of months, including Romelu Lukaku, Harry Kane, Jamie Vardy and Robert Lewandowski, but it's hard to predict which, if any, will come. Lukaku would probably be the best bet, although Everton could charge way more than he's worth in January. Kane doesn't sound like he's going to leave Tottenham any time soon, and when looking at the comparative situations, United aren't much of a step up at the moment. One more realistic target is 19-year-old Benfica striker, Goncalo Guedes, although with just three goals this season, he would hardly be the answer.
John Stones would be an excellent signing too, but after Everton managed to fight off Chelsea's advances in the summer, United would have to offer a mountain of money to lure the young defender from Goodison Park.
Ideal signing
It's hard to name any top signings who would be totally realistic, but when you consider how far the money could go at a club like Leicester, maybe Riyad Mahrez would be the best bet. Southampton's Sadio Mane might be more realistic, though. United need more attacking flair in the team, even if it likely to be stifled by Van Gaal's style of play.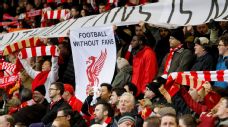 Exit door
It would be great if Rooney could return to Everton and Stones moved in the opposite direction, but that won't happen. Essentially, United can't afford to let any players leave in January, as they'll soon be going to the under-18 sides to find players to put on the bench.
Scott is one of ESPN FC's Manchester United bloggers. Follow him on Twitter: @R_o_M.