Why Man United's Wayne Rooney should finish his career in MLS
The past two seasons have dealt a heavy blow to the long-held fallacy that, in his advancing years, Wayne Rooney would simply slip back into a deeper role and engage a part of his football brain that had been dormant across two decades. His first touch has not softened with age, the proverbial "extra yard" in his head hasn't materialised as his legs fade, and he is no longer fuelled by the red mist of his youth.
The miles on the clock were laid bare as he stomped at full steam in chase of an Anthony Martial through-pass at Selhurst Park on Saturday, only to see the ball roll tantalisingly out of reach. Manchester United manager Louis van Gaal steadfastly refuses to countenance the idea in public, but Rooney's value to Manchester United's cause is firmly on the wane.
Now the unfashionable side of 30, England's record goal scorer cannot be confident of his career ending at Old Trafford. Where, then, will Wayne Rooney's footballing story conclude?
Everton
The 15 minutes spent on the pitch during Duncan Ferguson's testimonial in August seemed like a testing of the Goodison Park waters for Rooney. He could barely disguise his relief at the cordial reception he received, particularly after the acrimony that has lingered since he was prised away by United in 2004, but the "once a blue, always a blue" storyline was hardly the betrayal to end all footballing betrayals.
The blue shirt, a little tighter than the one he wore as a rampaging teenager, didn't look anywhere near as odd on Rooney as unfamiliar colours often can on guesting testimonial players. His ties to Merseyside remain strong and, from the moment he left Goodison Park over a decade ago, it always seemed like his career's logical final stop.
There is limited room for such convenient sentiment in Premier League football, however. While the role of a nominally big fish returning to his modestly sized pond would suit the man himself, Everton's urge to make the step up from also-rans is older than Rooney himself. Wages and transfer fee considerations aside, what would their ambitions gain from accommodating a fading former wunderkind into their side? Chairman Bill Kenwright and the Everton fans may find they would disagree over that conundrum should the opportunity arise.
Europe
The 2013 talk of moves to Paris Saint-Germain or Chelsea, who made bids for him that summer, seems rather quaint now. PSG will perhaps have considered it a lucky escape: Rooney's motivation to adapt and succeed in a different and lower-profile league would have been dubious, to say the least. Given Chelsea's squad of burnt-out malcontents, his signature -- years past his emphatic, electric peak -- would have been destined for painful failure.
As those lucrative, top-level ships disappear over the horizon, Rooney's remaining options for an Indian summer in continental Europe are thin. An imaginative alternative (and not an untested one for history's struggling Premier League strikers) would be to move north of the border to Celtic. However, despite Rooney's gleefully declared support for the Scottish champions -- inspired in part by his former Everton teammate Alan Stubbs -- it may lack the footballing appeal for a man who still clearly has faith in his own ability and top-level longevity.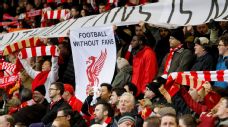 Manchester United
With a contract that will keep him in hugely gainful employment at United until well beyond his 33rd birthday -- and more than a little experience of negotiation with the Old Trafford boardroom -- Rooney's easiest option would perhaps be to not move at all.
His astonishing wages aside, there is the obvious carrot of becoming United's all-time leading goal scorer. His current form suggests that the 14 goals needed to surpass Bobby Charlton's record of 249 may not arrive this season, which will deny all invested parties the chance for a neatly bookended Old Trafford career next summer.
Those are the numbers, but there's no easy measure of the patience of both fans and manager (whoever he might be by then) at the prospect of Rooney, still in the red shirt, huffing and puffing his way toward his mid-30s. As things stand, Van Gaal's almost twice-weekly defence of his captain's enduring worth is becoming less representative of the United fans' affections. Martial's alarmingly effortless start -- and his peripheral position out on the left -- has served only to emphasize Rooney's ineffectiveness.
MLS
Of football's last-chapter destinations, Major League Soccer represents the soundest option ahead of the football wasteland of Qatar and Australia's underdeveloped A-League. After the U.S. national team's eye-catching World Cup, MLS is keener than ever to move away from its retirement-home image and the unremarkable recent contributions of Kaka, Andrea Pirlo and Steven Gerrard suggest this is a wise long-term strategy.
A more suitable template for Rooney to follow across the Atlantic would be Robbie Keane. The luxury-class journeyman signed for LA Galaxy at the age of 31 and has since made them the most successful stop of his meandering career -- hardly the gentle parachuting to retirement that a move to the U.S. can often be perceived as.
The drop in quality would be an inevitable one from the lofty perch of the English top flight, but it remains an ambitious environment where underperformance wouldn't be glossed over. Previous MLS ex-pat David Beckham, as well as Gerrard, would testify to the lifestyle benefits of leaving the Premier League goldfish bowl behind.
As with any player wandering into their twilight years, the motivation to carry on performing at the same level is as important as his body's ability to fulfil it. Rooney faces further doubts over both but will have to summon them to make a final career step, perhaps a restorative one across the pond.
Adam Hurrey is a London-based football writer and author of the book "Football Clichés".