Robin van Persie departs Man United unhappily but after many good times
Suited and suntanned, Manchester United's players walked through Manchester Airport's Terminal 1 ahead of their 18-day preseason tour to the United States on Monday.
New signings Bastian Schweinsteiger, Morgan Schneiderlin, Memphis Depay and Matteo Darmian were present, while executive vice chairman Ed Woodward was looking understandably satisfied having concluded all four deals before a ball has been kicked.
United were being criticised by some impatient fans two weeks ago for a lack of new faces, but the club were always confident of concluding deals early. Woodward and those assisting him deserve praise.
Images of Louis van Gaal posing for photos with fans went down well, as did others of Ryan Giggs talking to Schweinsteiger. The German, who has spoken English well on MUTV, only arrived in his new home city on Sunday, the same day that Robin van Persie departed United after three seasons.
The swiftness of the Dutch striker's departure was surprising, but his huge wages were an issue for the club.
Meanwhile, Van Gaal felt he could get a better and younger player -- Van Persie turns 32 next month -- in for similar money, one who wasn't as susceptible to injuries. The manager therefore took the decision that his compatriot, the man he had made captain of the Netherlands, could go.
There's no room for sentiment in top-level sport. Van Gaal acted ruthlessly and, in doing so, sent a message to his other big-name players that if they don't perform, they don't have a future at the club.
Until the day he left, Van Persie always showed his quality in training. He had power, was ultra-fit with massive leg muscles and had the most skill of any United player since Paul Scholes.
He took huge pride in his fitness and professionalism but, in his manager's eyes, he wasn't quite as quick as he had been and such tiny margins can make all the difference.
Crucially, Van Persie could never replicate the form he showed in his first United season, although even then he went nine games without scoring. However, to criticise his form in 2012-13 is churlish.
Every striker has dips and Van Persie, the player of the season for a title-winning team, scored 30 goals in 48 games overall. United's players had been buzzing when he signed from Arsenal and the Dutch striker proved to be the real deal.
Subsequent seasons, however, were not as productive. He scored 18 in 2013-14 and just 10 in 27 league games last campaign, which wasn't enough.
After he was injured at Swansea in February, United improved without him. Van Persie was never going to be offered a new contract and could have sat on his existing deal, which would have expired in 2016.
When it was decided he could leave, United wanted to act decisively and avoid a repeat of the Nani situation from a year ago, in which a player on big wages was surplus to the manager's requirements but without any takers unless his wages were heavily subsidised.
Van Gaal told Van Persie last week that he wasn't required to play in a training match and had to train on his own. That this was done in front of other players infuriated the striker, who had little idea that it was coming.
His agent was then instructed to speak to Fenerbahce and a deal was quickly concluded that saw him leave for a £4.7 million fee. That may seem small for a player of his quality, but Van Persie was costing United over £10 million per year in wages.
Player and manager will have different interpretations of the same events, but Van Persie sent a nice text to many of his former teammates. When the dust has settled, he'll likely remember Manchester well, but very few players are happy when they leave United for several reasons.
One, it usually means they're on the decline. Two, it's not usually their decision. Three, they usually think that they have something else to give, another year or two.
In mitigation, Van Persie was assured by Sir Alex Ferguson when he joined that the then-United manager had no intention of stepping down soon.
Upon retiring nine months later, Ferguson told his players: "I hope I haven't let some of you down, because you may have joined thinking that I would stay."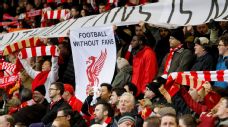 As his former teammate Rio Ferdinand wrote on Sunday, no player was more shocked than Van Persie. He had been let down, but it's harsh to blame Ferguson -- there would never be a perfect time to depart.
Van Persie then played under three managers: David Moyes, Giggs and Van Gaal. When he was injured under Moyes, there were disagreements. The manager thought he was ready to play, but the player thought otherwise.
Both parties pulled back and agreed to find a compromise whereby Van Persie would be more trusted over his own injuries and able to consult his own people. That can be understandable, given that United have had four first-team physios in the past 12 months alone.
When Ruud van Nistelrooy left United in 2006, he was angry and fell out with Ferguson. He took time to calm down but, in 2008 when he was doing well at Real Madrid, he'd mellowed sufficiently to ask his former manager Ferguson to make up. Now Van Nistelrooy remembers the many good times he had in five years at Old Trafford and not the bitter end.
Let's hope that similar happens for Van Persie because, for one season, he was the best player for the best team in England and his 92nd-minute winning goal away in the Manchester derby in December 2012, a pivotal moment in United winning the title back from City, remains one of the Red highlights of this decade.
If he makes half as much impact in his first Istanbul derby, he'll be a hero on the Fenerbahce side of the Bosphorus.
Andy Mitten is a freelance writer and the founder and editor of United We Stand. Follow him on Twitter: @AndyMitten.