Bastian Schweinsteiger set for Man United as squad overhaul continues
Long before the end of the season, Manchester United were confident of signing two or three players before their preseason tour of the United States. The deals hadn't been signed and sealed -- or "papered up," in the terminology used by the Old Trafford suits -- but the club felt they had the confidence and the word of the players and the agents they were dealing with.
One, Memphis Depay, was signed earlier than United hoped after Paris Saint-Germain made a bid and the English giants felt cornered to act quickly. The Dutch winger was unveiled in United's only news conference before the tour starts, and some United fans had grown impatient at the lack of other new signings.
That all changed this week as the signature of Torino's Italian international right-back Matteo Darmian in a £12.9 million deal, plus add-ons, was confirmed as being "correct" by Louis van Gaal. Let's hope he's more successful than the last player who played for both United and Torino, hapless goalkeeper Massimo Taibi.
Right-back was a position both David Moyes and Van Gaal were unhappy about, but Darmian's an Italian international. There appears to be no future at Old Trafford for another right-back, the Brazilian Rafael.
Darmian has yet to sign, but the news of his move to Manchester was eclipsed by confirmation that United had agreed a deal for Germany's captain Bastian Schweinsteiger.
With goalkeeper David De Gea's future uncertain, striker Robin van Persie set to leave for Turkey and a new central defender still not signed, United looked like they lacked a spine.
There's still business to do, but the impending addition of Schweinsteiger, who'd worked with Van Gaal at Bayern Munich, really lifted the mood among United fans who'd grown impatient at the lack of activity. Now they have the captain of the world champions and the club expect him to be on that plane to Seattle on Monday.
By the time he gets back on July 30 after United's last game in Chicago, the Old Trafford Megastore will have had time to order sufficient letters for his 14-character surname to put on the new United kits, which will be released on Aug. 1. For any cynics out there, United used to charge by the letter -- now they charge by the name.
Old Trafford's shirt printing machine may well sigh. As well as three kit launches inside the month of August, United remain interested in Southampton's French midfielder Morgan Schneiderlin. He came to United's attention with a man-of-the-match performance at Old Trafford in October 2013 as the Saints halted an eight-game losing run in M16. The Frenchman has expressed his desire to join United; his teammates think he's going to United.The issue is the two clubs agreeing on a fee. It's fortunate that United's kits are being released later than usual as they change manufacturers, for Van Gaal will likely make several changes to existing squad numbers.
In Spain, the obsession is still with De Gea.
A Spanish journalist called from Carrington at 8 a.m. last Sunday. He was unsure of the correct entrance to Manchester United's training ground, the one where he could catch De Gea returning to work. He'd initially hoped that he could walk into the training ground and have access to players in daily news conferences, but United are not Bayern Munich, and prying eyes are kept at a distance.
Sent by his bosses, the journalist was scouting a spot where United's players would be returning to preseason training and he could hopefully catch a few words with their want-away goalkeeper -- or film him saying nothing. That still counts as news in Spain because if De Gea didn't look ecstatic, it would someone show how unhappy he was to be enslaved in Manchester.
He's not. He'd rather be in Madrid, but knows he has a contract to work in Manchester. United are willing to do a deal with De Gea and Madrid if it involves Sergio Ramos. United are not willing to sell one of the world's best goalkeepers cheaply, like the Madrid media are angling for. As if United will take any notice of that.
But United and Madrid can compromise because they both have players that the other wants: De Gea, Ramos, Gareth Bale. There's plenty of time left if Madrid agree to stay away from Nicolas Otamendi and give United a "free run" at the Argentinian in return for United staying clear of Ramos, who they then make club captain. There are so many variables, but if United get a top central defender, then Van Gaal's squad is starting to look formidable.
The journalist thought he was in the right place. He was actually outside the training ground of Sale Sharks, Manchester's top-flight rugby union team. United train around the corner, past the training ground recently vacated by Manchester City. Is there another square mile on earth where so much sporting talent was present every day?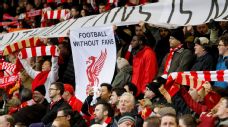 Other Spanish journalists were in the vicinity. Shut out, unlike in Spain, and with no contacts to speak to, some resorted to asking employees with no idea of United's transfer strategy for comments as they left Carrington -- and quoted them.
De Gea's future isn't the only one uncertain at Old Trafford, but Van Gaal intends to give each of his players 180 minutes of football in United's four U.S. friendlies this month.
The team fly from Manchester to Seattle on a chartered aircraft on Monday, the day the tour squad will be named. United play Mexican side Club America rather than the incredibly well-supported Seattle Sounders next Friday. It will still be a 67,000-seat sellout. Then United head south to a training camp in San Jose, where they'll play the next two games against George Best's former side San Jose Earthquakes and Barcelona. A final game in Chicago against PSG will await on the way back to Manchester 10 days before the season proper starts.
PSG and United may yet do deals like Madrid and United. PSG were irked when United signed Depay and wanted to sign Angel Di Maria, who had an unhappy last third of the season and has struggled to settle in England. United intend to keep Di Maria, not least because he's excellent and cost so much. They think he can improve next season, but he's also one of United's most saleable assets who is highly rated by top clubs who just think Van Gaal doesn't use him -- or other South American players -- correctly.
United and PSG are in for similar players but could they agree a swap centred around Di Maria? And if so, who for? With Radamel Falcao departed and Van Persie set to follow Nani to Fenerbahce, United need a top striker or two. Zlatan Ibrahimovic is one, but he was very critical of Van Gaal in his autobiography. Edinson Cavani, who spoke to United last year but demanded too much money, is another. He was keen to go to England, but not so keen that he'd lower his demands.
Speculation will persist in another crazy summer in which United seem to be linked to every player, in part because stories involving United going for a player are popular with readers. But as he goes into his second season, Van Gaal retains the confidence of fans and most of his players. He's aware that United need to be seriously challenging for trophies, something they didn't come close to doing last season.
The new players should have the chance to impress on the preseason tour, not that people will be reading too deeply into preseason form. They did that last season, when United went from beating Real Madrid to losing at home to Swansea when the real business started.
Andy Mitten is a freelance writer and the founder and editor of United We Stand. Follow him on Twitter: @AndyMitten.