Manchester United are being left behind in youth development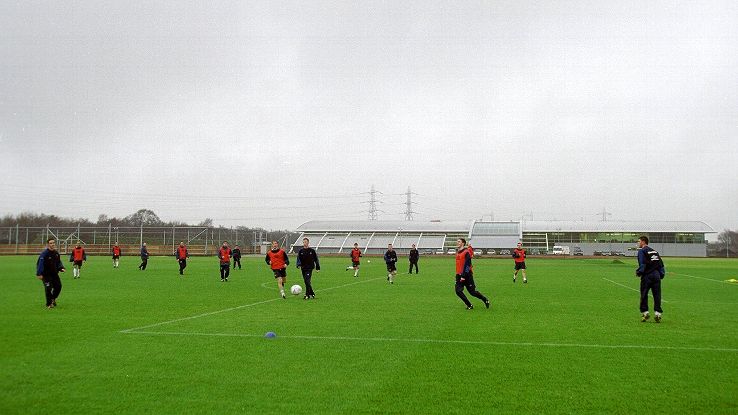 Through peaks and troughs, Manchester United's youth system has long instilled pride in the club's fans.
United have long been able to buy some of football's finest talents, but they have also created some of its greatest, from The Busby Babes in the 1950s to George Best a decade later and the Class of '92, which featured the likes of David Beckham and Paul Scholes.
Four of United's top five all-time appearance makers -- Ryan Giggs, Scholes, Bill Foulkes and Gary Neville -- started and finished their football life at Old Trafford, while it has become a well-used, but worth repeating, statistic that the club have had a youth product in the match day squad for 3,740 consecutive games, dating back to the end of World War Two.
Fans still eagerly watch for exciting emerging players and access to games through improved media has made that easier, but the current youth system at the Cliff and Carrington training grounds gives cause for concern.
There are promising young professionals who'll make a good career in football but the dynamics have changed. The competition for talent has increased and United simply aren't as appealing to the best young players as they once were.
First team manager Louis van Gaal has no reason to say so publicly but he sees significant room for improvement in United's youth system and was underwhelmed by the success of the Under-21 team, who won their league last season.
Van Gaal wants to bring in new coaches and United hope to rediscover their appeal, but without structural change it's going to be tough, especially as the manager has said he's only going to be in charge for three seasons.
Earlier this year Brian McClair, who headed up United's academy system, chose to leave to be in charge of the national system in his native Scotland.
His replacement has not yet been appointed, but insiders say there are so many meetings to attend and so much paperwork to complete to meet the regulations of the elite player performance plan operated at top clubs, that it's a job for two or even three people.
Before he left, McClair said of United: "We're in pretty good shape and are continuing to look all the time. We are always in particular looking and hoping to discover a local lad who will make it all the way to the first team and if not still have a reasonably good career in football. Every year we are still looking for the very best kids within an hour's travelling distance from Manchester. Then at aged 16 we're looking at what we perceive to be the best players in the rest of UK and Europe."
In recent years three United players of past and present chose neighbours City as the club where they felt their children would best develop as players. The sons of Phil Neville, Robin van Persie and Darren Fletcher are all there and their parents have no regrets about the decisions, though Neville's son will soon switch to Valencia's academy.
Traditionally short of United's riches, City once relied on their youth academy. They won Youth Cups and promoted players into the first team, but the club was so unstable that they ended up moving on. Ryan Giggs was at City but left at 14. He went on to have a 23-year career in United's first team, something that would have been inconceivable had he stayed at City
After the club's 2008 takeover, though, City began to get serious about youth development. They invested in infrastructure and talent. They invested in people. Their record of promoting youth players to the first team in recent years is pitiful, but they're determined for that to change.
Their new, no expense spared, training ground is one of the best in the world. It's also in the heart of working class east Manchester, while United are not on a public transport network, tucked away amid the fields and electricity pylons to the west of the city. It was a conscious decision of both clubs to be where they are.
"This is just the start for City," explains a source familiar with both clubs. "There's not a huge difference in the quality of the players at both clubs at present, but that could change. City have two full time coaches for each age group. United's coaches are part-time. Some are good, some less so. The facilities at City's new training ground are superior. Their pitches are fully enclosed and they have floodlights."
At Carrington, where first David Moyes and now Van Gaal insisted that floodlights are installed on first team pitches, the youth players train on open and occasionally windswept fields. Meanwhile, whereas City's youth teams play in a proper 6,000 capacity stadium, United's take place before a temporary stand that seats 120.
It's City who now get most of the best players in Manchester, as was recently the case with an 11-year-old who switched from red to blue. He's already the best player in his age group and was happy at United. However, when his older brother was released by the Old Trafford club, his parents were unhappy and City stepped in to take both boys.
Andrew Cole's son Devante has long been at City and is already a professional. United's former chief executive David Gill used to joke that Devante should join the club. At the time it was light-hearted and said by someone in a position of strength, as United's youth system was one of the best in England. It's no longer a joke.
"United became complacent," explained a source. "They thought that players would come to United because it was United, with the history of the Busby Babes and the Class of '92 -- or even of getting the best Manchester players in recent years like Daniel Welbeck. The truth is that United have stood still while the rest have caught up and, in the case of City, have gone past United."
City can approach young players and offer them a better package. Players under-16 are not allowed agents, but their parents are, which enables them to be given financial inducements way beyond mileage allowances, boots and kit.
City's young players train together and are educated together at a very good private school. By contrast, a select few United players, usually those from outside Manchester, go to a non-fee paying school close to the training ground. United have discussed building a school and having young players live at Carrington, but so far it hasn't happened.
"Imagine you're a single mum in Moss Side (a working class neighbourhood close to City's old Maine Road home)," explains someone familiar with the recruitment process. "Both clubs come in for your son but City offer him a full private education in one of Manchester's best schools, to be continued even if your son is released, as most are. If he stays at United, he stays in the same school he's in. City also offer money, maybe as a one-off payment to a parent. United offer a travel allowance.
"Or, imagine you're a 17-year-old from outside England and both Manchester clubs want you," he continues. "You go to see both clubs and see that United have the history, then you go to City and see that they have better facilities, education and they'll also pay more."
As they get older, money talks. Three of United's best Under-18 players currently have better offers from elsewhere, including Liverpool and it would surprise nobody at the club if they left.
United have an old-fashioned approach in that they want players who want to play for the club but there are grumbles that they focus their resources too much on sports science while rivals are stealing players from under their nose.
Even Everton have a satellite scouting system in Stretford -- right in the shadow of Old Trafford. United have so no such operation in Liverpool.
"It's getting hard for the United scouts," explains an insider. "United still have a couple of exceptional players in most age groups, but it's getting much harder to sign them in the face of so much competition.
City also have a popular, high-profile figurehead in Patrick Vieira who oversees the youth setup and meet parents personally, just as Sir Alex Ferguson used to do.
Money hasn't always been the issue it has become. Ferguson would tell young players that if they were patient, they would get their rewards. He was right about some but, statistically, if a club gets one first team player from their youth ranks every season then they're doing well. Ferguson was happy for reserve players on £1,000-a-week to be around, but was that right for the players?
Players often got pay rises by moving, even to third tier clubs, but that was after it became clear they weren't going to make it at United. Many regret staying too long as they held out on to a dream of making it and think that their development stalled through a lack of genuine experience.
United's youth system has become muddled, too. It long irked English players that imports such as Giuseppe Rossi, Gerard Pique and Paul Pogba were on far bigger contracts to them, but even Pogba's wages were a fraction of what he was being offered elsewhere.
Ferguson told Pogba to be patient. He was but still didn't get his chance and has since gone on to become the best young midfielder of his generation and linked with an £80 million transfer this summer.
United got it wrong and it's easy to say that viewed in hindsight, but money played a part in Pogba leaving. There was not enough of it, despite him being offered the most lucrative reserve contract -- worth £20,000 a week -- in club history.
Rossi, Pique and Pogba were all top talents who feel that they weren't given the opportunities they deserved. That can be argued, but a big attraction in them leaving was that they were offered first team football, a chance they all took with Barcelona, Villarreal and Juventus respectively.
Some United fans are obsessed by transfer targets and would wish for their team to be filled with a world XI of stellar franchise players, but ask people inside Old Trafford and they like to see players -- especially local ones -- promoted from the youth ranks.
Will that happen given the lack of current standout emerging talents? Van Gaal used Tyler Blackett, Paddy McNair and James Wilson among the 15 Carrington graduates who played first team football last season -- far more than any Premier League club -- though injuries were the reason for some of those appearances and several were for just a few minutes.
Be it by not spending like other clubs -- Arsenal recently paid Ipswich £100,000 for a 14-year-old -- or by losing out to City, United are not getting the best youth players as they once did. Meanwhile, one City coach who is actually a United fan was interested in a job at Carrington, until he saw the wages on offer.
City are not naïve and know they're not going to produce first team stars, but they currently have three outstanding players in their entire system who they think have a fair chance of making it. The rest will hopefully be sold for a profit -- an area in which United had traditionally excelled -- although City's coaches do worry how departing players will cope with facilities less spectacular than that which they are used to.
United have other problems. Where once they scanned England and Ireland for talents, now football has become globalised. The reserve system in England, with too few games, doesn't help. Players at a similar level in Spain play second or third division football in front of crowds of thousands and against experienced professionals fighting for their win bonus.
Everyone wants to beat the young players of Barcelona or Madrid. They deal with the media, they get abuse off fans. It's real. In England, the infrequent matches are played in front of a few hundred. They feature 20-year-olds who've largely not been good enough to be loaned out elsewhere. Chelsea have more young players out on loan around Europe than they have at Stamford Bridge.
As Tony Park, a seasoned United youth watcher and the joint author of "Sons of United", wrote of last season: "At the halfway point, the U21s had played 11 competitive games, the U18s totalled 13. In that period the U21s had used a total of 31 different players while the U18s had used 24 different players. How can a player develop if he doesn't play?"
It was baffling that United recently pulled out of the benchmark Milk Cup tournament, where many of their former youth teams had played. Aside from everything else, United have huge support, who love to watch the emerging players, in Northern Ireland. Such was the outcry, United are expected to return.
Van Gaal knows better than anyone how to promote young players and get them winning. There's no greater example than his European Cup winners at Ajax 20 years ago. He can add sorting United's youth system to his long list of jobs as he returns to his desk at Carrington.
Andy Mitten is a freelance writer and the founder and editor of United We Stand. Follow him on Twitter: @AndyMitten.