Enigmatic Nani leaves Man United
Farewell to Nani, then.
As Marcos Rojo joins Manchester United for the sum of 16 million pounds, the Portugal forward goes in the other direction, joining his former club Sporting Lisbon on a season-long loan.
It is likely that, though he still has four years of his contract to run at Old Trafford, his playing days with Manchester United are at an end.
- Report: Paul Scholes worries for United future
- Payne: Rojo bolsters Man United defence
The overriding sense, after all that, is one of disappointment. For all his considerable gifts -- and Nani could eviscerate any defence in world football on his day -- he never put together the seasons of consistent form that would have made him a club great. Many footballers have gone far further on far less.
Perhaps it is churlish to criticise him too much. After all, the contents of his trophy cabinet will be occupying the polishers for years to come. Since his arrival at Old Trafford, he has celebrated four Premier League triumphs and a Football League Cup win, as well as his ruthless delivery of a penalty in the shoot-out triumph over Chelsea in the 2007-08 UEFA Champions League final.
He was voted into the PFA Premier League Team of the Year in 2010-11, a season in which he was also the club's Players' Player of the Year. Yet for a player of his potential, he should probably only be graded a B-minus.
Maybe that's harsh: or maybe that's a reflection of just how good Nani was.
This was a man who seemed to laugh at Arsenal even as he tormented them in the FA Cup, waltzing through them and juggling the ball over tackles in a 4-0 FA Cup win in 2008.
This was a player who could unleash strikes of rare ferocity from beyond the penalty area with either foot; whose delivery of a final ball was such that he found himself among the Premier League's leaders in assists.
Yet here is the problem.
The comparison was often drawn between him and Cristiano Ronaldo, perhaps unfairly -- Ronaldo was pressed into service more as a central striker, while Nani was deployed as a winger -- yet the one area in which Nani fell conspicuously short was his mentality.
Whereas, with Ronaldo, you had every faith that he would be mentally focused on each match, you could never vouch for Nani in the same fashion.
There was no way of knowing whether he would have one of those matches that would embarrass the opposition's entire defence, or simply embarrass himself.
If Nani did anything in relation to Sir Alex Ferguson's legacy as a man manager, it was to dispel the stereotype that the Scottish legend was merely a rigid disciplinarian. There is every possibility that Nani was as exasperating in training as he could often be on matchday, yet he survived the cull from Ferguson year after year.
One reason for that is that Ferguson readily recognised his unique gifts, and to that extent was willing to indulge his wayward genius.
The tragedy, then, of Nani's latter seasons at Old Trafford was his red card against Real Madrid in the UEFA Champions League two seasons ago, in the second leg of a tie in which he looked back to his old and best self; a decision that appeared wholly unfair, yet a twist of fate in keeping with a career that had always been wholly unpredictable.
Though mental strength was ultimately an area where he was found wanting, Nani will not want for money in his retirement, with his agent Jorge Mendes somewhat mystifyingly securing him a five-year contract in the region of 100,000 pounds per week at the beginning of David Moyes' short-lived reign.
It is confusing that the parsimonious Glazers would have signed off on such an amount for a player whose strike rate (less than one goal in every five games over 200 matches) was not so impressive. Indeed, the award of Nani's new contract is one of the more eye-raising pieces of successful negotiation in recent times.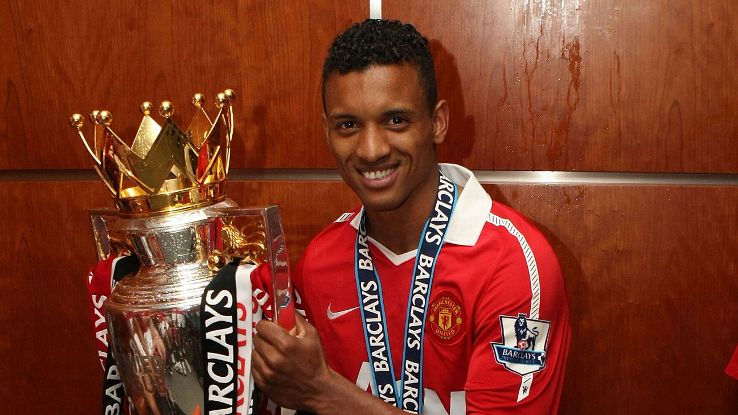 Nevertheless, it is probably best, once the frustration has subsided, to wish him well.
He returned to a hero's welcome in Lisbon, a town where he will be more readily forgiven for not having emerged from Ronaldo's shadow.
One wonders whether, in a moment of self-awareness in years to come, he will look back and wonder what might have happened if he had done what Gareth Bale did, and modelled himself more on his Portuguese counterpart.
Having said that, being carefree was the largest part of Nani's charm, an attitude that was behind some of his most inspired performances. In some ways, he was an extreme throwback to the days when wingers were expected to be gloriously inconsistent and not the dully functional accumulators of fantasy-league levels of goals and assists.
Yet in the end, maybe that's unduly romanticising a man who never took his game quite as seriously as his supporters -- or maybe an older version of himself a decade from now -- wished he did.