Woodward needs to deliver Di Maria
On Saturday, after 4 p.m., Ed Woodward took belated leave of Old Trafford's directors' box.
As Manchester United's executive vice chairman ushered his family toward the tunnel, he allowed himself a glance across at the press box, where a few journalists were still beavering away in an otherwise deserted stadium. There was a shy, uncertain smile on his face. Woodward must have recognised that his name would be heavily invoked as a reason behind a demoralising opening-day defeat to Swansea City.
- Okwonga: Man United's transfer thoughts
- Delaney: A summer of discontent
United, despite spending more than 120 million pounds on players in Woodward's 14 months in charge of club business, were woefully short of stardust.
Juan Mata, captured for 37 million pounds and paraded like a trophy in January, looked hugely short of being such a player.
Swansea laid bare United's problems across all departments, yet most glaring of all as United limply chased the game was a lack of pace, drive or change of gear. The squad was held at arm's length with ease.
Once freed from a wing-back position, Adnan Januzaj tried but was alone in the ranks in being able to offer such qualities. For all their problems with a malfunctioning three-man defence and a forward line in which Wayne Rooney and Javier Hernandez kept running into each other's way, what United needed most of all was someone able to create space by beating an opponent.
Ander Herrera's debut saw the Spaniard's efforts to thread passes from midfield thwarted by a sincere lack of options.
Luckily for United, such a player is available. Real Madrid are prepared to sell Angel Di Maria, whom Sir Alex Ferguson awarded the man of the match award after May's Champions League final in Lisbon. "I don't know what Di Maria has decided," Real coach Carlo Ancelotti said Monday, which hardly closed the door on a departure.
Financial fair play can be United's gain, given that Real bought James Rodriguez and Toni Kroos, and PSG, his expected destination, cannot risk falling foul of UEFA's constraints again.
United, with their turnover set to break new records after Woodward's latest harvest from sponsors, have no such concerns -- not if you listen to the club's executive vice chairman.
"It is in our capabilities to spend 60 million, 70 million, 80 million on a player -- and we would not be afraid to do that," Woodward said this past month -- words that have rapidly come to haunt him.
"We don't have wingers to give us attacking width," Louis van Gaal said as he prepared for United's friendly with Valencia this past week.
"Or, I should say, we don't have wingers of the highest level, like Ronaldo or Di Maria or somebody like that," he said. "So I have to play in another way, and you have seen that already. I only buy when I think we need to buy -- in the position that is necessary."
Van Gaal's three-at-the-back experiment was abandoned by half-time Saturday. The signs were United did not have the personnel to play that way, either -- a bitter lesson that unbeaten preseason tours mean nothing when the competitive hammer goes down.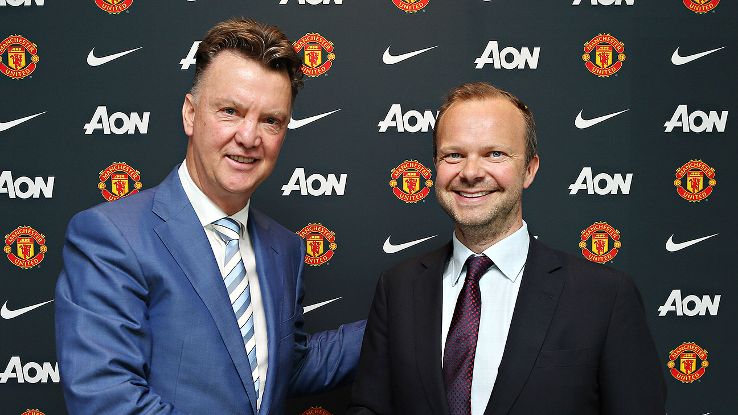 The namecheck of Di Maria was widely viewed as deliberate, and Van Gaal is believed to be fully supportive of an approach, in contrast to David Moyes' initial reluctance to purchase Mata.
Di Maria's transfer fee looks eye-watering, as do probable wages of 200,000 pounds a week, which makes United cautious of completing a 100 million-pound deal for which, according to a club source quoted in the Sunday Telegraph, "the numbers do not work".
Tuesday's L'Equipe suggested the Argentinian will eventually join PSG on loan, with such a deal including a guarantee that an eventual fee of 65 million euros is paid next summer to Real Madrid.
The UEFA Champions League final performance in Lisbon, in which Di Maria eventually carved through an Atletico Madrid defence worn out by his tireless incursions, franked the 26-year-old's value as a cashable asset to Real, who (as is the club's quadrennial habit) then sought to buy a few World Cup stars.
In Brazil, Di Maria proved the only credible foil to Lionel Messi for Argentina. Once he injured his thigh by running into Messi's pass of the tournament in the quarterfinal against Belgium, his colleagues did not score a single further goal without him and needed penalties to beat van Gaal's Netherlands team.
The ability to play as part of a midfield three, as he did during Real's push toward lifting La Decima, makes him doubly attractive to Van Gaal, who could also seek to use Di Maria as the type of busy forward beginning his surges off the flank that Arjen Robben was for the Netherlands.
Such a signing offers Van Gaal depth of options he does not currently have. The most recent United player capable of such midfield variety was Ryan Giggs, who is now by Van Gaal's side in the dugout.
Di Maria's addition makes greater footballing sense than the panicked purchases of Mata and Marouane Fellaini ever did when Woodward made them. Can he now match his spending boasts and get this deal done?
John Brewin is a staff writer for ESPN FC. Follow him on Twitter @JohnBrewinESPN.