Richard Wright has signed a new one-year contract to keep him at Manchester City for a fourth season.
The former England international is yet to make his first-team debut for City and is the third-choice goalkeeper at the Etihad Stadium.
But Wright, 37, also counts as one of only three homegrown players in City's senior squad -- along with Joe Hart and Gael Clichy -- which is significant when they have a full quota of 17 non-homegrown players.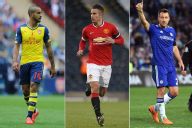 Wright joined City in 2012 after a spell of a few weeks...