Man City wobbling, but Manuel Pellegrini can turn title chase around
Manchester City face a period of rapidly mounting pressure and room for manoeuvre is now practically non-existent. Players will be required to turn up the heat on those in front of them like never before. And it all starts with Tottenham at the Etihad this Sunday.
Manuel Pellegrini's men need to take advantage of their chaser's position like any outsider worth its salt has always done. In winning their first modern-era title under Roberto Mancini in 2012, the club came back astonishingly strongly, hauling in an eight-point difference with six games to go to pip Manchester United on the finishing line.
This was done, remember, after everyone had written City off in the title race. If such an effect can be secured in extremis, imagine what can still be done with double the number of games still remaining and a smaller gap to the top.
Being in the hunt but chasing from the rear of the pack can be a good place to be at this stage. Neither Leicester nor Tottenham have any experience of leading the way at the top of the Premier League table as we prepare for the season-defining spring period. Both will be particularly susceptible to this kind of telling pressure from a City side packed with players who have done it all before.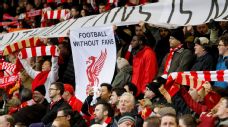 Tired legs and doubting minds need to be massaged back into a positive frame for the remaining 13 Premier League games. The same applies to dragging themselves through as many FA Cup and Champions League games as possible. The more they play, the closer they are getting to those Wembley and Milan finals in May.
To do this, Pellegrini must stop uttering doleful platitudes about injuries and fixture pile-ups and start talking positively. Dignified or not, phlegmatic or not, dull or not, reluctant to play the game or not, the Chilean must now talk the talk. His troops, down in the mouth, clearly need a psychological fillip. This must come from the top, telling them they can still do it and that he has every confidence in them to do just that. All talk of bruises, defeats and bad luck must be banished.
The next thing that must happen -- and this will be of benefit to not only City but Bayern Munich too -- is to stop reading, thinking and talking about Pep Guardiola. It can produce a significant distraction for both sides and if City and Bayern Munich's results last weekend against Leicester and Bayer Leverkusen respectively are anything to go by, people need to train their minds very much on the present and not four months into the future.
If those minds still find themselves wandering to the sunny months of June and July, then this must be garnered in a positive way. If you play for Manchester City and unless your name is Sergio Aguero, you should be thinking the following: "If I do not perform out of my skin until the end of the season, this could be my last act in a sky-blue shirt."
Finally and crucially, City must reorganise on the pitch. In a sloppy and passive display last weekend in their 3-1 defeat to Leicester, the unlikely leaders of the Premier League revealed more fight, energy, organisation and will to win. They knew, despite manager Claudio Ranieri's insistence that he simply told them to "go out and run around a lot," exactly how to nullify City's threat.
Forward Shinji Okazaki sat tight on Fernandinho, Jamie Vardy and Riyad Mahrez burst at City's wobbly defence and Danny Drinkwater and N'Golo Kante dominated midfield. This simple game plan allowed the ponderous central defensive pair of Robert Huth and Wes Morgan to go untouched.
Despite injuries, City still have the playing staff to cause surprises, the quality to carry out an alternative game-plan and the vital difference in experience to make their advantages count.
It may be a little difficult to imagine Pellegrini in the middle of a tub-thumping call to arms, but this is what is now needed for a side that has been going through the motions for too long.
This campaign has delivered precious few games that City followers can point to and say "that couldn't have been better". The faithful, grown replete on succulent performances, have been largely fed bare bones this season.
It is now time, before all is lost, to feast on something meatier. Carving open Tottenham at the weekend would be the perfect Sunday roast to set the ball rolling toward a grand finale to this most curious of seasons.
Simon is one of ESPN FC's Manchester City bloggers. Follow him on Twitter @bifana_bifana.